Harnesses, Belts & Accessories
Miller Revolution Premium R7 Harnesses (EUR)
Revolution harness for wind energy applications
Overview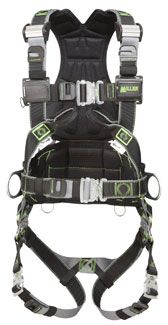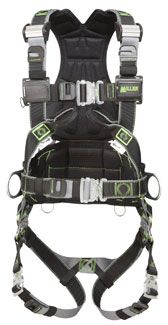 Key Features
Dualtechwebbing+ 50 %polyamide

 

/ + 50 % polyester
Equippedwith automatic buckles and Ergo Armor back shield & work positioning belt. Thisrotating work positioning belt offers a more comfortable fit and a greatermobility. Webbing on the Padded legs straps are sliding, and provide a perfecteasy-to-fit.

Shape-retentionWebbing memory : 45 mm
Automaticbuckles.


Stainlesssteel curved lateral rings.


Recommended Industries/Use
Hazards
Regulations
All Miller harnesses are CE certified and comply with EN 361 and, where necessary, with EN 358
Warranty Information
Our state of the art equipment provides the criticaltool for worker protection, combining mobility with unsurpassed comfort.
At our ISO 9001 certified manufacturing facilities in Europe, we ensure that every Miller product is made inaccordance with the standards and meets your exacting requirements.
Data Sheet
Name
Description
File Size
Date
Size
Miller Revolution Premium R7 Harnesses (EUR) - Datasheet
application/pdf 359.49 KB
6/16/2021
359.49 KB
Manuals and Guides
Name
Description
File Size
Date
Size
Miller Revolution Premium R7 Harnesses (EUR) - Literature
application/pdf 309.34 KB
6/16/2021
309.34 KB
Name
Description
File Size
Date
Size
Miller Revolution Premium R7 Harnesses (EUR) - Literature
309.34 KB
6/16/2021
309.34 KB
Miller Revolution Premium R7 Harnesses (EUR) - Datasheet
359.49 KB
6/16/2021
359.49 KB
Name
Description
File Size
Date
Size
Miller Revolution Premium R7 Harnesses (EUR) - Datasheet
359.49 KB
6/16/2021
Miller Revolution Premium R7 Harnesses (EUR) - Literature
309.34 KB
6/16/2021
SKUs

1014809
R7 Revolution Worlwide DualTech XXL

1014809
R7 Revolution Worlwide DualTech XXL