Harnesses, Belts & Accessories
Miller Tower Harnesses (EUR)
The tower harness is a comfortable, heavy duty, all round full body harness, with sit harness function. It has been specifically designed to work on towers, and incorporates a wide comfortable support belt, which helps prevent back injuries.
Overview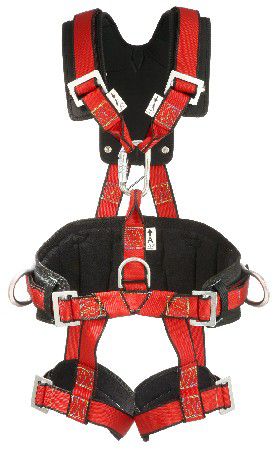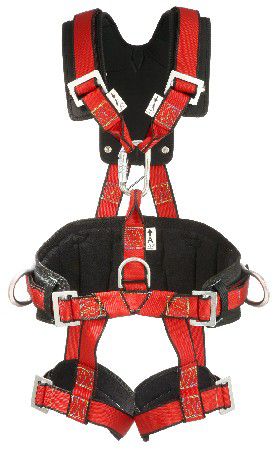 Key Features
Heavy-duty harness, designed for excellent comfort and support. Particularly suitable for harsh-environments.• 4-point harness with belt and sit harness function  : rear and front anchorage and side D-rings.•Ventral anchorage point  for use with shuttle or rope grab provides a comfortable & stable climbing position.• High-quality, resistant webbing for increased durability. • Wide, comfortable work-positioning belt prevents back injuries and promotes productivity. • Padded leg straps for enhanced comfort during suspension work.
• Back and shoulder pads.


Recommended Industries/Use
Hazards
Regulations
Conforms to EN358, EN813 and EN361
Warranty Information
Our state of the art equipment provides the criticaltool for worker protection, combining mobility with unsurpassed comfort.
At our ISO 9001 certified manufacturing facilities in Europe, we ensure that every Miller product is made inaccordance with the standards and meets your exacting requirements.
Data Sheet
Name
Description
File Size
Date
Size
Miller Tower Harnesses Eur Datasheet - Middle East - India
application/pdf 577.64 KB
12/5/2021
577.64 KB
Manuals and Guides
Name
Description
File Size
Date
Size
Miller Tower Harnesses (EUR) - Literature
application/pdf 664.64 KB
6/16/2021
664.64 KB
Miller Tower Harnesses Eur 41639 Literature - Middle East - India
application/pdf 734.64 KB
734.64 KB
Miller Tower Harnesses Eur 41640 Literature - Middle East - India
application/pdf 845.92 KB
845.92 KB
Name
Description
File Size
Date
Size
Name
Description
File Size
Date
Size
Miller Tower Harnesses Eur Datasheet - Middle East - India
577.64 KB
12/5/2021
Miller Tower Harnesses (EUR) - Literature
664.64 KB
6/16/2021
Miller Tower Harnesses Eur 41639 Literature - Middle East - India
734.64 KB
Miller Tower Harnesses Eur 41640 Literature - Middle East - India
845.92 KB

1006255

1006255