Portables
MultiRAE
Wireless, portable multi-gas monitor with advanced VOC detection
Overview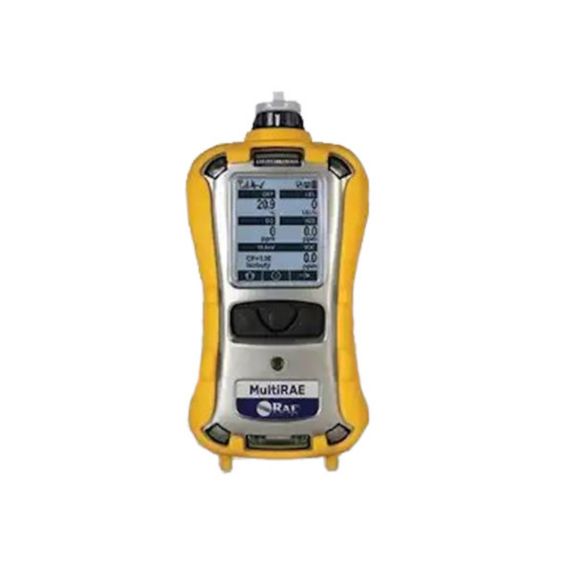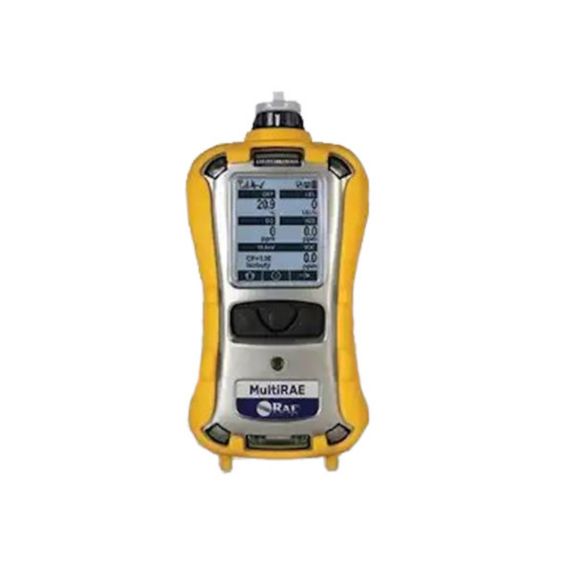 MultiRAE is the most advanced portable chemical detector on the market. With the flexibility of up to six gas sensors and the convenience of wireless portability, this multi-gas monitor is versatile and customizable, while delivering real-time access to instrument readings and alarm status from any location. Choose from 25 sensor options including LEL, PID, NDIR, and exotics that can be easily changed in the field. With five built-in alarms, including man down, and wireless connectivity to your command center, MultiRAE delivers vital information for fast incident response.
Features and Benefits:
Optional integrated wireless
25 field-interchangeable sensor options, including PID, NDIR, and exotics like ammonia, chlorine, and formaldehyde
Five local and remote alarms, including man down
Dust-tight and waterproof (IP65-rated)
Rugged design
Onboard gas libraries include 190 VOCs and 55 combustible gases
Longest battery run-time in its class
Intuitive, icon-driven interface
Flippable screen
Large buttons for easy navigation even with up to three glove layers
Continuous data logging — six months for five sensors 24/7
Fully automated bump testing and calibration with AutoRAE 2
Device Management with Honeywell Sotera™ Express
Application:
Clandestine Labs
Confined Space Entry
Emergency Response
Environmental Cleanups/ Remediation
Exploration
Fracking
Hazmat Response
Plant Shutdown & Turn-Around
Residential Calls
Urban Search & Rescue
Venue Protection
Even the best products deserve expert maintenance!
Elevate your gas detectors' potential with Honeywell's expert maintenance services! Maximize uptime, eliminate costs, and ensure on-time, on-budget project completion.
Explore our fixed, portable, and high-tech support services now!
Data Sheet
Manuals and Guides
Firmware
Technical Note
Certificate
Application Note
Others
Other
Name
Description
File Size
Date
Size
Name
Description
File Size
Date
Size

008-3024-000
External PID zeroing filter

008-3054-000
KIT,MULTIRAE PID SENSOR

010-2003-000
Colorimetric tube tip breaker

010-3006-000
LP1200Kit(3RB inlets&Filt,2 gaskets)

010-4003-000
GAS DETECTION TUBE & SAMPLING HANDBOOK

023-3012-000
6" flexible probe(Requires M01-3224-000 to be used with MultiRAE)

045-2053-000
MEMBRANE WATERPROOF,WHITE, FOR SENSOR

300-0016-015
BUZZER,4.0KHZ +/-0.25KHZ,30VP-PMAX

410-0036-000
Power cord (US Plug)

430-0394-000
SCREW,M3X10,PAN,PHIL,SS,NC,GB818-85

008-3024-000
External PID zeroing filter

008-3054-000
KIT,MULTIRAE PID SENSOR

010-2003-000
Colorimetric tube tip breaker

010-3006-000
LP1200Kit(3RB inlets&Filt,2 gaskets)

010-4003-000
GAS DETECTION TUBE & SAMPLING HANDBOOK

023-3012-000
6" flexible probe(Requires M01-3224-000 to be used with MultiRAE)

045-2053-000
MEMBRANE WATERPROOF,WHITE, FOR SENSOR

300-0016-015
BUZZER,4.0KHZ +/-0.25KHZ,30VP-PMAX

410-0036-000
Power cord (US Plug)

430-0394-000
SCREW,M3X10,PAN,PHIL,SS,NC,GB818-85