Air Purifying Respirator (APR)
Honeywell North® HM500 Series Half Mask
Welcome to the new dimension of safety and comfort: The Honeywell North® Half Mask 500 (HM500) Series. Engineered as a lightweight, durably soft half mask, HM500 ensures better comfort and convenience – particularly for extended wear.
Overview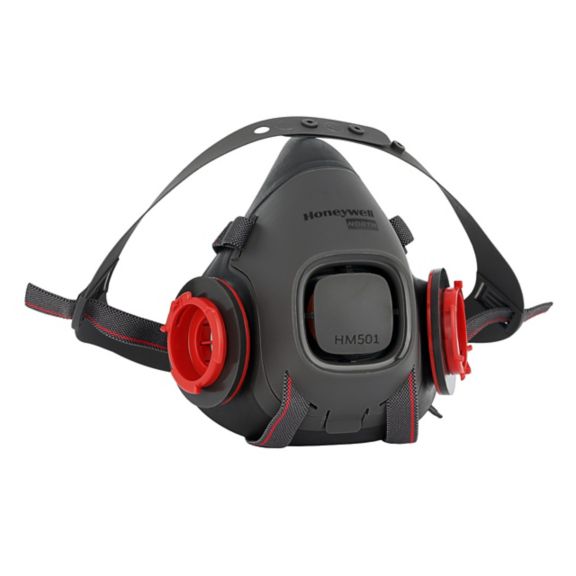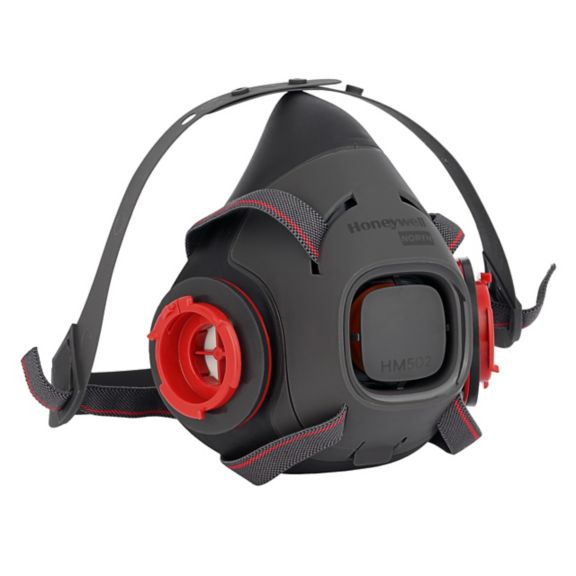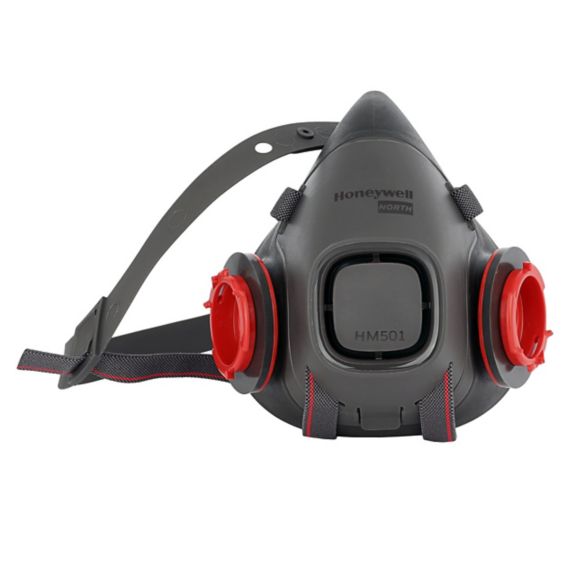 KEY FEATURES
Fully compatible with the
Honeywell North bayonet filters
are quick and easy to attach and lock. A quarter-turn click will give you the confidence that the cartridges are locked securely, and the job will be done safely and productively.
Breakthrough comfort
Lighter than other similar masks with cartridges – available on the market
Softer material for better touch and seal with skin, for long-time use
Professional design for universal fit
Top notch efficiency
Advanced over-molding manufacturing and design made for intuitive assembly and disassembly
Drop-down function replaces need to doff hardhat or earmuff for quick work break
On the job safety
Easy cleaning and maintenance
Both maintain effective seal all shift long
Both are PPE compatible
Both maintain good field of view
Recommended Industries/Use
Chemical
Construction
Manufacturing
Mining
Oil and Gas
Pharmaceutical
Steel and Metals
Utilities
Welding
Hazards
Airborne Particulates
Gas, Vapors, Smoke
Regulations
EN140 - Respiratory protective devices. Half masks and quarter masks. Requirements, testing, marking
REACH Compliance
Yes
Historical Brand
North
Others
Cartridge Type
Facepiece Material
Cartridge Type : BAYONET N-SERIES FILTER
Facepiece Material : Elastomeric
Data Sheet
Name
Description
File Size
Date
Size
Honeywell North® HM500 Series Half Mask - Datasheet
application/pdf 569.81 KB
5/31/2021
569.81 KB
Others
Name
Description
File Size
Date
Size
Honeywell North® HM500 Data Sheet
application/pdf 7.46 MB
5/5/2021
7.46 MB
Honeywell North® HM500 Flyer
application/pdf 179.02 KB
5/5/2021
179.02 KB
Name
Description
File Size
Date
Size
Honeywell North® HM500 Data Sheet
7.46 MB
5/5/2021
7.46 MB
Honeywell North® HM500 Series Half Mask - Datasheet
569.81 KB
5/31/2021
569.81 KB
Honeywell North® HM500 Flyer
179.02 KB
5/5/2021
179.02 KB
Name
Description
File Size
Date
Size
Honeywell North® HM500 Series Half Mask - Datasheet
569.81 KB
5/31/2021
Honeywell North® HM500 Data Sheet
7.46 MB
5/5/2021
Honeywell North® HM500 Flyer
179.02 KB
5/5/2021

HM501BL
HM500 Large Size

HM501BM
HM500 Medium Size

HM501BS
HM500 Small Size

HM502BL
HM500 Drop-Down Large Size

HM502BM
HM500 Drop-Down Medium Size

HM502BS
HM500 Drop-Down Small Size

HM501BL
HM500 Large Size

HM501BM
HM500 Medium Size

HM501BS
HM500 Small Size

HM502BL
HM500 Drop-Down Large Size

HM502BM
HM500 Drop-Down Medium Size

HM502BS
HM500 Drop-Down Small Size