Sensores de presión para montar en placa
Sensores básicos Serie ABP
Compensado. ±1.5% de FSS TEB. Presión baja. Diferencial o manométrica (gage). Salida digital o analógica. DIP, SMT sin terminales, SMT. Rentable
Resumen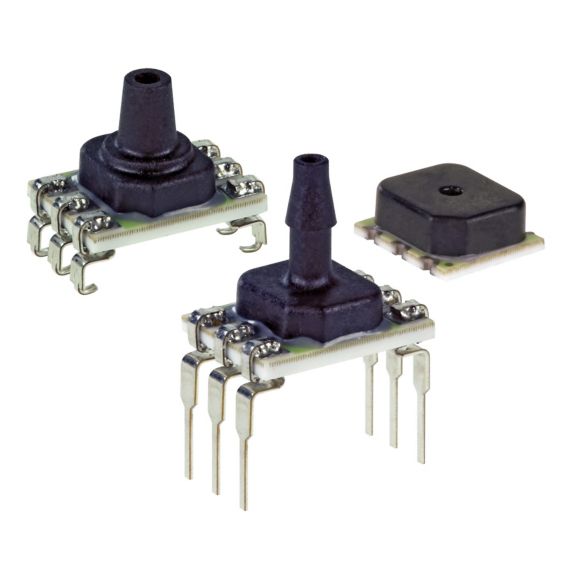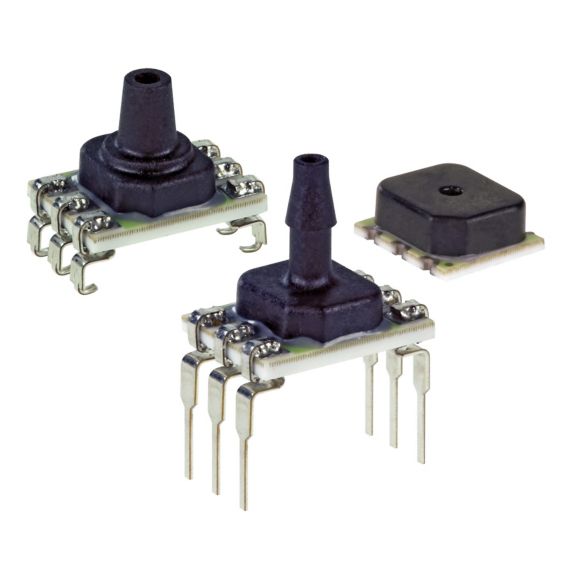 Rangos de presión
>±60 mbar a ±10 bar - ±6 kPa a ±1 MPa - ±1 psi a ±150 psi
Descripción
La Serie.ABP consta de un sensor de presión de silicio piezorresistivo que ofrece una salida digital o analógica proporcional para leer presiones superiores al rango de temperatura y el intervalo de presión de escala completa especificados. Están completamente calibrados y compensados térmicamente para deriva del sensor, sensibilidad, efectos de temperatura y errores de precisión (que incluyen no linealidad, repetibilidad e histéresis) mediante un ASIC (circuito integrado de aplicación específica) en placa. Los valores de salida calibrados para presión se actualizan a aproximadamente 1.kHz para salida analógica y 2.kHz para salida digital. Todos los productos están diseñados y fabricados según los estándares de la norma ISO.9001.
Opción de gases secos: El puerto de entrada está limitado a medios no iónicos y no corrosivos (p. ej., aire y gases secos) y no debe exponerse a la condensación. Los gases se limitan a medios compatibles con poliamida de alta temperatura, silicona, cerámica de alúmina, silicio, oro y vidrio.
Opción de medios líquidos: Incluye un revestimiento de gel siliconado adicional para proteger los componentes electrónicos en el puerto P1, lo que permite su uso con líquidos no corrosivos (p. ej., agua y salina) y en aplicaciones donde pueda haber condensación. Como el puerto P2 está diseñado para usar con líquidos no corrosivos, esta opción suele ser idónea para detección diferencial húmedo-húmedo.
Valor para los clientes
Simplifica el rediseño: El tamaño pequeño permite ahorrar espacio en la PCB (placa de circuitos impresos) o simplifica el diseño en dispositivos más pequeños y menos potentes. Cumple los requisitos de sensibilidad a la humedad de nivel 1, lo que permite una vida útil ilimitada cuando almacenado <30 °C/85 %RH and, under most storage conditions, allows for PCB soldering without any material concern about solder joint quality due to aging of the sensor terminals, which minimizes the concern about aging of the terminals prior PCB assembly. Pressure choices allow engineers to select range required for their application. Leadless SMT, SMT, and DIP package options.
Rentabilidad: El tamaño pequeño permite a los ingenieros reducir los costos de producción y diseño, al tiempo que mantienen el rendimiento mejorado y la fiabilidad de los sistemas que diseñan.
Preciso: La TEB (banda de error total) y el amplio rango de presión permiten que los ingenieros optimicen el rendimiento del sistema mediante la mejora de la resolución y la precisión del sistema. El diagnóstico interno opcional valida que las lecturas del sensor sean las correctas.
Flexible: El rango de voltaje de alimentación, la variedad, los tipos y los rangos de las unidades de presión, las opciones de salida y el amplio rango de temperatura simplifican el uso en la aplicación.
Versátil: La compatibilidad con medios húmedos, el modo de suspensión y las opciones de salida de temperatura convierten al sensor en una opción versátil para las aplicaciones de Internet de las cosas.
La marca Honeywell: Usa tecnología registrada de Honeywell y está protegida por múltiples patentes globales.
Diferenciación:
La precisión mejorada ayuda al ingeniero de diseño a comprender plenamente el error de medición.
El amplio rango de voltaje de alimentación ofrece flexibilidad de diseño.
El consumo de energía, cuando se utiliza la opción de modo de suspensión, permite el uso en aplicaciones alimentadas a batería.
Ficha técnica
Manuales y Guía
Instrucciones de instalación
Modelo de CAD
Folleto
Nota técnica
Libro blanco
Nota de aplicación
Imagen del producto
Nombre
Descripción
Tamaño del archivo
Fecha
Tamaño
Nombre
Descripción
Tamaño del archivo
Fecha
Tamaño

ABPDANN005PG2A3

ABPDANT005PGAA5

ABPDANT015PGAA5

ABPDJJT001PGAA5

ABPDLNN100MG2A3

ABPDRRT005PG2A5

ABPLANN001PG2A5

ABPLANT015PD2A5

ABPLLND060MGAA3

ABPLLNN600MGAA3

ABPDANN005PG2A3

ABPDANT005PGAA5

ABPDANT015PGAA5

ABPDJJT001PGAA5

ABPDLNN100MG2A3

ABPDRRT005PG2A5

ABPLANN001PG2A5

ABPLANT015PD2A5

ABPLLND060MGAA3

ABPLLNN600MGAA3