Portatif à usage général
Xenon XP 1952g Battery Free Scanner
Xenon XP 1952g Battery Free Scanner
Vue d'ensemble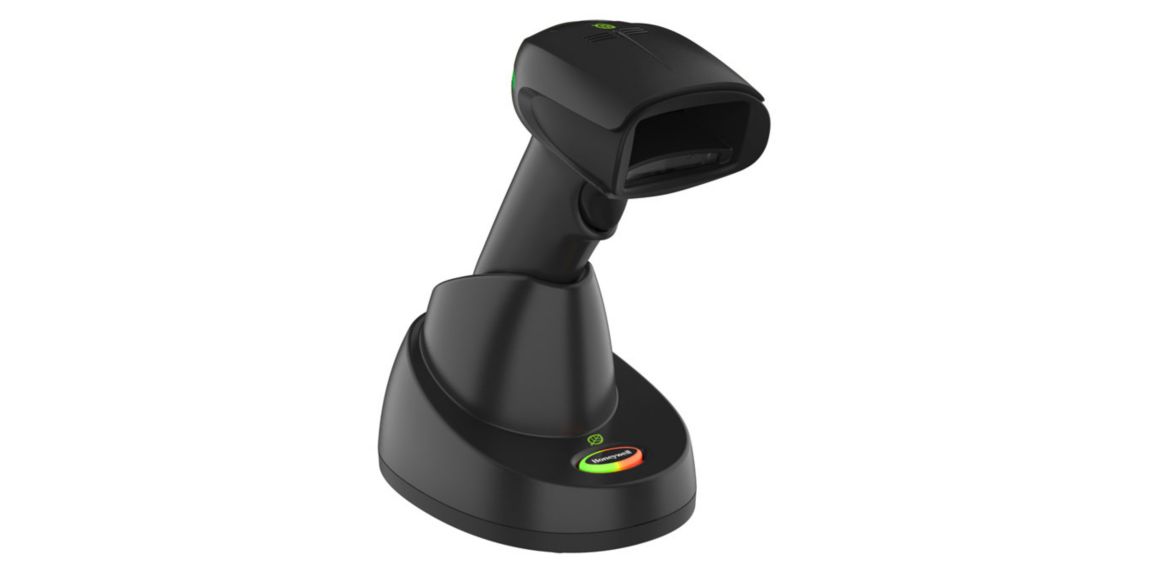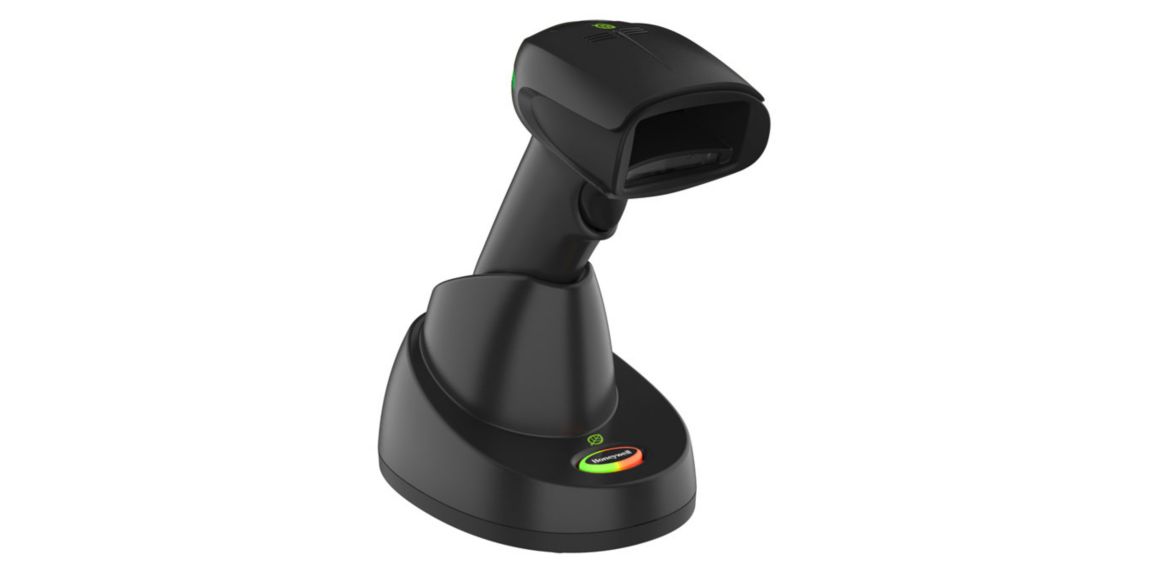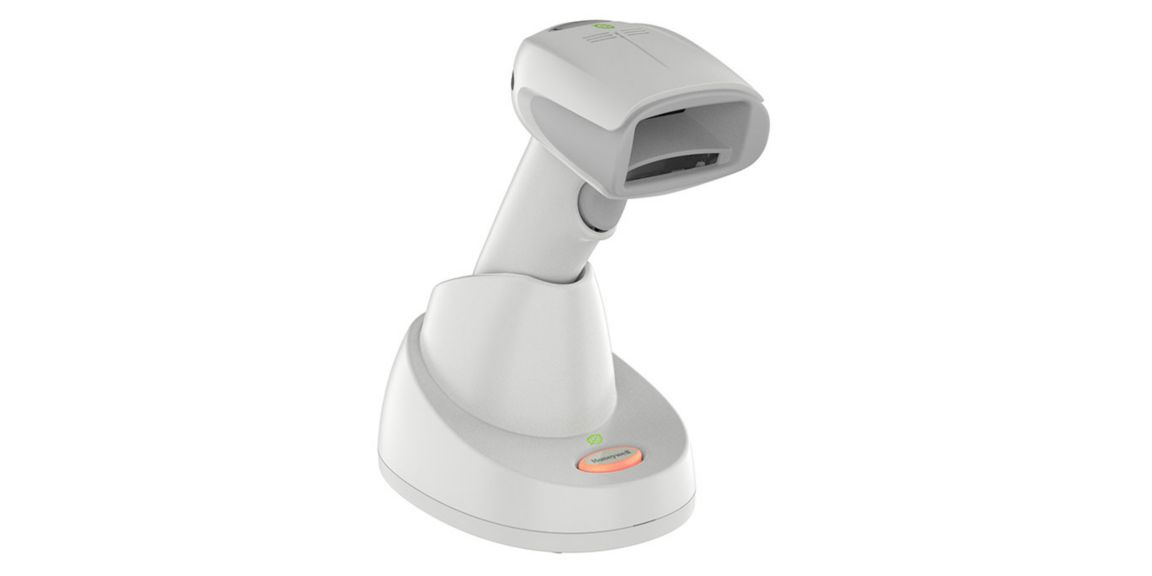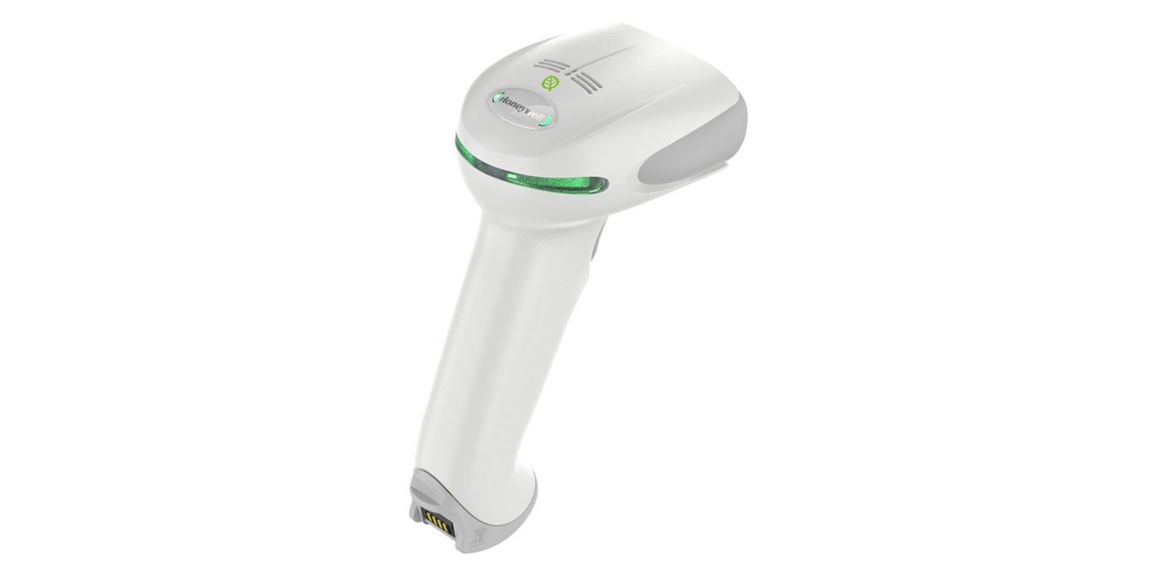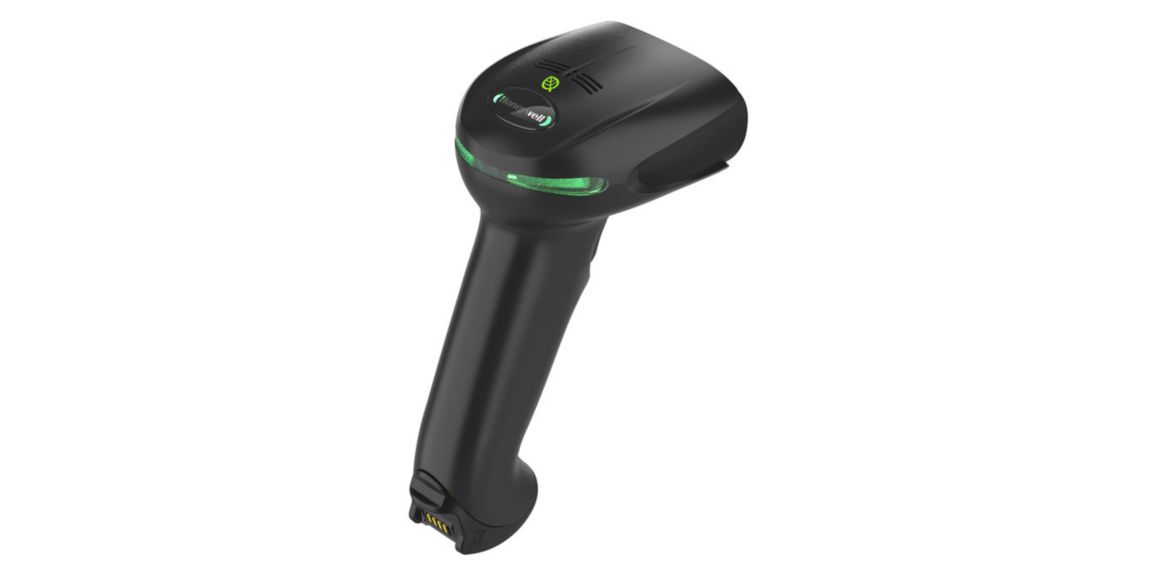 The Honeywell Xenon™ Extreme Performance (XP) 1952g-bf area-imager scanner is Honeywell's latest barcode scanner powered by supercapacitors – eliminating the battery for a green, environmentally friendly scanner. This powerhouse solution is capable of scanning over 450 barcodes on a single charge, and can be recharged in less than 60 seconds via a powered USB port.
....
....
When fully charged, the scanner can typically scan over 450 UPC/EAN codes without the need for recharging – more than enough to check out 25 customers.
....
Supercapacitors hold their charge for hours when fully charged. So operators who forget to place their scanner in the charger prior to break won't impact operations upon return.
....
Two independently configurable recharge alerts remind the operator to place the scanner back into the base for charging, ensuring continuous operation.
....
The Xenon XP 1952g-bf scanner is fully charged in under two minutes with a simple USB connection, and under 30 seconds when a powered USB or external power supply is used.
....
When the scanner is placed in the base, the ready-toscan LED typically flashes in less than 20 seconds to notify the operator that there is sufficient power to support over 100 scans
....
....
The Honeywell Xenon™ Extreme Performance (XP) 1952g-bf area-imager scanner incorporates the latest in battery-free technology, offering the freedom of Bluetooth® low-energy wireless technology without the maintenance hassles or long recharge time associated with traditional batteries. Like all other Xenon scanners, the Xenon XP 1952g-bf scanner delivers aggressive barcode scanning performance – even on poor-quality or damaged barcodes.An integrated Bluetooth low-energy Class 2 radio gives users complete freedom of movement up to 10 meters (33 feet) from the base in a typical work environment. For added convenience, a paging system on the base activates auditory signals that help to locate a misplaced scanner. By eliminating the trip-hazard of tethered cables, the Xenon XP 1952g-bf scanner can provide a safer and more productive environment.The scanner's wireless technology completely eliminates the battery, replacing it with supercapacitors capable of achieving a full charge in less than two minutes via the USB port (under 30 seconds when using a powered USB port or external wall adapter) and typically providing at least 450 scans on UPC/EAN codes without recharging. This makes the Xenon XP 1952g-bf scanner ideal for applications centered around POS, workstations, and counters – for example, as the secondary scanner to a bioptic (in-counter) scanner, or in support of shipping and receiving functions at warehouses. With no battery, a common maintenance hassle is removed and the scanner is lighter and more environmentally friendly.Built on the proven Xenon platform, the Xenon XP 1952g-bf scanner offers high-performance linear barcode scanning and the convenience of wireless – all without a battery.
Scanning Specifications
Skew
Decode Capability
Motion Tolerance

Up to 400 cm/s (157 in/s) for 13 mil UPC at optimal focus

Number of Scans

Typically more than 490 scans

Scanning Range

High density (HD)

Standard range (SR)

Print Contrast

20% minimum reflectance difference

Scan Pattern

Area ImageNEWLINE(1280 x 800 pixel array

Brightness

0 to 100,000 lux

9,290 ft-candles

Pitch
Hardware
Host System Interface

IBM 46xx (RS485)

Keyboard Wedge

RS-232

USB

Wireless

Class 2: 10 m (33 ft) line of sight
Environmental
Plage de température de stockage

-40°C to 70°C

-40°F to 158°F
Autres
Operating Power
Température de fonctionnement

0°C to 50°C

32°F to 122°F

Marque
Scanning Specifications
Motion Tolerance

Up to 400 cm/s (157 in/s) for 13 mil UPC at optimal focus

Number of Scans

Typically more than 490 scans

Scanning Range

High density (HD)

Standard range (SR)

Print Contrast

20% minimum reflectance difference

Scan Pattern

Area ImageNEWLINE(1280 x 800 pixel array

Brightness

0 to 100,000 lux

9,290 ft-candles
Hardware
Host System Interface

IBM 46xx (RS485)

Keyboard Wedge

RS-232

USB

Wireless

Class 2: 10 m (33 ft) line of sight
Environmental
Plage de température de stockage

-40°C to 70°C

-40°F to 158°F
Autres
Température de fonctionnement

0°C to 50°C

32°F to 122°F
Decode Capability : 1D/2D
Motion Tolerance : Up to 400 cm/s (157 in/s) for 13 mil UPC at optimal focus
Number of Scans : Typically more than 490 scans
Scanning Range : High density (HD)|Standard range (SR)
Print Contrast : 20% minimum reflectance difference
Scan Pattern : Area ImageNEWLINE(1280 x 800 pixel array
Brightness : 0 to 100,000 lux|9,290 ft-candles
Host System Interface : IBM 46xx (RS485)|Keyboard Wedge|RS-232|USB
Wireless : Class 2: 10 m (33 ft) line of sight
Operating Power : 5W (1A @ 5V)
Standby Power : 0.5W (0.1A @ 5V)
Plage de température de stockage : -40°C to 70°C|-40°F to 158°F
Température de fonctionnement : 0°C to 50°C|32°F to 122°F
Fiche technique
Nom
La description
Taille du fichier
Date
Taille
Xenon XP 1952g-bf General Duty Scanner Data Sheet
application/pdf 118.28 KB
2/1/2023
118.28 KB
Manuels et guides
Nom
La description
Taille du fichier
Date
Taille
Cleaning Guide: General Purpose Disinfectant-Ready Housing (Rev B 10/22)
application/pdf 882.2 KB
7/26/2023
882.2 KB
Honeywell OCR Programming User Guide (OCR-UG Rev B)
application/pdf 171.01 KB
7/31/2023
171.01 KB
Open Source Licensing Information: Xenon XP, Granit XP, Voyager XP, 8690i, 8680i (SCAN-EN-OSL-01 Rev A)
application/pdf 385.71 KB
7/21/2021
385.71 KB
Xenon XP 1952g/1952g-BF Quick Start Guide - English (1952-52BF-EN-QS-01 Rev A)
application/pdf 1.05 MB
7/21/2021
1.05 MB
Xenon XP 1952 Series Horizontal Mounting Kit with Bezel Instructions for CCB1x-01BT bases (1952-HMKB-EN-IN-01 Rev A)
application/pdf 443.11 KB
7/21/2021
443.11 KB
User Guide: Network and Security for Honeywell Scanners (ALLSKU-SC-EN-SG-01 Rev A)
application/pdf 1.16 MB
11/17/2023
1.16 MB
Linux Keyboard Layouts for Honeywell scanners (KBDCTY-L-EN-AD-01 Rev C)
application/pdf 197.41 KB
4/10/2023
197.41 KB
User Guide: User Guide: Xenon XP Series - English (195X-EN-UG-01 Rev R)
application/pdf 6.91 MB
5/2/2023
6.91 MB
Informations réglementaires
Nom
La description
Taille du fichier
Date
Taille
Regulatory Sheet: Xenon XP 1952g/1952h (1952-ML-RS-04 Rev A)
application/pdf 1.73 MB
1/16/2023
1.73 MB
Regulatory Sheet: CCB-H-010BT/CCB-H-010BT-BF (CCB-H-ML-RS-03 Rev A)
application/pdf 1.43 MB
9/29/2022
1.43 MB
Regulatory Sheet: CCB01-010BT/CCB01-010BT-BF (CCB01-MULT-RS-05 Rev A)
application/pdf 737.25 KB
2/15/2023
737.25 KB
Nom
La description
Taille du fichier
Date
Taille
Nom
La description
Taille du fichier
Date
Taille
Xenon XP 1952g-bf General Duty Scanner Data Sheet
118.28 KB
2/1/2023
Cleaning Guide: General Purpose Disinfectant-Ready Housing (Rev B 10/22)
882.2 KB
7/26/2023
Honeywell OCR Programming User Guide (OCR-UG Rev B)
171.01 KB
7/31/2023
Open Source Licensing Information: Xenon XP, Granit XP, Voyager XP, 8690i, 8680i (SCAN-EN-OSL-01 Rev A)
385.71 KB
7/21/2021
Xenon XP 1952g/1952g-BF Quick Start Guide - English (1952-52BF-EN-QS-01 Rev A)
1.05 MB
7/21/2021
Xenon XP 1952 Series Horizontal Mounting Kit with Bezel Instructions for CCB1x-01BT bases (1952-HMKB-EN-IN-01 Rev A)
443.11 KB
7/21/2021
User Guide: Network and Security for Honeywell Scanners (ALLSKU-SC-EN-SG-01 Rev A)
1.16 MB
11/17/2023
Linux Keyboard Layouts for Honeywell scanners (KBDCTY-L-EN-AD-01 Rev C)
197.41 KB
4/10/2023
User Guide: User Guide: Xenon XP Series - English (195X-EN-UG-01 Rev R)
6.91 MB
5/2/2023
Regulatory Sheet: Xenon XP 1952g/1952h (1952-ML-RS-04 Rev A)
1.73 MB
1/16/2023
Regulatory Sheet: CCB-H-010BT/CCB-H-010BT-BF (CCB-H-ML-RS-03 Rev A)
1.43 MB
9/29/2022
Regulatory Sheet: CCB01-010BT/CCB01-010BT-BF (CCB01-MULT-RS-05 Rev A)
737.25 KB
2/15/2023

1952GHD-2-N
1952g Scanner Only: General Purpose, 1D, PDF417, 2D, HD focus, Black, Bluetooth, NA Only

1952GHD-2USB-5-N
1952g USB Kit: General Purpose, 1D, PDF417, 2D, HD focus, Black Scanner (1952GHD-2-N), USB Type A 3m straight cable (CBL-500-300-S00), Presentation Charge & Communication base (CCB10-010BT-07N), NA Only

1952GHD-2USB-5BF-N
1952g-BF USB Kit: General Purpose, 1D, PDF417, 2D, HD focus, Black Scanner (1952GHD-2-N), USB Type A 3m straight cable (CBL-500-300-S00), Presentation Charge & Communication base (CCB10-010BT-07N-BF), Battery-Free, NA Only

1952GSR-1USB-5-N
1952g USB Kit: General Purpose, 1D, PDF417, 2D, SR focus, Lyric White Scanner (1952GSR-1-N), USB Type A 3m straight cable (CBL-500-300-S00), Presentation Charge & Communication base (CCB11-010BT-07N), NA Only

1952GSR-2-BF-N
1952g Scanner Only: General Purpose, 1D, PDF417, 2D, SR focus, Black, Bluetooth, Battery-Free, NA Only

1952GSR-2-BFEZ-N
1952g Scanner Only: General Purpose, 1D, PDF417, 2D, SR focus, Black, Bluetooth, Battery-Free, EZDL, NA Only

1952GSR-2-EZ-N
1952g Scanner Only: General Purpose, 1D, PDF417, 2D, SR focus, Black, Bluetooth, EZDL, NA Only

1952GSR-2-N
1952g Scanner Only: General Purpose, 1D, PDF417, 2D, SR focus, Black, Bluetooth, NA Only

1952GSR-2USB-5-N
1952g USB Kit: General Purpose, 1D, PDF417, 2D, SR focus, Black Scanner (1952GSR-2-N), USB Type A 3m straight cable (CBL-500-300-S00), Presentation Charge & Communication base (CCB10-010BT-07N), NA Only

1952GSR-2USB-5BF-N
1952g-BF USB Kit: General Purpose, 1D, PDF417, 2D, SR focus, Black Scanner (1952GSR-2-BF-N), USB Type A 3m straight cable (CBL-500-300-S00), Presentation Charge & Communication base (CCB10-010BT-07N-BF), Battery-Free, NA Only

1952GHD-2-N
1952g Scanner Only: General Purpose, 1D, PDF417, 2D, HD focus, Black, Bluetooth, NA Only

1952GHD-2USB-5-N
1952g USB Kit: General Purpose, 1D, PDF417, 2D, HD focus, Black Scanner (1952GHD-2-N), USB Type A 3m straight cable (CBL-500-300-S00), Presentation Charge & Communication base (CCB10-010BT-07N), NA Only

1952GHD-2USB-5BF-N
1952g-BF USB Kit: General Purpose, 1D, PDF417, 2D, HD focus, Black Scanner (1952GHD-2-N), USB Type A 3m straight cable (CBL-500-300-S00), Presentation Charge & Communication base (CCB10-010BT-07N-BF), Battery-Free, NA Only

1952GSR-1USB-5-N
1952g USB Kit: General Purpose, 1D, PDF417, 2D, SR focus, Lyric White Scanner (1952GSR-1-N), USB Type A 3m straight cable (CBL-500-300-S00), Presentation Charge & Communication base (CCB11-010BT-07N), NA Only

1952GSR-2-BF-N
1952g Scanner Only: General Purpose, 1D, PDF417, 2D, SR focus, Black, Bluetooth, Battery-Free, NA Only

1952GSR-2-BFEZ-N
1952g Scanner Only: General Purpose, 1D, PDF417, 2D, SR focus, Black, Bluetooth, Battery-Free, EZDL, NA Only

1952GSR-2-EZ-N
1952g Scanner Only: General Purpose, 1D, PDF417, 2D, SR focus, Black, Bluetooth, EZDL, NA Only

1952GSR-2-N
1952g Scanner Only: General Purpose, 1D, PDF417, 2D, SR focus, Black, Bluetooth, NA Only

1952GSR-2USB-5-N
1952g USB Kit: General Purpose, 1D, PDF417, 2D, SR focus, Black Scanner (1952GSR-2-N), USB Type A 3m straight cable (CBL-500-300-S00), Presentation Charge & Communication base (CCB10-010BT-07N), NA Only

1952GSR-2USB-5BF-N
1952g-BF USB Kit: General Purpose, 1D, PDF417, 2D, SR focus, Black Scanner (1952GSR-2-BF-N), USB Type A 3m straight cable (CBL-500-300-S00), Presentation Charge & Communication base (CCB10-010BT-07N-BF), Battery-Free, NA Only