Coques pour téléphones cellulaires
Captuvo SL42 Enterprise Sled
Captuvo SL42 Enterprise Sled
Vue d'ensemble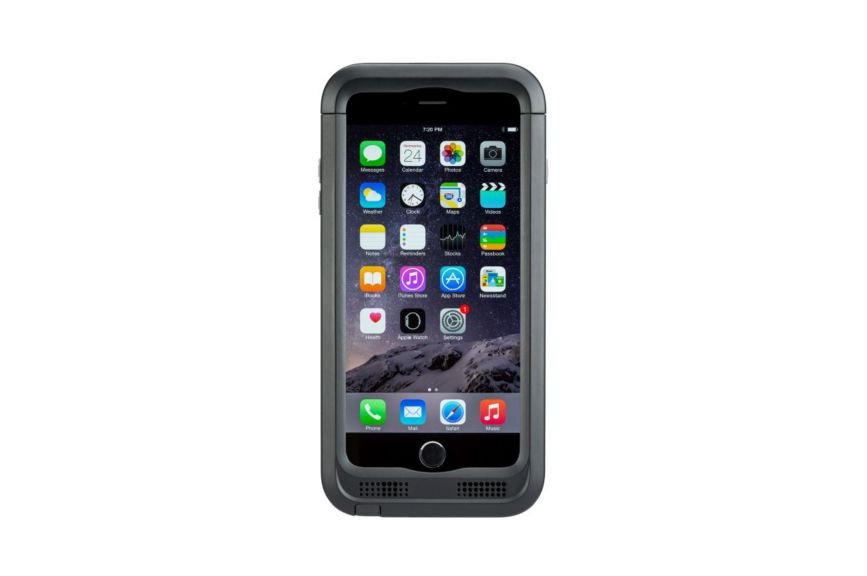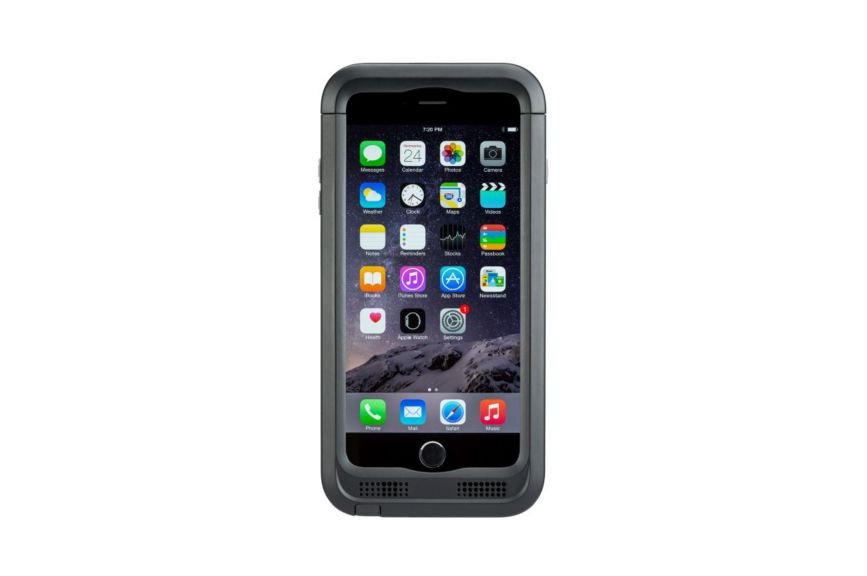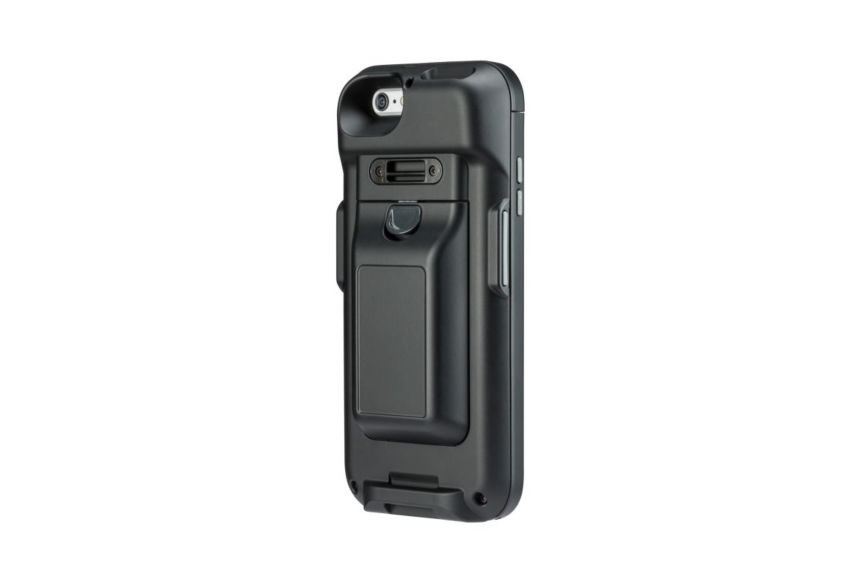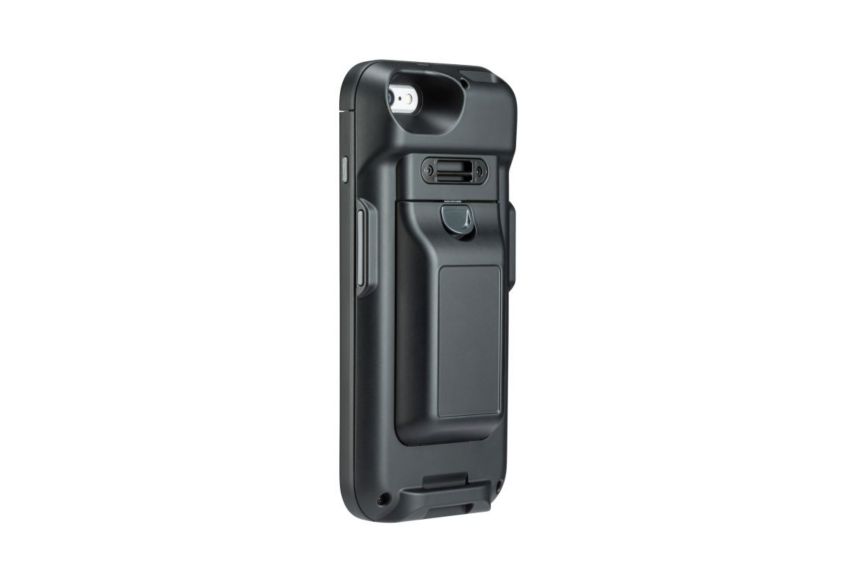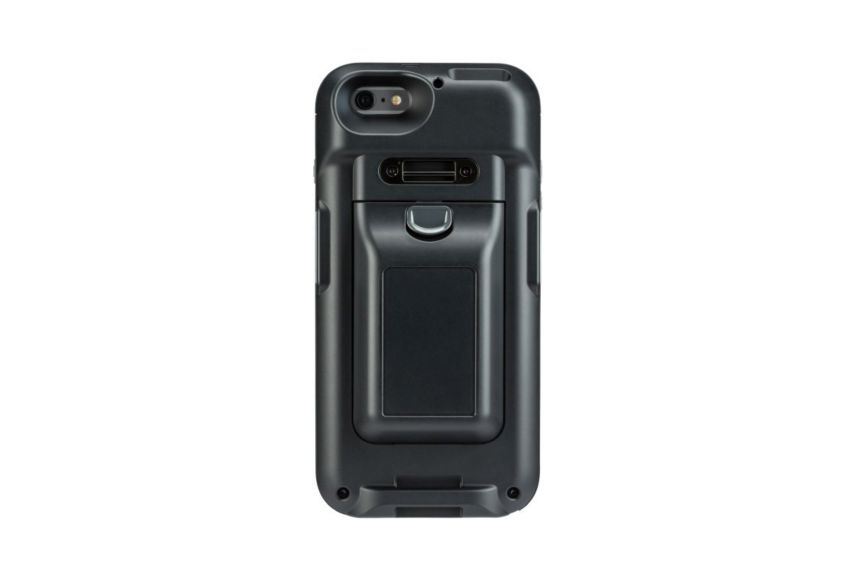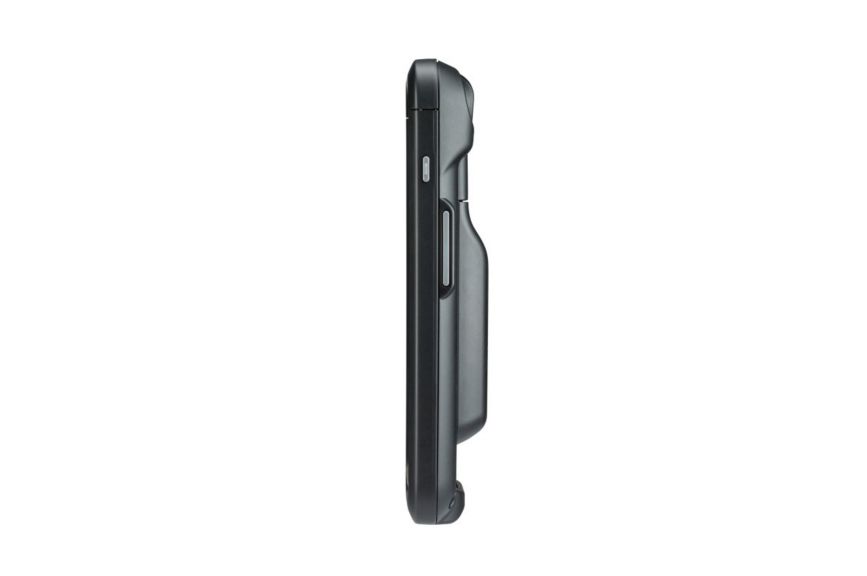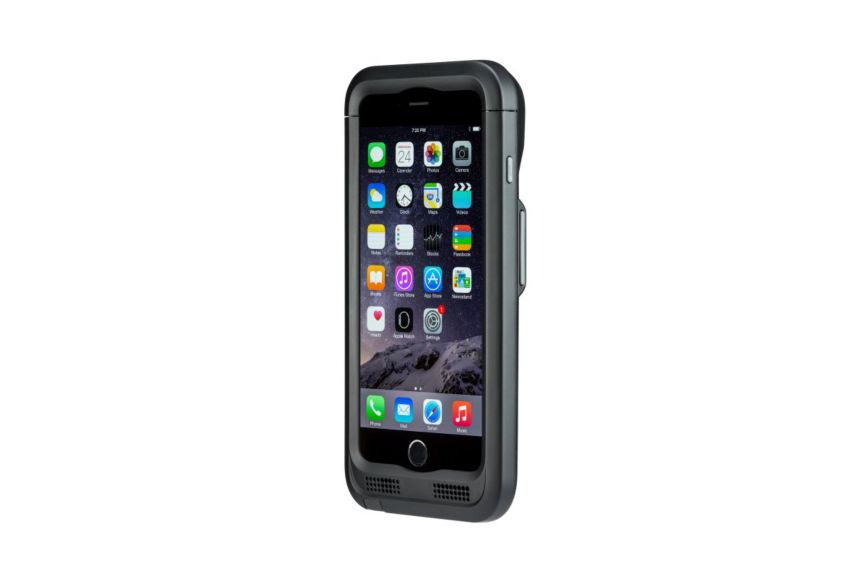 Transform the Apple iPhone®: 6, 6s, 6 Plus or 6s Plus into enterprise-ready devices for your mobile workers. You':ll empower them to be more agile, efficient and productive while improving the customer experience. By adding the Captuvo SL42 enterprise sled, they':ll gain instant access to critical business information plus automatic data capture and transaction processing.
Increases productivity and throughput with an integrated and easy-to-use imager that provides aggressive scanning of linear and 2D barcodes.
An optional security mechanism secures the Apple iPhone in the sled via unique screws, improving overall durability while reducing the likelihood of theft of the iPhone.
A protective housing provides added durability to the iPhone, reducing failure rates as much as 80% compared to competitive solutions.
EasyDLTM reduces transaction time by 95% by automatically parsing barcode data found on government-issued identification cards for age verification or automatic electronic form population.
Provides up to 60% additional power versus a competitive solution, ensuring maximum uptime for mobile users in the field.
Captuvo SL42 enterprise sleds equip you to accomplish more with Apple iPhone®: 6, 6 Plus, 6s or 6s Plus devices. The SL42 sled transforms the popular smartphone into an enterprise-ready solution that speeds business agility and lowers your total cost of ownership.The Captuvo SL42 sled is ideal for mobile frontline workers that require real-time connectivity to business-critical applications and superior barcode scanning performance to improve productivity and better serve customers –: on the floor, on the road or in the field.
Quickly and accurately focuses, illuminates, and reads hundreds of barcodes per shift, even when they':re damaged, poorly printed or on a mobile screen.
Scans direct mark barcodes and other standard 2D barcodes, including AAMVA North American driver':s licenses and document –: simply add optional TotalFreedom™: scanner software plug-ins.
Rugged specifications extend the iPhone':s lifecycle and eliminate the more frequent replacements required for consumer devices alone.
Extends your iPhone':s battery life so it can last a full shift and beyond.
Designed for quick battery replacement, so you don':t lose valuable time taking care of customers.
The Captuvo SL42 series is the right solution to help your enterprise reduce device acquisition costs, empower employees, increase productivity, reduce downtime and improve the customer experience.Find out more about what you can accomplish with the Captuvo SL42 enterprise sled and Honeywell workflow solutions.
Fonctions
Camera
Audio Capability

Access to speaker, microphone, and headphone audio jack

Buttons

Side scan buttons, sleep/wake button, volume buttons, home button
Hardware
Connection Interface

Custom Mini USB

Micro USB
Environmental
Plage de température de stockage
Autres
À utiliser avec
Application
Température de fonctionnement
Marque
Fonctions
Audio Capability

Access to speaker, microphone, and headphone audio jack

Buttons

Side scan buttons, sleep/wake button, volume buttons, home button
Hardware
Connection Interface

Custom Mini USB

Micro USB
Environmental
Plage de température de stockage
Autres
Température de fonctionnement
À utiliser avec : Apple iPhone
Audio Capability : Access to speaker, microphone, and headphone audio jack
Buttons : Side scan buttons, sleep/wake button, volume buttons, home button
Decode Capability : 1D|2D|OCR|PDF|Postal
Development Environment : Captuvo SDK
Connection Interface : Custom Mini USB|Micro USB
Battery Types : Extended|Standard
Plage de température de stockage : - 20 - 45 °C|4 - 113 °F
Température de fonctionnement : 0 - 35 °C|32 - 95 °F
Fiche technique
Nom
La description
Taille du fichier
Date
Taille
Captuvo SL42 Enterprise Sled Data Sheet
application/pdf 271.14 KB
7/21/2021
271.14 KB
Captuvo SL42h Enterprise Sled - 5th Generation Data Sheet
application/pdf 601.85 KB
7/21/2021
601.85 KB
Captuvo SL42 Series Enterprise Sled for Apple iPhone 6s and Apple iPhone 6s Plus Data Sheet
application/pdf 279.87 KB
7/21/2021
279.87 KB
Manuels et guides
Nom
La description
Taille du fichier
Date
Taille
Captuvo SL 22-42 Quick Start Guide - English
application/pdf 1.05 MB
7/21/2021
1.05 MB
Captuvo Enterprise Sled User Guide (P/N CAPTUVOSLED-UG Rev C)
application/pdf 1.02 MB
7/21/2021
1.02 MB
Captuvo SL22-42 Charge Base Quick Start Guide (Captuvo22-42-CB-QS Rev C)
application/pdf 597.87 KB
7/21/2021
597.87 KB
Captuvo SL42 Enterprise Sled for Apple iPhone 6 and iPhone 6 Plus Quick Start Guide
application/pdf 824.69 KB
7/21/2021
824.69 KB
Captuvo SL22-42 Home Base Quick Start Guide (CAPTUVO22-42-HB-QS Rev C)
application/pdf 799.33 KB
7/21/2021
799.33 KB
Informations réglementaires
Nom
La description
Taille du fichier
Date
Taille
Captuvo SL22-42 Regulatory Sheet (RegSht-CaptuvoSL Rev G)
application/pdf 1007.51 KB
7/21/2021
1007.51 KB
Regulatory Sheet: Captuvo SL42 Enterprise Sled for Apple iPhone 6 and iPhone 6 Plus (CAPT42-66P-MULT-RS Rev E)
application/pdf 2.69 MB
11/25/2022
2.69 MB
Catalogue
Nom
La description
Taille du fichier
Date
Taille
Captuvo Enterprise Sleds for Apple Mobile Devices Accessory Catalog
application/pdf 1.63 MB
7/21/2021
1.63 MB
Nom
La description
Taille du fichier
Date
Taille
Nom
La description
Taille du fichier
Date
Taille

SL42-030211-K
Sled for Apple® iPhone® / Generation 5 & SE/ Standard battery / Magnetic stripe reader (MSR) / Black / USB cable / Documentation

SL42-032201-K
Sled for Apple® iPhone® / Generation 5 & SE with lightening connector / Standard range (SR) imager with green LED aimer / Standard battery / Black / USB cable / Documentation

SL42-032211-K
Sled for Apple® iPhone® / Generation 5 & SE/ Standard range (SR) imager with green LED aimer / Standard battery / Magnetic stripe reader (MSR) / Black / USB cable / Documentation

SL42-033302-H-K
Healthcare sled for Apple® iPhone 5 & SE/ High Density range (HD) imager with green LED aimer / Extended battery / White disinfectant-ready housings / USB cable / Documentation

SL42-055301-K
Sled for Apple® iPhone 6/ Standard range (SR) imager with laser aimer / Extended battery / Black / Wall charger with US, EU, ANZ plug adapters / USB cable / Documentation

SL42-055301-K-06
Sled for Apple® iPhone 6s/ Standard range (SR) imager with laser aimer / Extended battery / Black / Wall charger with Level VI US &EU, plug adapters / UScable / Documentation B

SL42-055301-K6
SL42 Device Sled Kit iPhone 6, Extended Battery, US/EU/ANZ Plugs

SL42-065301-K
Sled for Apple® iPhone 6 Plus/ Standard range (SR) imager with laser aimer / Extended battery / Black / Wall charger with US, EU, ANZ plug adapters / USB cable / Documentation

SL42-065301-K-16
Sled for Apple® iPhone 6 Plus/6s plus Standard range (SR) imager with laser aimer / Extended battery / Black / Wall charger with US, EU, ANZ plug adapters / USB cable / Documentation

SL42-065301-K6
SL42 Device Sled Kit iPhone 6 Plus, Extended Battery, US/EU/ANZ Plugs

SL42-030211-K
Sled for Apple® iPhone® / Generation 5 & SE/ Standard battery / Magnetic stripe reader (MSR) / Black / USB cable / Documentation

SL42-032201-K
Sled for Apple® iPhone® / Generation 5 & SE with lightening connector / Standard range (SR) imager with green LED aimer / Standard battery / Black / USB cable / Documentation

SL42-032211-K
Sled for Apple® iPhone® / Generation 5 & SE/ Standard range (SR) imager with green LED aimer / Standard battery / Magnetic stripe reader (MSR) / Black / USB cable / Documentation

SL42-033302-H-K
Healthcare sled for Apple® iPhone 5 & SE/ High Density range (HD) imager with green LED aimer / Extended battery / White disinfectant-ready housings / USB cable / Documentation

SL42-055301-K
Sled for Apple® iPhone 6/ Standard range (SR) imager with laser aimer / Extended battery / Black / Wall charger with US, EU, ANZ plug adapters / USB cable / Documentation

SL42-055301-K-06
Sled for Apple® iPhone 6s/ Standard range (SR) imager with laser aimer / Extended battery / Black / Wall charger with Level VI US &EU, plug adapters / UScable / Documentation B

SL42-055301-K6
SL42 Device Sled Kit iPhone 6, Extended Battery, US/EU/ANZ Plugs

SL42-065301-K
Sled for Apple® iPhone 6 Plus/ Standard range (SR) imager with laser aimer / Extended battery / Black / Wall charger with US, EU, ANZ plug adapters / USB cable / Documentation

SL42-065301-K-16
Sled for Apple® iPhone 6 Plus/6s plus Standard range (SR) imager with laser aimer / Extended battery / Black / Wall charger with US, EU, ANZ plug adapters / USB cable / Documentation

SL42-065301-K6
SL42 Device Sled Kit iPhone 6 Plus, Extended Battery, US/EU/ANZ Plugs