Ordinateurs montés sur véhicule
Thor VM3 Vehicle-Mounted Computer
Thor VM3 Vehicle-Mounted Computer
Vue d'ensemble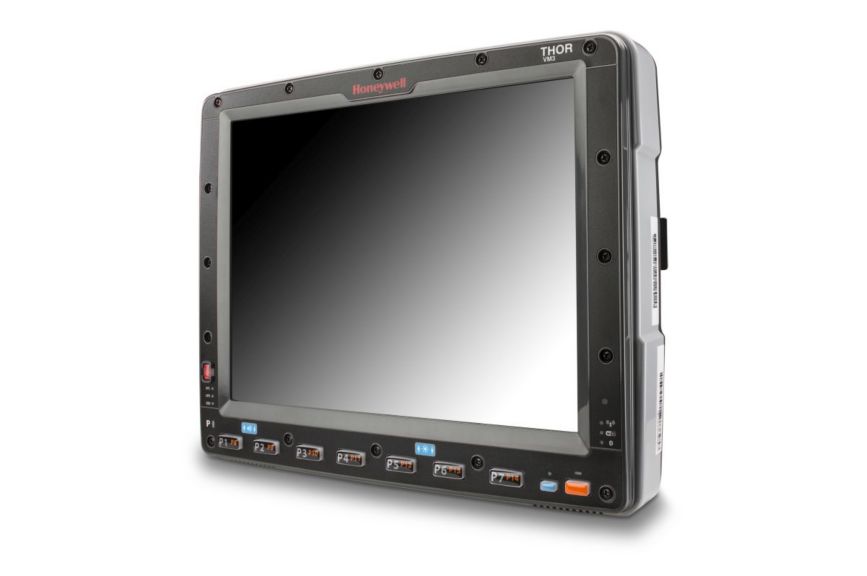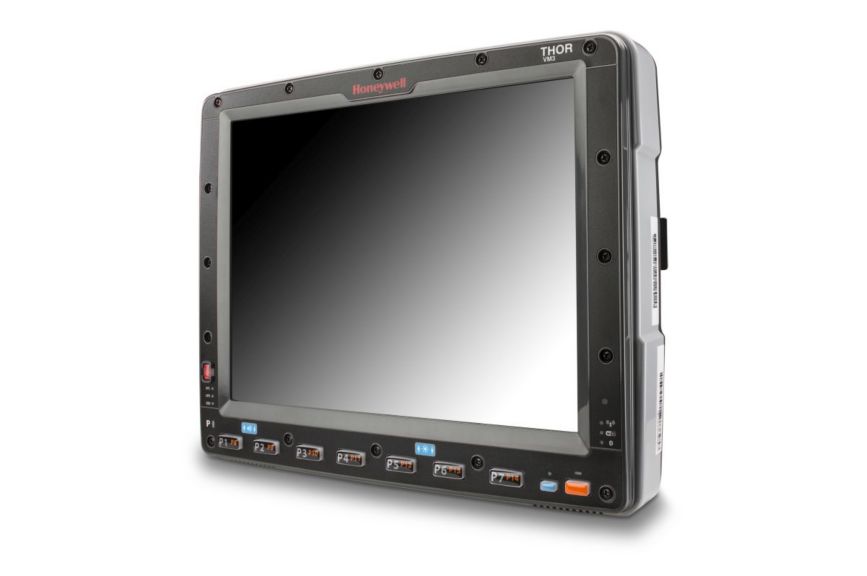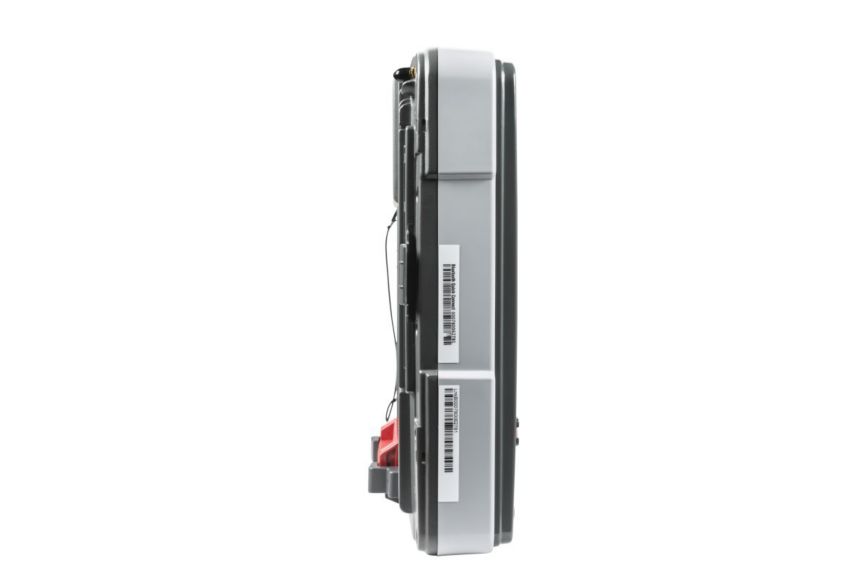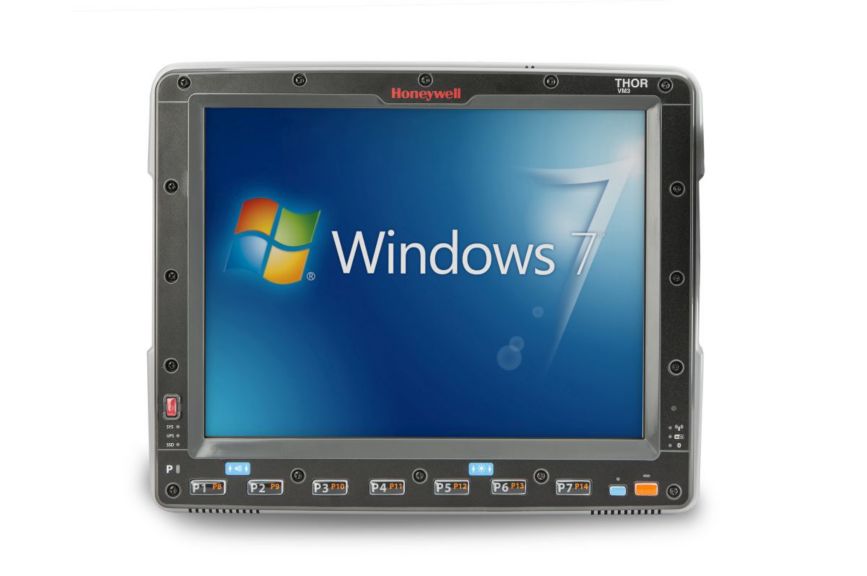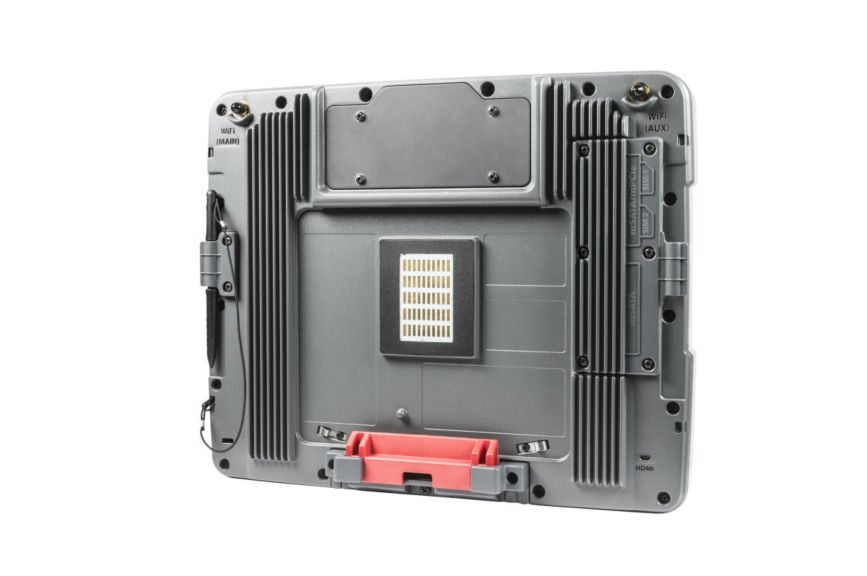 We designed the Thor™: VM3 computer for the toughest distribution center environments, manufacturing facilities and freight operations. In fact, it':s the industry':s most capable full-size vehicle-mounted mobile computer. The VM3 computer combines a 30.73 cm (12.1 in) display with breakthrough innovations that deliver rapid value for your workflows.
With support for multiple versions of Windows (including Windows CE), the Thor VM3 easily integrates into existing IT infrastructures while enabling an upgrade path for the future.
The Intel®: x86 architecture and Dual Core 1.5 GHz processor enable superior performance in data-intensive applications.
Built-in ignition control eliminates the maintenance expense and lost productivity caused by a dead vehicle battery.
A user field-replaceable front panel reduces maintenance costs by allowing users to service the most wear- and abuse-prone components themselves rather than returning them to the repair depot.
Smart Dock feature enables mounting and removal in seconds, saving on support and maintenance costs while maximizing efficiency by allowing dynamic shifting of computers as workloads change.
Disruptions in the supply chain are costly. Are you prepared to adapt to become an organization with a significant competitive advantage? Equipped with the Thor VM3 Vehicle-Mount Computer, you':ll be ready:
The Smart Dock delivers immediate savings on support and maintenance costs while maximizing efficiency –: undock the unit from one forklift and redock it on another vehicle in seconds, dynamically shifting workers and computers as the workload changes.
The field-replaceable front panel reduces your capital and maintenance cost by integrating the two most wear and abuse prone components, the keyboard and touchscreen, into a user-replaceable part. A screwdriver is all you need. This feature also reduces capital costs by letting you substitute spare front panels for spare computers.
The ignition control allows you to set power management preferences to save startup time and extend vehicle battery life. The Thor VM3 computer supports multiple Windows®:-based operating systems, so integration and application development are simple as your business needs grow. Case picking, truck loading, putaway and replenishment…: the VM3 computer equips you to get the job done more efficiently.
And the VM3 computer lets you choose the options you need to maximize efficiencies in the most demanding environments –: indoors, outdoors, in a warehouse, on a shop floor, or in intermodal facilities.
Hardware
Connection Interface

Audio

CANbus

RF Antenna

RS-232

USB
Environmental
Plage de température de stockage

- 22 - 122 °F

- 30 - 50 °C

Cold Storage
Autres
Application

Distribution

Manufacturing

Operating System

Windows 10 IoT Enterprise

Windows 7

Windows Embedded Compact

Windows Embedded Standard

Display Resolution
Display Size
Processor

1.5 GHz Dual Core Intel Atom E3826

Température de fonctionnement

- 22 - 122 °F

- 30 - 50 °C

Marque
Hardware
Connection Interface

Audio

CANbus

RF Antenna

RS-232

USB
Environmental
Plage de température de stockage

- 22 - 122 °F

- 30 - 50 °C
Autres
Application

Distribution

Manufacturing

Operating System

Windows 10 IoT Enterprise

Windows 7

Windows Embedded Compact

Windows Embedded Standard

Processor

1.5 GHz Dual Core Intel Atom E3826

Température de fonctionnement

- 22 - 122 °F

- 30 - 50 °C
Application : Distribution|Manufacturing
Operating System : Windows 10 IoT Enterprise|Windows 7|Windows Embedded Compact|Windows Embedded Standard
Connection Interface : Audio|CANbus|RF Antenna|RS-232|USB
Display Resolution : 1024 x 768
Display Size : 12.1 in|30.7 cm
Processor : 1.5 GHz Dual Core Intel Atom E3826
Plage de température de stockage : - 22 - 122 °F|- 30 - 50 °C
Température de fonctionnement : - 22 - 122 °F|- 30 - 50 °C
Cold Storage : Cold storage defrosters
Vibration Resistance : MIL-STD-810F
Fiche technique
Manuels et guides
Informations réglementaires
Certificat
Catalogue
Nom
La description
Taille du fichier
Date
Taille
Nom
La description
Taille du fichier
Date
Taille

VM3C1B1A1AET01A
Indoor / 802.11a/b/g/n / Bluetooth / Int WLAN Antenna Connections / 4G RAM / 2 G Flash / WEC7 / English / ET (Replaced by VM3C1B1A1AET01A1)

VM3C1B1A1AET05A
Indoor / 802.11a/b/g/n / Bluetooth / Int WLAN Antenna Connections / 4G RAM / 2 G Flash / WEC7 / English / Client Pack / ET (Replaced by VM3C1B1A1AET05A1)

VM3C1B1A1AUS01A1
Indoor / 802.11a/b/g/n / Bluetooth / Int WLAN Antenna Connections / 4G RAM / 2 G Flash / UPS B / WEC7 / English / US

VM3C1B1A1AUS05A
VM3 Vehicle-Mounted Computer 4 GB RAM, 2 GB Flash

VM3C1B1A1AUS05A1
Indoor / 802.11a/b/g/n / Bluetooth / Int WLAN Antenna Connections / 4G RAM / 2 G Flash / UPS B / WEC7 / English / Client Pack / US

VM3C1B2A1AUS01A
Defroster / 802.11a/b/g/n / Bluetooth / Int WLAN Antenna Connections / 4G RAM / 2 G Flash / WEC7 / US

VM3C1B2A1AUS01A1
Defroster / 802.11a/b/g/n / Bluetooth / Int WLAN Antenna Connections / 4G RAM / 2 G Flash / UPS B / WEC7 / US

VM3C1B2A1AUS05A
VM3 Vehicle-Mounted Computer Defroster, 2 GB Flash

VM3C1B2A1AUS05A1
Defroster / 802.11a/b/g/n / Bluetooth / Int WLAN Antenna Connections / 4G RAM / 2 G Flash / UPS B / WEC7 / Client Pack / US

VM3C1B3A1BUS05A1
Outdoor / 802.11a/b/g/n / Bluetooth / Ext WLAN Antenna Connections / 4G RAM / 2 G Flash / UPS B / WEC7 / Client Pack / US

VM3C1B1A1AET01A
Indoor / 802.11a/b/g/n / Bluetooth / Int WLAN Antenna Connections / 4G RAM / 2 G Flash / WEC7 / English / ET (Replaced by VM3C1B1A1AET01A1)

VM3C1B1A1AET05A
Indoor / 802.11a/b/g/n / Bluetooth / Int WLAN Antenna Connections / 4G RAM / 2 G Flash / WEC7 / English / Client Pack / ET (Replaced by VM3C1B1A1AET05A1)

VM3C1B1A1AUS01A1
Indoor / 802.11a/b/g/n / Bluetooth / Int WLAN Antenna Connections / 4G RAM / 2 G Flash / UPS B / WEC7 / English / US

VM3C1B1A1AUS05A
VM3 Vehicle-Mounted Computer 4 GB RAM, 2 GB Flash

VM3C1B1A1AUS05A1
Indoor / 802.11a/b/g/n / Bluetooth / Int WLAN Antenna Connections / 4G RAM / 2 G Flash / UPS B / WEC7 / English / Client Pack / US

VM3C1B2A1AUS01A
Defroster / 802.11a/b/g/n / Bluetooth / Int WLAN Antenna Connections / 4G RAM / 2 G Flash / WEC7 / US

VM3C1B2A1AUS01A1
Defroster / 802.11a/b/g/n / Bluetooth / Int WLAN Antenna Connections / 4G RAM / 2 G Flash / UPS B / WEC7 / US

VM3C1B2A1AUS05A
VM3 Vehicle-Mounted Computer Defroster, 2 GB Flash

VM3C1B2A1AUS05A1
Defroster / 802.11a/b/g/n / Bluetooth / Int WLAN Antenna Connections / 4G RAM / 2 G Flash / UPS B / WEC7 / Client Pack / US

VM3C1B3A1BUS05A1
Outdoor / 802.11a/b/g/n / Bluetooth / Ext WLAN Antenna Connections / 4G RAM / 2 G Flash / UPS B / WEC7 / Client Pack / US