Sensores de flujo de aire amplificados
Serie AWM5000
Compensado. 0 SLPM a 20.0 SLPM. Salida analógica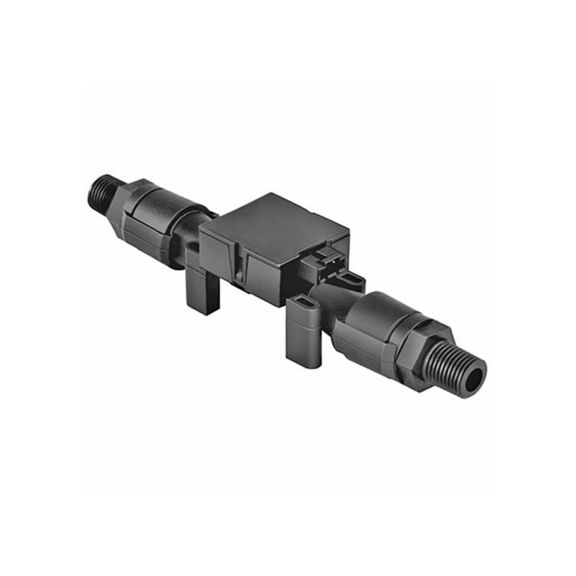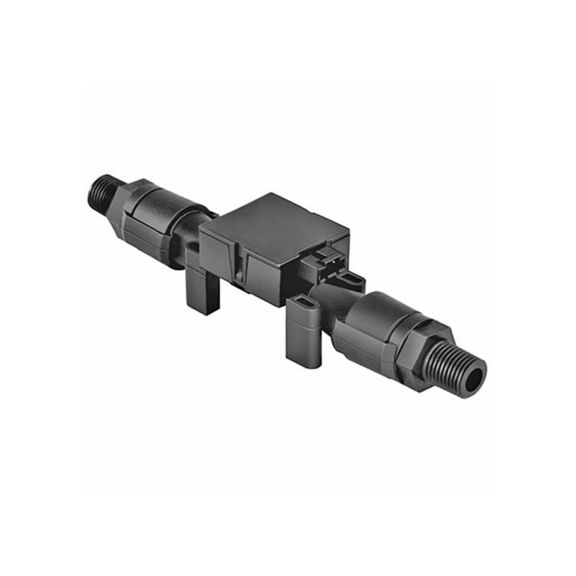 Medición del flujo en línea
La serie AWM5000 de sensores de flujo de masa por micropuente cuentan con una carcasa de lujo del tipo Venturi. Pueden medir flujos de hasta 20 SLPM (litros estándar por minuto) a la vez que inducen una caída máxima en la presión de 2.25" H2O. El chip por micropuente se encuentra en contacto directo con el flujo y, así, se reducen enormemente las posibilidades de error por obstrucción de la boquilla o del canal de derivación.
Encapsulado resistente y versátil
El encapsulado plástico resistente se diseñó de manera tal que soporte presiones de modo común de hasta 50 psi. Además, el elemento de detección pequeño soporta 100 g de impacto sin comprometer el rendimiento. El conector compatible con "AMP" que se incluye proporciona una conexión confiable en aplicaciones exigentes.
Acondicionador de señal integrado
Cada sensor AWM5000 contiene un circuito que lleva a cabo las tareas de amplificación, linealización, compensación de temperatura y calibración de gases. Se puede lograr una salida lineal de 1 a 5 V CC para todos los códigos independientemente del rango del flujo (5, 10, 15 o 20 SLPM) o del gas de calibración (nitrógeno, dióxido de carbono, óxido nitroso o argón). Un láser activo realiza todas las tareas de calibración.
PRECAUCIÓN: DAÑO DEL PRODUCTO
Los sensores de flujo de masa por micropuente de la serie AWM no están diseñados para detectar flujo de líquidos, el cual podría dañar al sensor.
Manuales y Guía
Modelo de CAD
Folleto
Nota técnica
Catálogo
Nota de aplicación
Nombre
Descripción
Tamaño del archivo
Fecha
Tamaño
Nombre
Descripción
Tamaño del archivo
Fecha
Tamaño
Airflow sensors contain advanced microstructure technology to provide a sensitive and fast responseto flow, amount/direction of air or other gases. Potential applications include HVAC, gas metering, chromatography, vent hoods, and medical equipment.
4.14 MB
7/18/2021
AWM5000 Series Microbridge Mass Airflow Sensors
130.29 KB
7/18/2021
AWM5000 Series CAD Models - grouped
130.62 KB
7/18/2021
AWM5000 Series CAD Model.zip
130.64 KB
7/18/2021
Sensors and Switches for Medical Applications
10.15 MB
7/21/2022
Mass Airflow Sensors Measuring Low Differential Pressures Altitude and Gas Density Correction
86.49 KB
7/18/2021
Mass Flow Sensors: Mass Flow versus Volumetric Flow and Flow Rate Unit Conversions
192.45 KB
7/18/2021
Airflow Sensor Glossary of Terms
156.26 KB
7/18/2021
Pressure or Airflow Sensors?
560.47 KB
7/18/2021
Energy and Environmental Design Trends
828.15 KB
7/18/2021
Mass Airflow Sensors Particle Contamination and Filter Manufacturers
100.21 KB
7/18/2021
Gas Media Compatibility & Correction Factors
97.66 KB
7/18/2021
AWM Series Airflow Sensors Introduction
188.31 KB
7/18/2021
AWM5000 Series High Flow Airflow, Amplified
289.52 KB
7/18/2021
Solutions for Ventilators
2.78 MB
11/25/2021

AWM5101VA

AWM5101VN

AWM5102VN

AWM5103VA

AWM5103VC

AWM5103VN

AWM5104VA

AWM5104VC

AWM5104VN

AWM5101VA

AWM5101VN

AWM5102VN

AWM5103VA

AWM5103VC

AWM5103VN

AWM5104VA

AWM5104VC

AWM5104VN