Sensores de presión industriales
Serie SPT
Amplificado y no amplificado. Absoluta, manométrica (gage), manométrica sellada (sealed gage), al vacío. Piezas húmedas 316L SS. 0 psi a 3 psi hasta 0 psi a 5000 psi.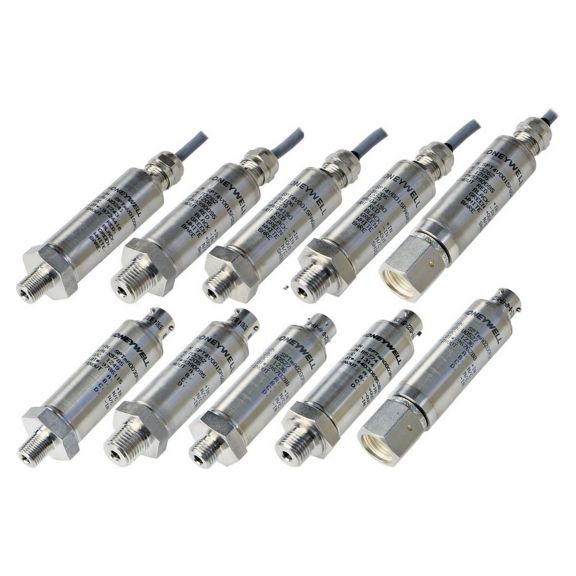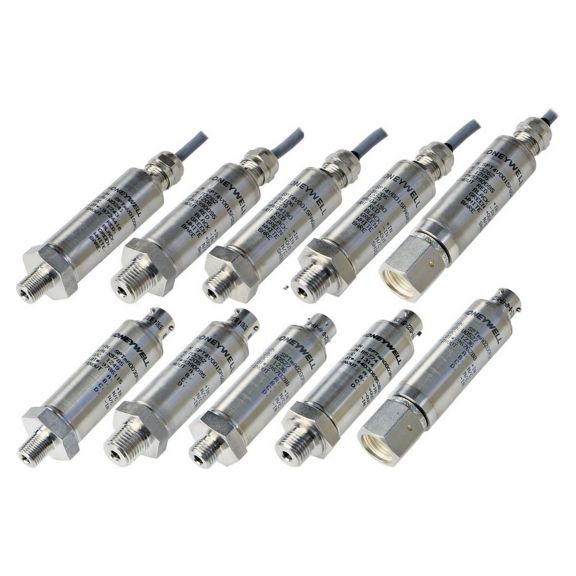 Los sensores de presi&oacute:n de acero inoxidable Serie.SPT de Honeywell se fabricaron para aplicaciones de presi&oacute:n que implican mediciones de un medio adverso en ambientes hostiles. Su dise&ntilde:o es compatible con cualquier medio que no ataque de manera adversa las piezas impregnadas de acero inoxidable 304.o.316.
La Serie.SPT est&aacute: calibrada y compensada para tres tipos de salida: 4.0 mA a 20.0 mA (versi&oacute:n de mA): 1.0 V CC a 5.0 V CC (versi&oacute:n de 4 V): y 0 mV a 100 mV (versi&oacute:n de mV).
Todas las versiones cuentan con diversas conexiones de presi&oacute:n para permitir el uso en una amplia gama de equipos de fabricantes originales.
Los dispositivos de acero inoxidable Serie SPT son transductores resistentes y confiables para usar en una amplia variedad de aplicaciones de detecci&oacute:n de presi&oacute:n en las que se monitorean l&iacute:quidos y gases.
Ficha técnica
Nombre
Descripción
Tamaño del archivo
Fecha
Tamaño
SPT Series Low Cost, Stainless Steel Media Isolated Pressure Sensors
705.44 KB
7/19/2021
PDF 705.44 KB
Manuales y Guía
Nombre
Descripción
Tamaño del archivo
Fecha
Tamaño
Airflow sensors contain advanced microstructure technology to provide a sensitive and fast response to flow, amount/direction of air or other gases. Potential applications include HVAC, gas metering, chromatography, vent hoods, and medical equipment.
4.14 MB
7/18/2021
PDF 4.14 MB
Folleto
Nombre
Descripción
Tamaño del archivo
Fecha
Tamaño
Embedded Products in Hospital Applications
4.7 MB
7/18/2021
PDF 4.7 MB
Nota técnica
Nombre
Descripción
Tamaño del archivo
Fecha
Tamaño
Industrial Product Line Card
1.84 MB
7/18/2021
PDF 1.84 MB
Nota de aplicación
Nombre
Descripción
Tamaño del archivo
Fecha
Tamaño
Sensors and Switches in Mobile Cranes
1.97 MB
7/18/2021
PDF 1.97 MB
Solutions for Ventilators
2.8 MB
7/18/2021
PDF 2.8 MB
Sensors and Switches in Front Loaders
2.54 MB
7/18/2021
PDF 2.54 MB
Sensors and Switches: Solutions for Medical Applications
1.35 MB
7/18/2021
PDF 1.35 MB
Sensors and Switches in Oil Rig Applications
6.35 MB
7/18/2021
PDF 6.35 MB
Sensors in Anesthesia Machines
2.3 MB
7/18/2021
PDF 2.3 MB
Nombre
Descripción
Tamaño del archivo
Fecha
Tamaño

SPT4V3000PS5W02

SPT4V0015PA4W02

SPT4V0100PG4W02

SPT4V0100PG5W02

SPT4V0100PA4W09

SPT4V5000PS5W10

SPT4V0015PG5W02

SPTMV0015PG4W02

SPTMA5000PS5W02

SPTMV1000PS4W02