Abgedichtete Schalter
XE-Serie
7 A AC und DC. Große Auswahl an Hilfsbetätigern, Betriebskräften und Anschlüssen. 4,8 mm mittlere Montage. MIL-PRF-8805 und UL-Zertifizierung
Überblick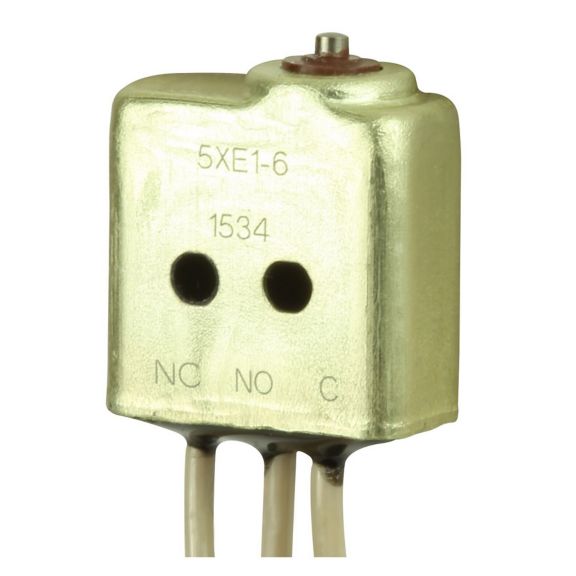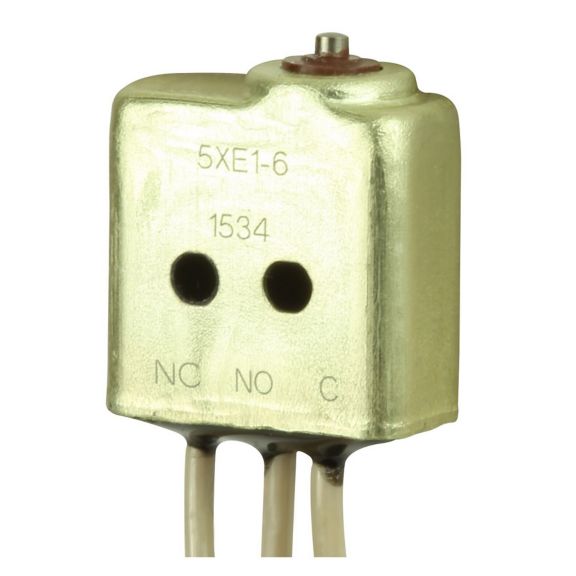 Honeywell SE und XE abgedichtete Miniatur-Basisschalter wurden für eine präzise und zuverlässige Positionsanzeige kritischer Anwendungen an Flugzeugen und Militärsystemen entwickelt. Die Anwendungen reichen von militärischen und kommerziellen Flugzeugen und Hubschraubern bis zu militärischen Landfahrzeugen (Raupen- und Radfahrzeugen). Diese Schalter eignen sich auch für andere kommerzielle und Industrieanwendungen, in denen eine gewisse umgebungsfeste Abdichtung erforderlich ist.
Die umgebungsfest abgedichtete SE-Serie ist für anspruchsvolle Anwendungen konzipiert, bei denen Wasser und/oder Partikelverunreinigungen zusammen mit einem großen Temperaturbereich auftreten können. The SE Series incorporates the Honeywell time-proven MICRO SWITCH SM Series electromechanical switches in the SE housing.
Die umgebungsfest abgedichteten Miniaturschalter der XE-Serie ähneln der SE-Serie, haben jedoch eine kleinere Gehäusegröße und verwenden den elektromechanischen Subminiaturschalter MICRO SWITCH SX von Honeywell. In addition, select Honeywell XE switches are MIL-PRF-8805 qualified satisfying the requirements where a military qualified or compliant switch is required.
To add to the versatility of the SE and XE family of products, CSA and UL certified products are available where the application is not aerospace or military related.
Handbücher und Anleitungen
Name
Beschreibung
Dateigröße
Datum
Größe
Aerospace and Defense Product Range Guide -
application/pdf 16.36 MB
11/17/2022
16.36 MB
MICRO SWITCH Sealed and High Accuracy Switches Line Guide
application/pdf 828.36 KB
5/11/2021
828.36 KB
Basic, Toggle, and Rocker Switches Range Guide -
application/pdf 6.48 MB
10/25/2022
6.48 MB
Anwendungshinweis
Name
Beschreibung
Dateigröße
Datum
Größe
Defence Ground Vehicles -
application/pdf 872.87 KB
12/20/2022
872.87 KB
Produkt-Foto
Name
Beschreibung
Dateigröße
Datum
Größe
AT Series,XE Series Product Photo
application/zip 247.89 KB
5/11/2021
247.89 KB
XE Series Product Photo
application/zip 1.03 MB
5/11/2021
1.03 MB
Andere
Name
Beschreibung
Dateigröße
Datum
Größe
MICRO SWITCH SE/XE Series Miniature Sealed Basic Switches
application/pdf 1.12 MB
5/11/2021
1.12 MB
MICRO SWITCH - Sealed Switches Comparison
application/pdf 488.49 KB
10/24/2022
488.49 KB
Name
Beschreibung
Dateigröße
Datum
Größe
Name
Beschreibung
Dateigröße
Datum
Größe
SKU

1XE202

1XE203

1XE301
VERSIEGELTER SCHALTER

1XE401-T
SEALED SWITCH (SE)

5XE1
VERSIEGELTER SCHALTER

5XE1-T
VERSIEGELTER SCHALTER
SKU

1XE202

1XE203

1XE301
VERSIEGELTER SCHALTER

1XE401-T
SEALED SWITCH (SE)

5XE1
VERSIEGELTER SCHALTER

5XE1-T
VERSIEGELTER SCHALTER