Platinenbestückbare Drucksensoren
SDX-Serie
Kompensiert. Kalibrierter mV-Ausgang. Geräuscharm. Kleine Größe. Hohe Impedanz. Korrosionsbeständig. Hochwertige Ausführung erhältlich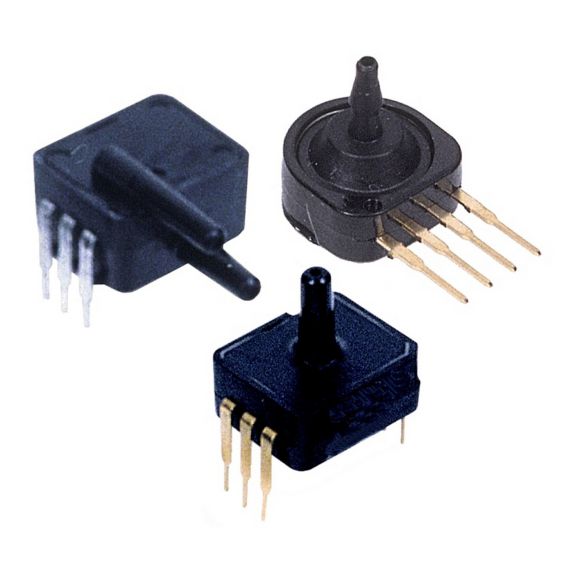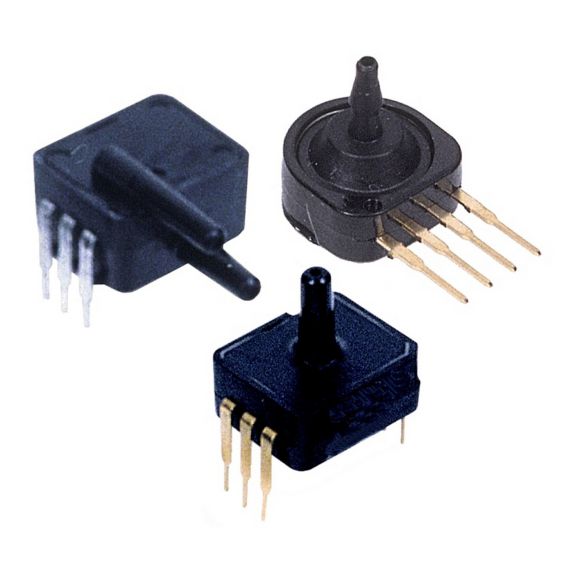 Druckbereiche
Sensoren der SDX-Serie bieten eine kosteneffektive Lösung für Druckanwendungen, bei denen eine kleine Größe plus Leistung erforderlich ist. Diese kalibrierten und temperaturkompensierten Sensoren geben einen genauen und stabilen Wert über einen Temperaturbereich von 0.°C bis 50.°C [32.°F bis 122.°F] aus. Sie sind für den Einsatz mit nicht korrosiven, nichtionischen Arbeitsfluiden wie Luft und Trockengasen gedacht.
Es sind Geräte zur Messung des Absolut- und Überdrucks von 1 psi (SDX01) bis zu 100 psi (SDX100). Die Ausführung für den Absolutdruck hat einen internen Vakuumreferenzwert und einen Ausgangswert, der sich proportional zum Absolutdruck verhält.
SDX-Sensoren sind als handelsübliche Standard- und hochwertige Ausführung (SDXxxxyy-A) erhältlich, damit eine optimierte Genauigkeit und niedrige Kosten für jede Art von Anwendung gewährleistet werden können.
Geräte der SDX-Serie besitzen ein integriertes Schaltkreis-Sensorelement (IC) und ein lasergetrimmtes, kompaktes, lösemittelbeständiges Dünnschicht-Keramikgehäuse. Das Gehäuse ist ein doppelt breites (d.h. 0,600 Zoll Leiterabstand) DIP-Gehäuse. Dieses Gehäuse ähnelt dem von IC-Herstellern, abgesehen davon dass es nur 11,94.mm [0,470 in] lang ist und über einen Druckanschluss verfügt. Der von jedem DIP eingenommene Leiterplattenbereich beträgt ca. 0,26.in x 0,26.in. Die extrem geringe Größe ermöglicht den Einbau mehrerer Sensoren in engen Räumen. Das DIP-Gehäuse bietet exzellenten Schutz vor Korrosion und isoliert gegen externe Belastungen des Pakets.
Das DIP kann wie ein Standard-IC auf einer Leiterplatte mithilfe der Durchgangsbohrungsstifte montiert werden. Die Stifte verankern den Drucksensor auf der Leiterplatte und stellen dadurch eine sicherere und stabilere Einheit als andere Gerätetypen zur Verfügung. Die Ausgangsleistung der Brücke verhält sich ratiometrisch zur Versorgungsspannung und der Betrieb von jeder VDC-Versorgungsspannung bis zu 20.VDC ist möglich.
Handbücher und Anleitungen
Name
Beschreibung
Dateigröße
Datum
Größe
Airflow sensors contain advanced microstructure technology to provide a sensitive and fast responseto flow, amount/direction of air or other gases. Potential applications include HVAC, gas metering, chromatography, vent hoods, and medical equipment.
application/pdf 4.14 MB
5/11/2021
4.14 MB
Board Mount Pressure Sensors Selection Guide
application/pdf 1.3 MB
11/12/2021
1.3 MB
Technischer Hinweis
Name
Beschreibung
Dateigröße
Datum
Größe
Energy and Environmental Design Trends
application/pdf 828.15 KB
5/11/2021
828.15 KB
Pressure Sensor Glossary of Terms
application/pdf 137.09 KB
8/2/2021
137.09 KB
Pressure or Airflow Sensors?
application/pdf 560.47 KB
5/11/2021
560.47 KB
Industrial Product Line Card
application/pdf 2.24 MB
10/24/2022
2.24 MB
Anwendungshinweis
Name
Beschreibung
Dateigröße
Datum
Größe
Agricultural Vehicles -
application/pdf 1.11 MB
10/25/2022
1.11 MB
Defence Ground Vehicles -
application/pdf 872.87 KB
10/25/2022
872.87 KB
Sensor Use in Building Energy Conservation
application/pdf 2.53 MB
5/11/2021
2.53 MB
Name
Beschreibung
Dateigröße
Datum
Größe
Name
Beschreibung
Dateigröße
Datum
Größe

SDX01D4

SDX01D4-A
PRESSURE TRANSDUCERS (COM)

SDX01G2

SDX01G2-A

SDX05D4

SDX05D4-A

SDX05G2

SDX05G2-A

SDX100A2

SDX100A2-A

SDX01D4

SDX01D4-A
PRESSURE TRANSDUCERS (COM)

SDX01G2

SDX01G2-A

SDX05D4

SDX05D4-A

SDX05G2

SDX05G2-A

SDX100A2

SDX100A2-A