Force Sensors
FSS-SMT Series
0 N to 20 N force ranges. Unamplified, uncompensated. 360 mV typ. output. Low deflection. Small size
Обзор продукта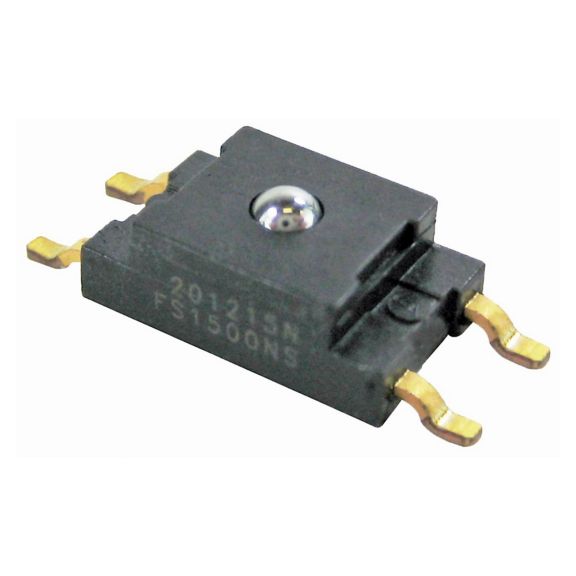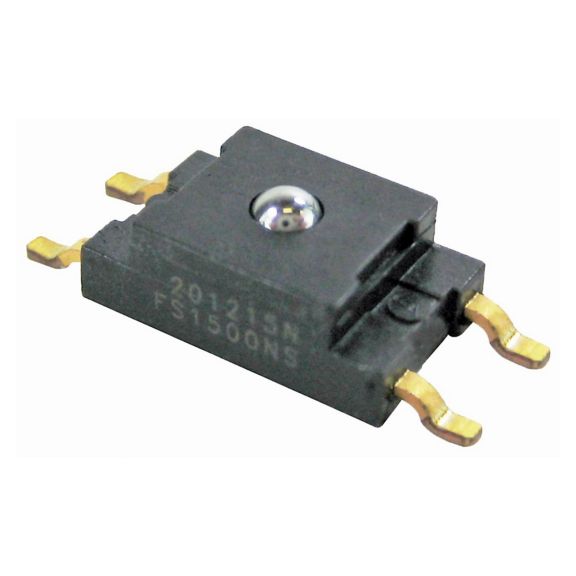 Honeywell FSS-SMT Series force sensors are designed to be one of the most reliable force sensors available as illustrated by 20 million Mean Cycles to Failure (MCTF) at 25 °C [77 °F] rating. This low profile Surface Mount Technology (SMT) sensor allows for automated assembly on a printed circuit board, often helping the customer to reduce assembly costs.
The FSS-SMT Series force sensor is designed to provide precise and reliable force sensing performance in a compact commercial-grade package. The sensor incorporates Honeywell sensing technology that uses a specialized piezoresistive micromachined silicon sensing element. The low power, unamplified, uncompensated Wheatstone bridge circuit design provides inherently stable mV output over the force range.
Force sensors operate on the principle that the resistance of silicon-implanted piezoresistors will change when the resistors flex under applied force. The sensor concentrates force from the applications, through the stainless steel ball, directly to the silicon-sensing element. The amount of resistance changes in proportion to the amount of force being applied. This change in circuit resistance results in a corresponding mV output level change.
The sensor package design incorporates patented modular construction. The use of innovative elastomeric technology and engineered molded plastics results in load excitation capacities up to 60 N (range dependent). The stainless steel ball provides excellent mechanical stability, and is suitable for a variety of potential medical and commercial applications.
Технические характеристики
Name
Description
File Size
Date
Size
FSS-SMT Series Low Profile Force Sensors
application/pdf 326.16 KB
11/3/2021
326.16 KB
Руководства и инструкции
Name
Description
File Size
Date
Size
Airflow, Force and Pressure Sensor Product Range Guide
application/pdf 2.78 MB
11/3/2021
2.78 MB
Sensor Evaluation Board (SEB) User Instructions
application/pdf 1.64 MB
1/11/2022
1.64 MB
Инструкция по установке
Name
Description
File Size
Date
Size
FSS-SMT Series Low Profile Force Sensors
application/pdf 307.09 KB
11/3/2021
307.09 KB
Брошюра
Name
Description
File Size
Date
Size
Sensors and Switches for Medical Applications
application/pdf 10.15 MB
7/21/2022
10.15 MB
Указания по применению
Name
Description
File Size
Date
Size
Defence Ground Vehicles -
application/pdf 872.87 KB
6/14/2023
872.87 KB
Sensors and Switches: Solutions for Medical Applications
application/pdf 1.34 MB
5/18/2023
1.34 MB
Фотография изделия
Name
Description
File Size
Date
Size
FSS-SMT Series Product Photo
application/zip 71.24 KB
11/3/2021
71.24 KB
Name
Description
File Size
Date
Size
Name
Description
File Size
Date
Size
FSS-SMT Series Low Profile Force Sensors
326.16 KB
11/3/2021
Airflow, Force and Pressure Sensor Product Range Guide
2.78 MB
11/3/2021
Sensor Evaluation Board (SEB) User Instructions
1.64 MB
1/11/2022
FSS-SMT Series Low Profile Force Sensors
307.09 KB
11/3/2021
Sensors and Switches for Medical Applications
10.15 MB
7/21/2022
Defence Ground Vehicles -
872.87 KB
6/14/2023
Sensors and Switches: Solutions for Medical Applications
1.34 MB
5/18/2023
FSS-SMT Series Product Photo
71.24 KB
11/3/2021

FSS005WNGB
FSS-SMT Series force sensor, uncompensated/unamplified, low profile package, 0 N to 5 N force range, short tube packaging

FSS005WNGR
FSS-SMT Series force sensor, uncompensated/unamplified, low profile package, 0 N to 5 N force range, tape and reel packaging

FSS005WNGT
FSS-SMT Series force sensor, uncompensated/unamplified, low profile package, 0 N to 5 N force range, standard tube packaging

FSS010WNGB
FSS-SMT Series force sensor, uncompensated/unamplified, low profile package, 0 N to 10 N force range, short tube packaging

FSS010WNGR
FSS-SMT Series force sensor, uncompensated/unamplified, low profile package, 0 N to 10 N force range, tape and reel packaging

FSS010WNGT
FSS-SMT Series force sensor, uncompensated/unamplified, low profile package, 0 N to 10 N force range, standard tube packaging

FSS015WNGB
FSS-SMT Series force sensor, uncompensated/unamplified, low profile package, 0 N to 15 N force range, short tube packaging

FSS015WNGT
FSS-SMT Series force sensor, uncompensated/unamplified, low profile package, 0 N to 15 N force range, standard tube packaging

FSS020WNGB
FSS-SMT Series force sensor, uncompensated/unamplified, low profile package, 0 N to 20 N force range, short tube packaging

FSS020WNGR
FSS-SMT Series force sensor, uncompensated/unamplified, low profile package, 0 N to 20 N force range, tape and reel packaging

FSS005WNGB
FSS-SMT Series force sensor, uncompensated/unamplified, low profile package, 0 N to 5 N force range, short tube packaging

FSS005WNGR
FSS-SMT Series force sensor, uncompensated/unamplified, low profile package, 0 N to 5 N force range, tape and reel packaging

FSS005WNGT
FSS-SMT Series force sensor, uncompensated/unamplified, low profile package, 0 N to 5 N force range, standard tube packaging

FSS010WNGB
FSS-SMT Series force sensor, uncompensated/unamplified, low profile package, 0 N to 10 N force range, short tube packaging

FSS010WNGR
FSS-SMT Series force sensor, uncompensated/unamplified, low profile package, 0 N to 10 N force range, tape and reel packaging

FSS010WNGT
FSS-SMT Series force sensor, uncompensated/unamplified, low profile package, 0 N to 10 N force range, standard tube packaging

FSS015WNGB
FSS-SMT Series force sensor, uncompensated/unamplified, low profile package, 0 N to 15 N force range, short tube packaging

FSS015WNGT
FSS-SMT Series force sensor, uncompensated/unamplified, low profile package, 0 N to 15 N force range, standard tube packaging

FSS020WNGB
FSS-SMT Series force sensor, uncompensated/unamplified, low profile package, 0 N to 20 N force range, short tube packaging

FSS020WNGR
FSS-SMT Series force sensor, uncompensated/unamplified, low profile package, 0 N to 20 N force range, tape and reel packaging