Industrial Pressure Sensors
SPT Series
Amplified & unamplified. Absolute, gage, sealed gage, vacuum gage. Wetted parts 316L SS. 0 psi to 3 psi thru 0 psi to 5000 psi
Обзор продукта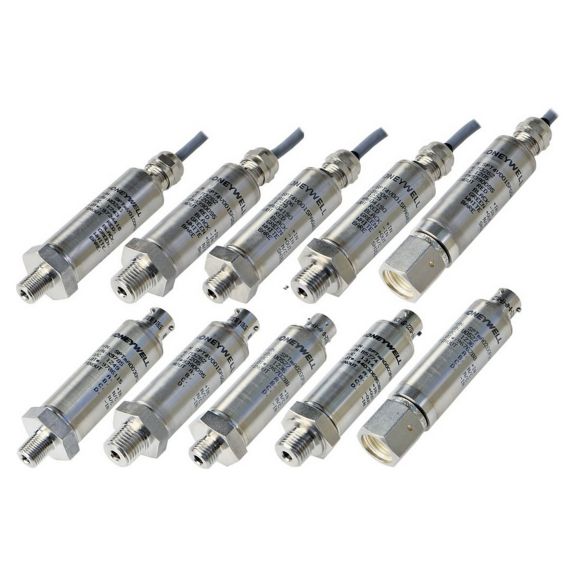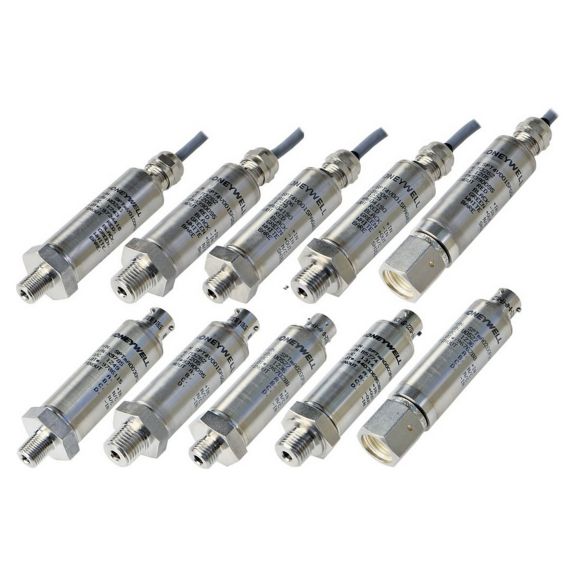 Honeywell SPT Series stainless steel pressure sensors are designed for pressure applications that involve measurement of hostile media in harsh environments and will accommodate any media that will not adversely attack 304 or 316 stainless steel wetted parts.
The SPT Series is calibrated and compensated for three styles of output: 4.0 mA to 20.0 mA (mA version): 1.0 Vdc to 5.0 Vdc (4 V version): and 0 mV to 100 mV (mV version).
All versions feature a variety of pressure connections to allow use in a wide range of OEM equipment.
The SPT Series stainless steel devices are rugged and reliable transducers for use in a wide variety of pressure sensing applications where corrosive liquids and gases are monitored.
Технические характеристики
Name
Description
File Size
Date
Size
SPT Series Low Cost, Stainless Steel Media Isolated Pressure Sensors
application/pdf 705.44 KB
11/3/2021
705.44 KB
Руководства и инструкции
Name
Description
File Size
Date
Size
Airflow, Force and Pressure Sensor Product Range Guide
application/pdf 2.78 MB
11/3/2021
2.78 MB
Брошюра
Name
Description
File Size
Date
Size
Embedded Products in Hospital Applications
application/pdf 4.7 MB
6/12/2023
4.7 MB
Техническое примечание
Name
Description
File Size
Date
Size
Industrial Product Line Card
application/pdf 2.24 MB
10/24/2022
2.24 MB
Указания по применению
Name
Description
File Size
Date
Size
Sensors and Switches in Front Loaders
application/pdf 2.54 MB
11/3/2021
2.54 MB
Defence Ground Vehicles -
application/pdf 872.87 KB
6/14/2023
872.87 KB
Construction Vehicles -
application/pdf 984.29 KB
12/20/2022
984.29 KB
Solutions for Ventilators
application/pdf 2.78 MB
6/12/2023
2.78 MB
Sensors and Switches in Mobile Cranes
application/pdf 1.97 MB
11/3/2021
1.97 MB
Agricultural Vehicles -
application/pdf 1.11 MB
10/25/2022
1.11 MB
Exploded view diagram of Honeywell sensors and switches in oil rig applications
application/pdf 6.35 MB
9/8/2022
6.35 MB
Sensors and Switches: Solutions for Medical Applications
application/pdf 1.34 MB
5/18/2023
1.34 MB
Sensors in Anesthesia Machines
application/pdf 2.3 MB
11/3/2021
2.3 MB
Электронная книга
Name
Description
File Size
Date
Size
Redefining Road Rail & Rugged Applications
application/pdf 28.35 MB
12/20/2022
28.35 MB
Name
Description
File Size
Date
Size
Name
Description
File Size
Date
Size
SPT Series Low Cost, Stainless Steel Media Isolated Pressure Sensors
705.44 KB
11/3/2021
Airflow, Force and Pressure Sensor Product Range Guide
2.78 MB
11/3/2021
Embedded Products in Hospital Applications
4.7 MB
6/12/2023
Industrial Product Line Card
2.24 MB
10/24/2022
Sensors and Switches in Front Loaders
2.54 MB
11/3/2021
Defence Ground Vehicles -
872.87 KB
6/14/2023
Construction Vehicles -
984.29 KB
12/20/2022
Solutions for Ventilators
2.78 MB
6/12/2023
Sensors and Switches in Mobile Cranes
1.97 MB
11/3/2021
Agricultural Vehicles -
1.11 MB
10/25/2022
Exploded view diagram of Honeywell sensors and switches in oil rig applications
6.35 MB
9/8/2022
Sensors and Switches: Solutions for Medical Applications
1.34 MB
5/18/2023
Sensors in Anesthesia Machines
2.3 MB
11/3/2021
Redefining Road Rail & Rugged Applications
28.35 MB
12/20/2022

SPT4V0005PG5W02
Датчик давления

SPT4V0005PG6W02
SPT Series Heavy Duty Pressure Transducer, 4V version, compensated, 0 psi to 5 psi, gage, 7/16 UNF, cable, 2 feet

SPT4V0010PG5W01
SPT Series Heavy Duty Pressure Transducer, 4V version, compensated, 0 psi to 10 psi, gage, 1/4-18 NPT, cable, 1 feet

SPT4V0015PA4W02
SPT Series Heavy Duty Pressure Transducer, 4V version, compensated, 0 psi to 15 psi, absolute, 1/8-27 NPT, cable, 2 feet

SPT4V0015PA4W12
SPT Series Heavy Duty Pressure Transducer, 4V version, compensated, 0 psi to 15 psi, absolute, 1/8-27 NPT, cable, 12 feet

SPT4V0015PA5W02
SPT Series Heavy Duty Pressure Transducer, 4V version, compensated, 0 psi to 15 psi, absolute, 1/4-18 NPT, cable, 2 feet

SPT4V0015PA5W06
SPT Series Heavy Duty Pressure Transducer, 4V version, compensated, 0 psi to 15 psi, absolute, 1/4-18 NPT, cable, 6 feet

SPT4V0015PA6W02
SPT Series Heavy Duty Pressure Transducer, 4V version, compensated, 0 psi to 15 psi, absolute, 7/16 UNF, cable, 2 feet

SPT4V0015PG4W02
SPT Series Heavy Duty Pressure Transducer, 4V version, compensated, 0 psi to 15 psi, gage, 1/8-27 NPT, cable, 2 feet

SPT4V0015PG4W06
SPT Series Heavy Duty Pressure Transducer, 4V version, compensated, 0 psi to 15 psi, gage, 1/8-27 NPT, cable, 6 feet

SPT4V0005PG5W02
Датчик давления

SPT4V0005PG6W02
SPT Series Heavy Duty Pressure Transducer, 4V version, compensated, 0 psi to 5 psi, gage, 7/16 UNF, cable, 2 feet

SPT4V0010PG5W01
SPT Series Heavy Duty Pressure Transducer, 4V version, compensated, 0 psi to 10 psi, gage, 1/4-18 NPT, cable, 1 feet

SPT4V0015PA4W02
SPT Series Heavy Duty Pressure Transducer, 4V version, compensated, 0 psi to 15 psi, absolute, 1/8-27 NPT, cable, 2 feet

SPT4V0015PA4W12
SPT Series Heavy Duty Pressure Transducer, 4V version, compensated, 0 psi to 15 psi, absolute, 1/8-27 NPT, cable, 12 feet

SPT4V0015PA5W02
SPT Series Heavy Duty Pressure Transducer, 4V version, compensated, 0 psi to 15 psi, absolute, 1/4-18 NPT, cable, 2 feet

SPT4V0015PA5W06
SPT Series Heavy Duty Pressure Transducer, 4V version, compensated, 0 psi to 15 psi, absolute, 1/4-18 NPT, cable, 6 feet

SPT4V0015PA6W02
SPT Series Heavy Duty Pressure Transducer, 4V version, compensated, 0 psi to 15 psi, absolute, 7/16 UNF, cable, 2 feet

SPT4V0015PG4W02
SPT Series Heavy Duty Pressure Transducer, 4V version, compensated, 0 psi to 15 psi, gage, 1/8-27 NPT, cable, 2 feet

SPT4V0015PG4W06
SPT Series Heavy Duty Pressure Transducer, 4V version, compensated, 0 psi to 15 psi, gage, 1/8-27 NPT, cable, 6 feet