Miniature Basic Switches
V15W Series
Up to 10 A ac & 5 A dc (UL, cUL, ENEC, CQC). Variety of configurations. 22,2 mm x 10,3 mm diagonal mount. IP67 with pre-wired termination
Обзор продукта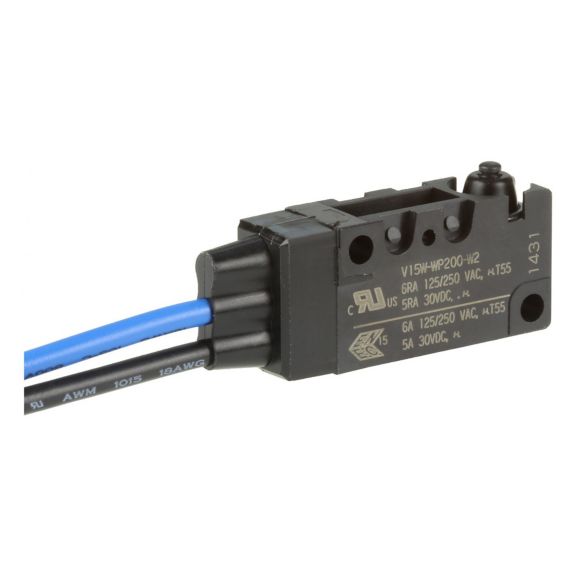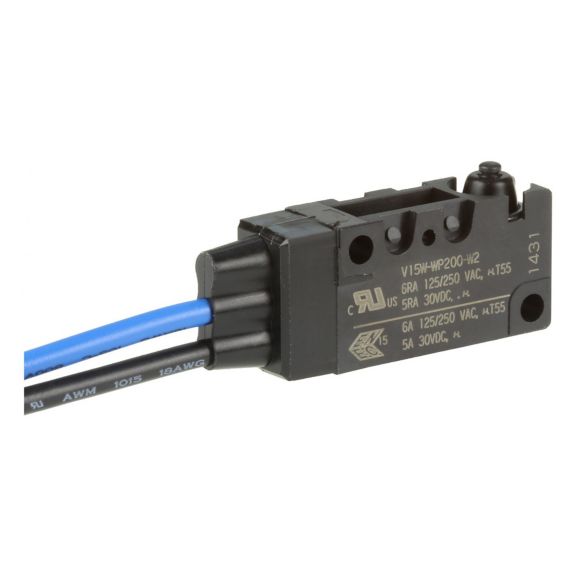 Honeywell MICRO SWITCH V15W Series miniature, sealed basic switches feature industrial-grade performance (IP-rated sealing and 10 A electrical rating). The V15W switch with sealed plunger and sealed wire leads conforms to the IP67 environmental seal rating (temporary submersion).
In addition, the V15W Series is designed to control logic level/computer based circuits or electrical circuits up to 10 A. Electrical connectivity for the switch is achieved via combination quick connect/solder terminals or sealed wire leads.
The V15W Series is further enhanced with certification from CQC (Asia-Pacific), ENEC (Europe), UL and cUL (Americas) agencies for global applications.
Технические характеристики
Руководства и инструкции
Инструкция по установке
Брошюра
Техническое примечание
Указания по применению
Электронная книга
Name
Description
File Size
Date
Size
Name
Description
File Size
Date
Size

V15W-DZ200-AW1
V15W Basic Switch Spdt

V15W-DZ200A02-AW1
V15W Basic Switch Spdt

V15W-DZ200A02-W2
V15W BASIC SWITCH SPDT

V15W-DZ200A04-W2
V15W Basic Switch Spdt

V15W-DZ200A06-AW1
V15W Basic Switch Spdt

V15W-WZ200A02-AW1
V15W BASIC SWITCH SPDT

V15W-WZ200A02-W2
V15W BASIC SWITCH SPDT

V15W-WZ200A06-AW1
V15W BASIC SWITCH SPDT

V15W-DZ200-AW1
V15W Basic Switch Spdt

V15W-DZ200A02-AW1
V15W Basic Switch Spdt

V15W-DZ200A02-W2
V15W BASIC SWITCH SPDT

V15W-DZ200A04-W2
V15W Basic Switch Spdt

V15W-DZ200A06-AW1
V15W Basic Switch Spdt

V15W-WZ200A02-AW1
V15W BASIC SWITCH SPDT

V15W-WZ200A02-W2
V15W BASIC SWITCH SPDT

V15W-WZ200A06-AW1
V15W BASIC SWITCH SPDT