Hazardous Area Limit Switches
CX Series
UL. CSA. ATEX (CE). IEC Ex. INMETRO. IP66/67, NEMA 1, 3, 4, 4X, 6, 6P, 13. Div 1 & 2: Class I: B, C, D. Div 1 & 2: Class II: E, F, G
Обзор продукта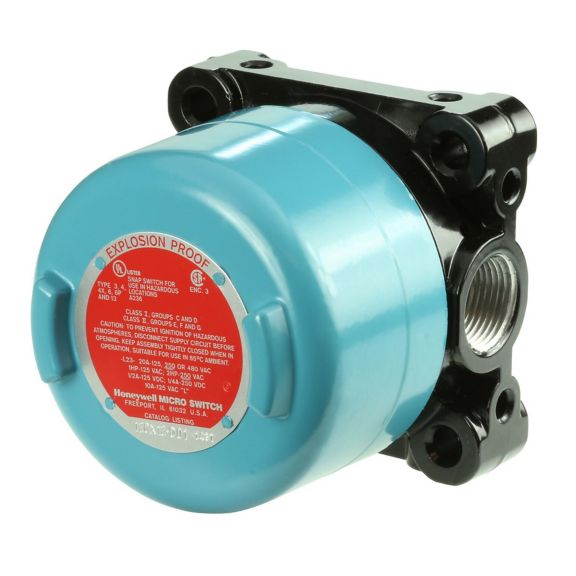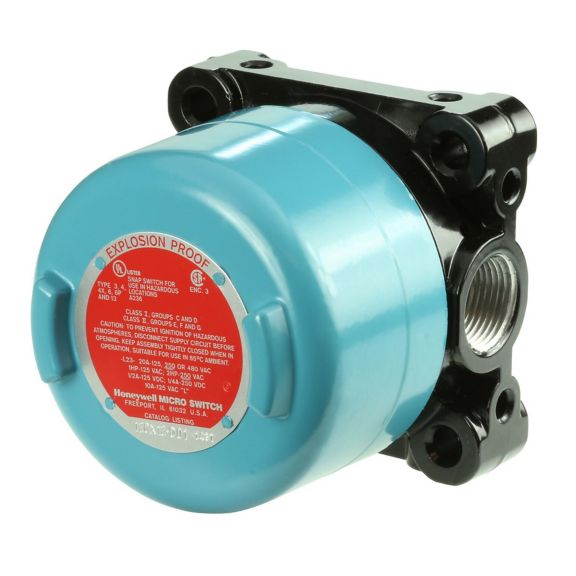 MICRO SWITCH CX switches are built especially for outdoor use in hazardous atmospheres. These enclosures are constructed to withstand the pressure of an internal explosion. Flame paths cool the exploded gases to a point less than the lowest safe operating temperature of the surrounding gas.
MICRO SWITCH 80CX Series switches have rugged bronze housings that are designed to be resistant to salt water and other corrosive environments. They comply with the NEMA 4X requirement for protection against corrosion, in addition to NEMA enclosure standards met by other CX switches.
The product's o-ring seals make the enclosure rain tight, but are outside of required flame paths so explosion proof requirements are maintained. Unless special ordered, all basic switches operate on clockwise and counterclockwise rotation. The actuating mechanism can be field adjusted for CW or CCW operation only. No tools are required.
Технические характеристики
Руководства и инструкции
Инструкция по установке
Нормативная информация
Брошюра
Техническое примечание
Информационный обзор
Указания по применению
Электронная книга
Фотография изделия
Name
Description
File Size
Date
Size
Name
Description
File Size
Date
Size

1172CX12
MICRO SWITCH CX Series Explosion-Proof Limit Switches, Short Housing, Side Rotary, Lever not included

11CX1
MICRO SWITCH CX Series Explosion-Proof Limit Switches, Short Housing, Side Rotary, Lever not included

11CX12
MICRO SWITCH CX Series Explosion-Proof Limit Switches, Short Housing, Side Rotary, Lever not included

11CX12C
MICRO SWITCH CX Series Explosion-Proof Limit Switches, Short Housing, Side Rotary, Lever not included

11CX12E
MICRO SWITCH CX Series Explosion-Proof Limit Switches, Short Housing, Side Rotary, Lever not included

11CX2
HAZARDOUS LOCATION SWITCH

11CX2E
MICRO SWITCH CX Series Explosion-Proof Limit Switches, Short Housing, Side Rotary, Lever not included

12CX2
MICRO SWITCH CX Series Explosion-Proof Limit Switches, Short Housing, Side Rotary, Lever not included

12CX2A
MICRO SWITCH CX Series Explosion-Proof Limit Switches, Short Housing, Side Rotary, Lever not included

14CX1
MICRO SWITCH CX Series Explosion-Proof Limit Switches, Short Housing, Side Rotary, Lever not included

1172CX12
MICRO SWITCH CX Series Explosion-Proof Limit Switches, Short Housing, Side Rotary, Lever not included

11CX1
MICRO SWITCH CX Series Explosion-Proof Limit Switches, Short Housing, Side Rotary, Lever not included

11CX12
MICRO SWITCH CX Series Explosion-Proof Limit Switches, Short Housing, Side Rotary, Lever not included

11CX12C
MICRO SWITCH CX Series Explosion-Proof Limit Switches, Short Housing, Side Rotary, Lever not included

11CX12E
MICRO SWITCH CX Series Explosion-Proof Limit Switches, Short Housing, Side Rotary, Lever not included

11CX2
HAZARDOUS LOCATION SWITCH

11CX2E
MICRO SWITCH CX Series Explosion-Proof Limit Switches, Short Housing, Side Rotary, Lever not included

12CX2
MICRO SWITCH CX Series Explosion-Proof Limit Switches, Short Housing, Side Rotary, Lever not included

12CX2A
MICRO SWITCH CX Series Explosion-Proof Limit Switches, Short Housing, Side Rotary, Lever not included

14CX1
MICRO SWITCH CX Series Explosion-Proof Limit Switches, Short Housing, Side Rotary, Lever not included