Magnetic Position Sensors
RTP Series Swing Angle Sensor
The RTP Series Hall-effect Swing Angle Sensor is a non-contact rotary position sensor with sensing range up to 360°
Overview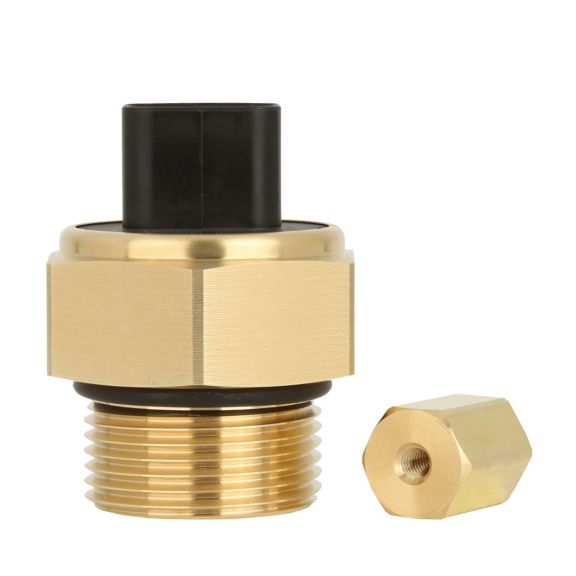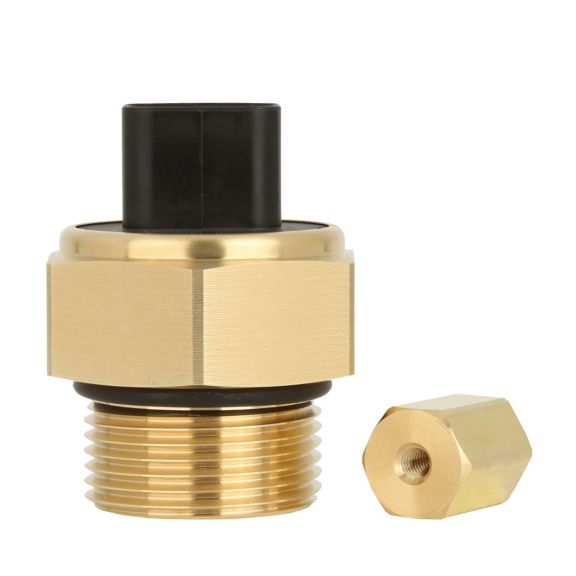 The Swing Angle Sensor is an extension of Honeywell's RTP rotary position sensors.
The Swing Angle Sensor uses a magnetically biased dual die Hall-effect integrated circuit (IC) to sense rotary movement of an actuator over a set operating range. The rotation of the actuator changes the magnet's position relative to the IC. The resulting flux density change is converted to a linear output.
The non-contact sensor construction, signal conditioning and protection circuitry, are sealed in an IP69K rugged brass housing capable of withstanding pressure up to 5000KPa. The magnet is separated from the sensor body, and this combination allows over-travel of the actuator. The absence of the actuator shaft removes wear and tear on the bearings caused by radial forces. The Swing Angle Sensor is designed to meet high reliability standards.
Two independent analog outputs separated with 180° phase shift are combined to achieve a 360° sensing range. The Swing Angle Sensor low power consumption makes it ideal for low voltage applications.
FEATURES
Reliable, durable: Non-contact design reduces wear and tear, improving reliability and durability, minimizing downtime
Rugged: Honeywell utilizes a brass housing with no moving parts within the sensor, making it resistant to corrosion, vibration, and shock
Flexible: Air gap tolerance of 2 mm between sensor and magnet
Cost effective: Adaptable, non-contacting design allows customers eliminate unnecessary connections for installation, reducing installation steps/time and components
Adaptable: Electronics on board allow for flexible packaging and component compatibility with existing systems
IP69K sealing, O-ring and brass housing allows use in many harsh applications
RoHS-compliant materials meet Directive 2002/95/EC
Mating connector: AMP 776487-1
Sensing range: 0° to 360°
Output type: Dual Output 10 % to 90 % of VDD (Ratio metric) 270° ±5° range with 180° ± 0.2° phase shift
Linearity accuracy: ±2 % or ±0.74 %FS
Repeatability: ±0.2 % or ±0.074 %FS
VALUE TO CUSTOMERS
Precise machine control: Low-cost sensor solution enables precise rotary position sensing, up to 360° in heavy-duty applications
Improved system reliability: The absence of an actuator shaft allows over-travel in 360° sensing applications. This reduces system wear and tear. The O-ring allows for direct contact with most common transportation fluids without impact to product performance
Scalable robust solution: Brass housing makes it ideal for usage in high pressure applications
APPLICATIONS
Transportation
Position and movement detection (pedals, throttles, gear shift, levers, steering, linkages, and hitches) in trucks, buses, off-road vehicles, cranes, and industrial/ construction/agricultural vehicles and equipment)
Suspension/kneeling position (buses, trucks)
Tilt/trim position (boat engines, tilling equipment)
Industrial
Valve control
HVAC damper control
Irrigation equipment pivot control
Military
Chassis suspension systems position height
Data Sheet
Name
Description
File Size
Date
Size
Honeywell Swing Angle Sensor Datasheet
application/pdf 873.04 KB
7/28/2022
873.04 KB
Name
Description
File Size
Date
Size
Honeywell Swing Angle Sensor Datasheet
873.04 KB
7/28/2022
873.04 KB
Name
Description
File Size
Date
Size