Toggle Switches
AT Series
Stainless steel toggle. MIL-PRF-8805/26/98. 0.1 A to 5 A res.. Silver & gold contacts. Variety of levers, terminations, and actions.
Overview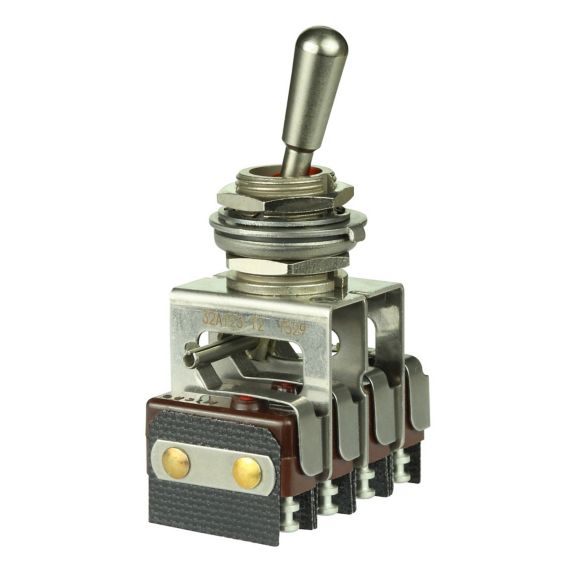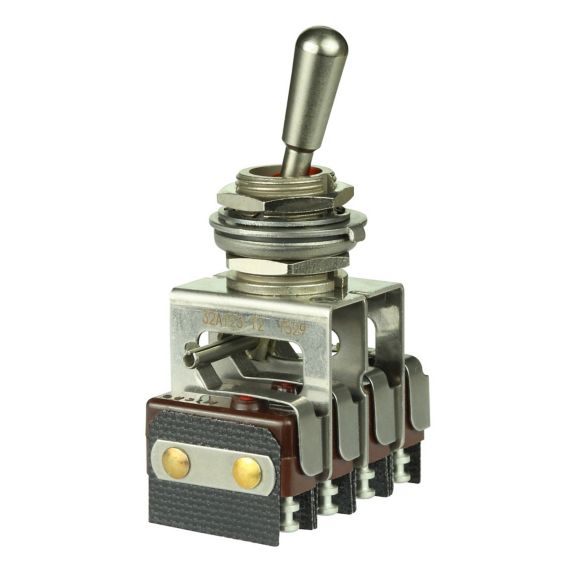 Honeywell's MICRO SWITCH AT toggle switches provide a compact multi-pole toggle switch with a long history of successful performance, exceeding 50 years. The AT Toggle Switch Series is available as a 1-, 2-, 3-, 4-, 6-, 8-, or 10-pole design for a wide range of applications with a metal toggle lever, metal bushing, and metal housing for durability. Select AT Series are qualified to MIL-PRF-8805 for military applications. For applications which do not require a military approved switch, there are other AT Series switches for commercial and industrial applications.
Options for the AT Series include panel seals and lever-to-bushing seals. These options enhance product performance where environments of dust or water spray could be present in the application. Complementing the product offering, MICRO SWITCH AT toggle switch assemblies are available with individual poles (basic switches) which are UL, CSA, and CE certified.
Manuals and Guides
Brochure
Application Note
eBook
Others
Name
Description
File Size
Date
Size
Name
Description
File Size
Date
Size

111AT2
MICRO SWITCH AT Series Toggle Switch, 2 pole, 2 position, Screw terminal, Locking Lever

111AT25
MICRO SWITCH AT Series Toggle Switch, 2 pole, 2 position, Screw terminal, Locking Lever

115AT2
MICRO SWITCH AT Series Toggle Switch, 4 pole, 2 position, Screw terminal, Locking Lever

11AT20
MICRO SWITCH AT Series Toggle Switch, 2 pole, 2 position, Screw terminal, Standard Lever

11AT56
MICRO SWITCH AT Series Toggle Switch, 2 pole, 2 position, Screw terminal, Standard Lever

13AT1
MICRO SWITCH AT Series Toggle Switch, 2 pole, 3 position, Solder terminal, Standard Lever

13AT1-E
MICRO SWITCH AT Series Toggle Switch, 2 pole, 3 position, Solder terminal, Locking Lever

13AT10
MICRO SWITCH AT Series Toggle Switch, 4 pole, 3 position, Screw terminal, Standard Lever

13AT10-S
MICRO SWITCH AT Series Toggle Switch, 4 pole, 3 position, Screw terminal, Standard Lever

13AT10-T2-B
MICRO SWITCH AT Series Toggle Switch, 4 pole, 3 position, Solder T2 type terminal, Locking Lever

111AT2
MICRO SWITCH AT Series Toggle Switch, 2 pole, 2 position, Screw terminal, Locking Lever

111AT25
MICRO SWITCH AT Series Toggle Switch, 2 pole, 2 position, Screw terminal, Locking Lever

115AT2
MICRO SWITCH AT Series Toggle Switch, 4 pole, 2 position, Screw terminal, Locking Lever

11AT20
MICRO SWITCH AT Series Toggle Switch, 2 pole, 2 position, Screw terminal, Standard Lever

11AT56
MICRO SWITCH AT Series Toggle Switch, 2 pole, 2 position, Screw terminal, Standard Lever

13AT1
MICRO SWITCH AT Series Toggle Switch, 2 pole, 3 position, Solder terminal, Standard Lever

13AT1-E
MICRO SWITCH AT Series Toggle Switch, 2 pole, 3 position, Solder terminal, Locking Lever

13AT10
MICRO SWITCH AT Series Toggle Switch, 4 pole, 3 position, Screw terminal, Standard Lever

13AT10-S
MICRO SWITCH AT Series Toggle Switch, 4 pole, 3 position, Screw terminal, Standard Lever

13AT10-T2-B
MICRO SWITCH AT Series Toggle Switch, 4 pole, 3 position, Solder T2 type terminal, Locking Lever