RTD Sensors
HEL-777/776 Series
100 Ohm or 1000 Ohm platinum RTD. -55°C to 150°C. Molded plastic housing SIP.
Overview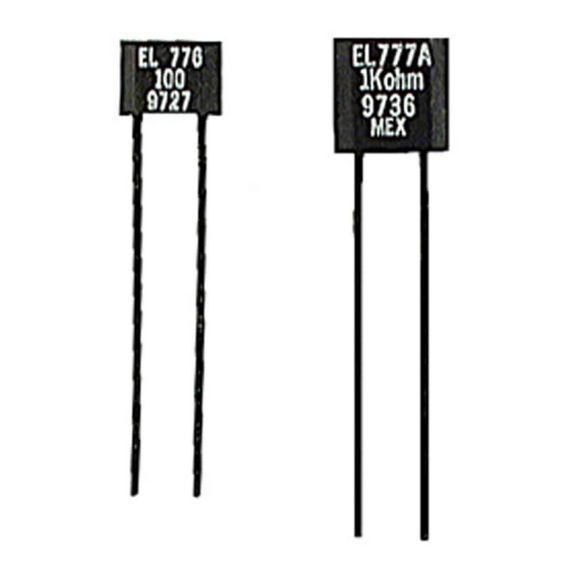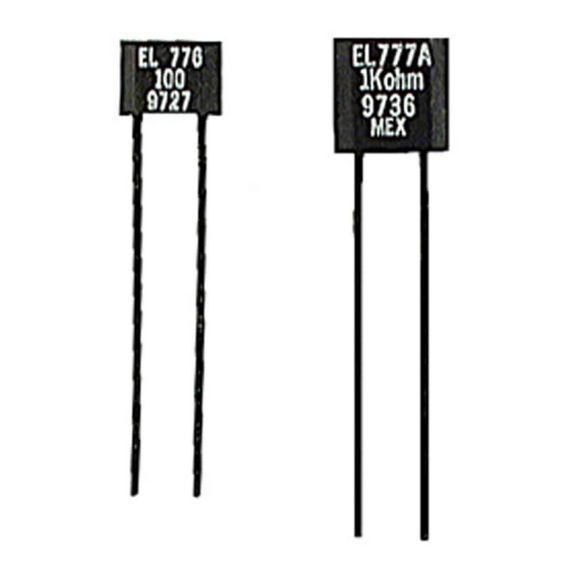 The HEL-776/HEL-777 Series platinum RTDs are designed to measure temperatures from -55 °C to 150 °C (-67 °F to 302 °F) in printed circuit boards, temperature probes, or other lower temperature applications.
Solderable leads with 0.050 in or 0.100 in spacing provide strong connections for wires or printed circuits. The 1000 Ohm, 375 alpha version, provides 10x greater sensitivity and signal-to-noise. Both are ideal for air temperature sensing.
Manuals and Guides
Name
Description
File Size
Date
Size
Temperature Sensors Line Guide
application/pdf 293.8 KB
7/16/2021
293.8 KB
Thermal Sensors Product Range Guide
application/pdf 977.58 KB
8/12/2021
977.58 KB
Brochure
Name
Description
File Size
Date
Size
Industrial Applications: Going Beyond Limits
application/pdf 16.69 MB
11/17/2022
16.69 MB
Technical Note
Name
Description
File Size
Date
Size
Platinum RTDs Temperature Sensors Heat Conduction Equation and RTD Self Heating
application/pdf 127.71 KB
7/16/2021
127.71 KB
Platinum RTDs Temperature Sensors Resistance and Accuracy Tables
application/pdf 93.84 KB
7/16/2021
93.84 KB
Platinum RTDs Temperature Sensors Circuits and Switches
application/pdf 126.89 KB
7/16/2021
126.89 KB
Catalog
Name
Description
File Size
Date
Size
HEL-776 and HEL-777 Series Platinum RTD Temperature Sensors
application/pdf 239.76 KB
7/16/2021
239.76 KB
Application Note
Name
Description
File Size
Date
Size
Agricultural Vehicles -
application/pdf 1.11 MB
12/20/2022
1.11 MB
Construction Vehicles -
application/pdf 984.29 KB
12/20/2022
984.29 KB
Name
Description
File Size
Date
Size
Name
Description
File Size
Date
Size
SKUs

HEL-776-A-U-1
HEL-776 Series temperature sensor, platinum RTD, plastic case SIP

HEL-777-A-T-0
HEL-777 Series temperature sensor, platinum RTD, plastic case, SIP

HEL-777-A-T-1
HEL-777 Series temperature sensor, platinum RTD, plastic case, SIP

HEL-777-A-U-0
HEL-777 Series temperature sensor, platinum RTD, plastic case, SIP

HEL-777-A-U-1
HEL-777 Series temperature sensor, platinum RTD, plastic case, SIP

HEL-776-A-U-1
HEL-776 Series temperature sensor, platinum RTD, plastic case SIP

HEL-777-A-T-0
HEL-777 Series temperature sensor, platinum RTD, plastic case, SIP

HEL-777-A-T-1
HEL-777 Series temperature sensor, platinum RTD, plastic case, SIP

HEL-777-A-U-0
HEL-777 Series temperature sensor, platinum RTD, plastic case, SIP

HEL-777-A-U-1
HEL-777 Series temperature sensor, platinum RTD, plastic case, SIP