Specialty Basic Switches
DP Series
ac control circuits (UL, CSA). SPNO. Snap-in panel mount.
Overview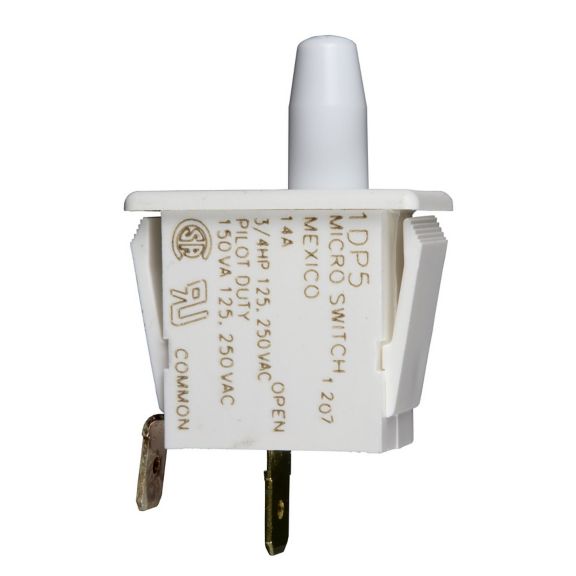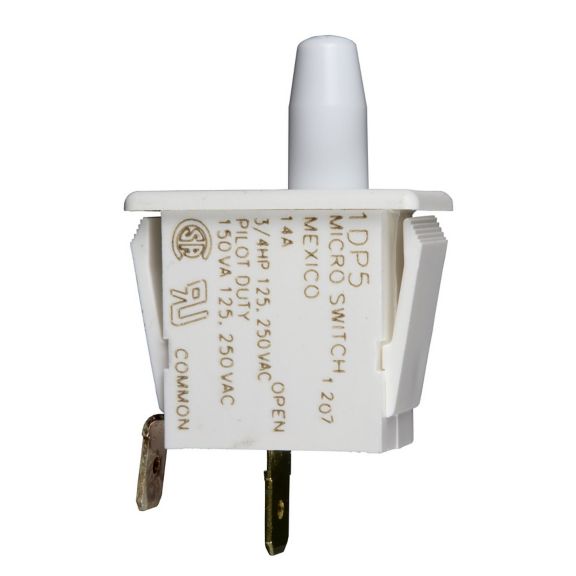 MICRO SWITCH DM/DP basic switches are designed for a variety of applications, and known for their compact, lightweight design and accurate repeatability. The DM/DP Series is a special application precision switch that can be used in a variety of applications, including appliance door lights and door interlocks, as well as service panels.
The DM/DP Series snap-action switches have momentary, push-pull, and pull-to-cheat configurations. The quick-connect terminals and snap-in, panel-mount housings provide easy installation. In addition to the standard quick-connect terminals (4,78 mm x 0,51 mm [0.188 in x 0.020 in]), larger 6,35 mm x 0,81 mm [0.25 in x 0.032 in] quick-connect terminals can be provided.
Data Sheet
Name
Description
File Size
Date
Size
MICRO SWITCH DM/DP Series Snap-In Panel Mount Basic Switch
application/pdf 1.14 MB
7/16/2021
1.14 MB
Manuals and Guides
Name
Description
File Size
Date
Size
Basic, Toggle, and Rocker Switches Range Guide -
application/pdf 6.48 MB
10/25/2022
6.48 MB
Brochure
Name
Description
File Size
Date
Size
Industrial Applications: Going Beyond Limits
application/pdf 16.69 MB
11/17/2022
16.69 MB
Technical Note
Name
Description
File Size
Date
Size
Technical Bulletin #14 - Applying Precision Switches
application/pdf 617.67 KB
5/31/2022
617.67 KB
Application Note
Name
Description
File Size
Date
Size
Agricultural Vehicles -
application/pdf 1.11 MB
12/20/2022
1.11 MB
Sensors and Switches in Valves and Flowmeters
application/pdf 1.78 MB
9/23/2022
1.78 MB
Construction Vehicles -
application/pdf 984.29 KB
12/20/2022
984.29 KB
Defence Ground Vehicles -
application/pdf 872.87 KB
6/14/2023
872.87 KB
eBook
Name
Description
File Size
Date
Size
Redefining Road Rail & Rugged Applications
application/pdf 28.35 MB
12/20/2022
28.35 MB
Name
Description
File Size
Date
Size
Name
Description
File Size
Date
Size
MICRO SWITCH DM/DP Series Snap-In Panel Mount Basic Switch
1.14 MB
7/16/2021
Basic, Toggle, and Rocker Switches Range Guide -
6.48 MB
10/25/2022
Industrial Applications: Going Beyond Limits
16.69 MB
11/17/2022
Technical Bulletin #14 - Applying Precision Switches
617.67 KB
5/31/2022
Agricultural Vehicles -
1.11 MB
12/20/2022
Sensors and Switches in Valves and Flowmeters
1.78 MB
9/23/2022
Construction Vehicles -
984.29 KB
12/20/2022
Defence Ground Vehicles -
872.87 KB
6/14/2023
Redefining Road Rail & Rugged Applications
28.35 MB
12/20/2022
SKUs

1DP5
BASIC SWITCH-PANEL MOUNT

1DP5
BASIC SWITCH-PANEL MOUNT