Subminiature Basic Switches
ZD Series
Up to 3 A ac & dc (UL, cUL, ENEC, CQC). Variety of actuators, forces, terminations. Mounting includes 9,5 mm centers & integral pins.
Overview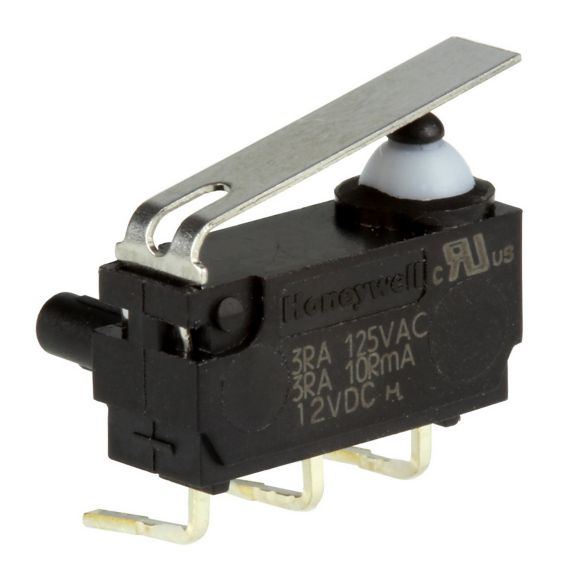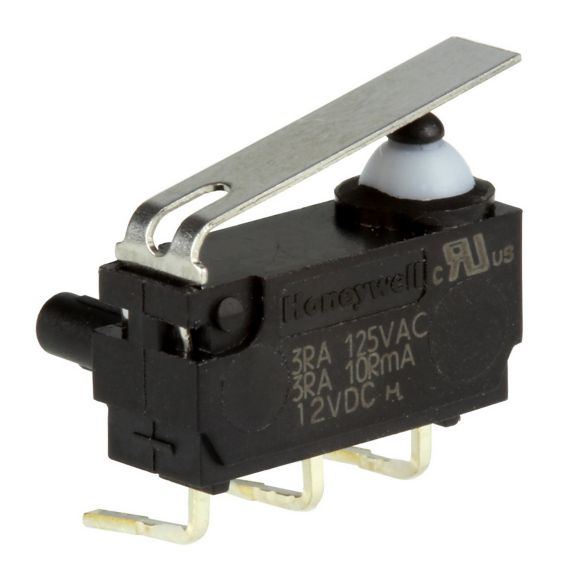 Honeywell's MICRO SWITCH ZD Series is a sealed subminiature snap action switch. Although small in size, the ZD Series is rated for controlling electrical loads ranging from logic-level (low current, low voltage) to limited power-duty switching (up to 3 A/125 Vac).
The switch when provided with integral wire leads is sealed to IP67 and is suitable for applications where the switch assembly would be exposed to liquids or particulate contaminates in the environment.
Data Sheet
Manuals and Guides
Installation Instructions
Brochure
Technical Note
Application Note
eBook
Name
Description
File Size
Date
Size
Name
Description
File Size
Date
Size

ZD20S10A02
MICRO SWITCH ZD Series Subminiature Basic Switch, Single Pole Double Throw Circuitry, 10 mA @ 12 Vdc, Pin Plunger, Solder Termination, Gold Contacts

ZD20S20A06
MICRO SWITCH ZD Series Subminiature Basic Switch, Single Pole Double Throw Circuitry, 10 mA @ 12 Vdc, Pin Plunger, PCB Straight Termination, Gold Contacts

ZD20SA01EA
MICRO SWITCH ZD Series Subminiature Basic Switch, Single Pole Double Throw Circuitry, 10 mA @ 12 Vdc, Pin Plunger, Wire Termination, IP67 Sealed, Gold Contacts

ZD30S10A01
MICRO SWITCH ZD Series Subminiature Basic Switch, Single Pole Double Throw Circuitry, 3 A @ 125 Vac, Pin Plunger, Solder Termination

ZD30S20A01
MICRO SWITCH ZD Series Subminiature Basic Switch, Single Pole Double Throw Circuitry, 3 A @ 125 Vac, Pin Plunger, PCB Straight Termination

ZD30S20A03
MICRO SWITCH ZD Series Subminiature Basic Switch, Single Pole Double Throw Circuitry, 3 A @ 125 Vac, Pin Plunger, PCB Straight Termination

ZD30SA01EA
MICRO SWITCH ZD Series Subminiature Basic Switch, Single Pole Double Throw Circuitry, 3 A @ 125 Vac, Pin Plunger, Wire Termination, IP67 Sealed

ZD30SA02EA
MICRO SWITCH ZD Series Subminiature Basic Switch, Single Pole Double Throw Circuitry, 3 A @ 125 Vac, Pin Plunger, Wire Termination, IP67 Sealed

ZD20S10A02
MICRO SWITCH ZD Series Subminiature Basic Switch, Single Pole Double Throw Circuitry, 10 mA @ 12 Vdc, Pin Plunger, Solder Termination, Gold Contacts

ZD20S20A06
MICRO SWITCH ZD Series Subminiature Basic Switch, Single Pole Double Throw Circuitry, 10 mA @ 12 Vdc, Pin Plunger, PCB Straight Termination, Gold Contacts

ZD20SA01EA
MICRO SWITCH ZD Series Subminiature Basic Switch, Single Pole Double Throw Circuitry, 10 mA @ 12 Vdc, Pin Plunger, Wire Termination, IP67 Sealed, Gold Contacts

ZD30S10A01
MICRO SWITCH ZD Series Subminiature Basic Switch, Single Pole Double Throw Circuitry, 3 A @ 125 Vac, Pin Plunger, Solder Termination

ZD30S20A01
MICRO SWITCH ZD Series Subminiature Basic Switch, Single Pole Double Throw Circuitry, 3 A @ 125 Vac, Pin Plunger, PCB Straight Termination

ZD30S20A03
MICRO SWITCH ZD Series Subminiature Basic Switch, Single Pole Double Throw Circuitry, 3 A @ 125 Vac, Pin Plunger, PCB Straight Termination

ZD30SA01EA
MICRO SWITCH ZD Series Subminiature Basic Switch, Single Pole Double Throw Circuitry, 3 A @ 125 Vac, Pin Plunger, Wire Termination, IP67 Sealed

ZD30SA02EA
MICRO SWITCH ZD Series Subminiature Basic Switch, Single Pole Double Throw Circuitry, 3 A @ 125 Vac, Pin Plunger, Wire Termination, IP67 Sealed