Compact Precision Limit Switches
BZV6 Series
Metal housing. Flange mount. IP66 (with boot seal) sealing. 25 mm mounting holes. UL/CSA/CE approvals.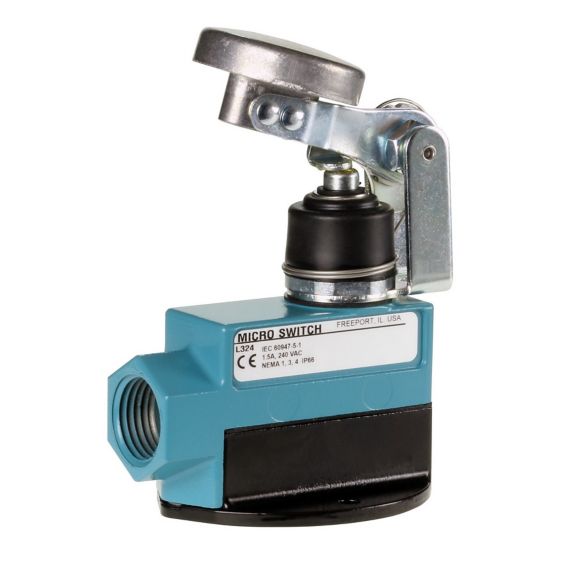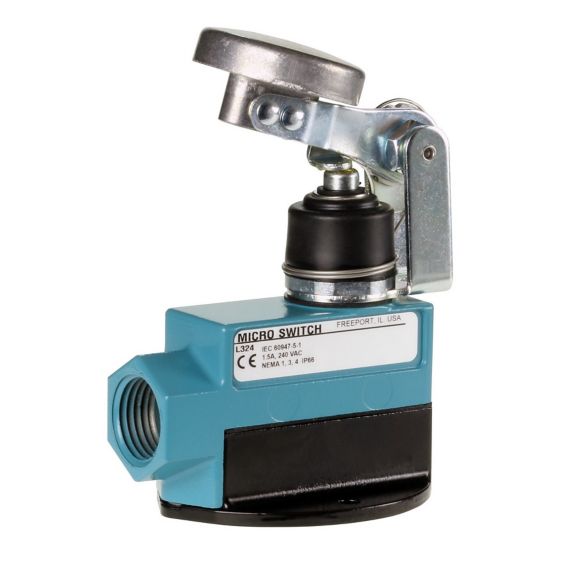 Honeywell MICRO SWITCH E6/V6 Series medium-duty limit switches are designed for a wide variety of indoor and outdoor applications. The electrostatic applied epoxy coating to the zinc housings enhance the durability of the product in most environments.
The E6/V6 family of switches incorporates the Honeywell MICRO SWITCH BZ switch element which has the reliable snap-spring mechanism with more than 60 years of proven service. E6 Series switches feature a side mount: whereas, V6 Series switches have flange mounting.
The sealed (actuators with boots) E6/V6 Series switches are preferred for applications where there could be exposure to liquid and/or particulate environments. The general purpose (actuators without boot seals) E6/V6 Series switches are ideal for applications where there will not be exposure to liquid or dust environments.
The compact size of these limit switches permits installation where there is limited space available on equipment. Most SPDT (Single Pole Double Throw) E6/V6 catalog listings are certified to UL, CSA, and CE while the DPDT (Double Pole Double Throw) E6/V6 catalog listings are certified to UL and CSA.
Data Sheet
Manuals and Guides
Installation Instructions
Brochure
Technical Note
White Paper
Application Note
eBook
Name
Description
File Size
Date
Size
Name
Description
File Size
Date
Size

BZE7-2RN-C
ENCLOSED BASIC SWITCH

BZE7-2RN-PG
ENCLOSED LIMIT SWITCH

BZE7-2RN18-C
ENCLOSED BASIC SWITCH

BZE7-2RN18-PG
ENCLOSED LIMIT SWITCH

BZE7-2RN2-C
MICRO SWITCH E7/V7 Series Medium-Duty Limit Switches, Top Roller Arm Actuator, Adjustable with Steel Roller, 1NC 1NO SPDT Snap Action, 20 mm [0.79 in] conduit

BZE7-2RN2-PG
ENCLOSED LIMIT SWITCH

BZE7-2RN28-C
MICRO SWITCH E7/V7 Series Medium-Duty Limit Switches, Top Roller Arm Actuator, One-way, Adjustable with Steel Roller, 1NC 1NO SPDT Snap Action, 20 mm [0.79 in] conduit

BZE7-2RN28-PG
MICRO SWITCH E7/V7 Series Medium-Duty Limit Switches, Top Roller Arm Actuator, One-way, Adjustable with Steel Roller, 1NC 1NO SPDT Snap Action, PG13,5 conduit

BZE7-2RQ-C
ENCLOSED BASIC SWITCH

BZE7-2RQ-PG
MICRO SWITCH E7/V7 Series Medium-Duty Limit Switches, Top Plunger Actuator, 1NC 1NO SPDT Snap Action, PG13,5 conduit

BZE7-2RN-C
ENCLOSED BASIC SWITCH

BZE7-2RN-PG
ENCLOSED LIMIT SWITCH

BZE7-2RN18-C
ENCLOSED BASIC SWITCH

BZE7-2RN18-PG
ENCLOSED LIMIT SWITCH

BZE7-2RN2-C
MICRO SWITCH E7/V7 Series Medium-Duty Limit Switches, Top Roller Arm Actuator, Adjustable with Steel Roller, 1NC 1NO SPDT Snap Action, 20 mm [0.79 in] conduit

BZE7-2RN2-PG
ENCLOSED LIMIT SWITCH

BZE7-2RN28-C
MICRO SWITCH E7/V7 Series Medium-Duty Limit Switches, Top Roller Arm Actuator, One-way, Adjustable with Steel Roller, 1NC 1NO SPDT Snap Action, 20 mm [0.79 in] conduit

BZE7-2RN28-PG
MICRO SWITCH E7/V7 Series Medium-Duty Limit Switches, Top Roller Arm Actuator, One-way, Adjustable with Steel Roller, 1NC 1NO SPDT Snap Action, PG13,5 conduit

BZE7-2RQ-C
ENCLOSED BASIC SWITCH

BZE7-2RQ-PG
MICRO SWITCH E7/V7 Series Medium-Duty Limit Switches, Top Plunger Actuator, 1NC 1NO SPDT Snap Action, PG13,5 conduit