General Purpose Limit Switches
GLG Series
Din EN50041 mounting. Metal housing. Plug in. 1 LED pilot light. IP67 sealing. 30 mm x 60 mm mounting holes. UL/CE/CCC approvals.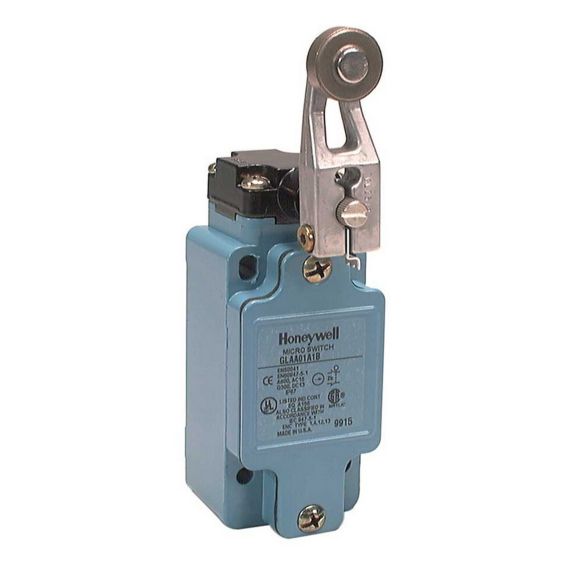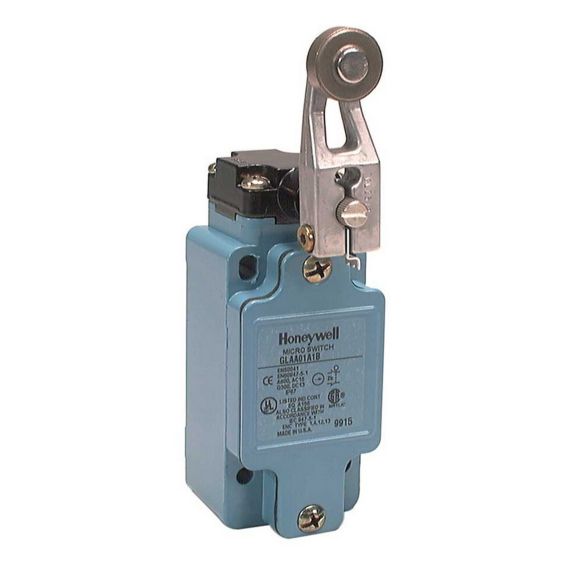 Honeywell's MICRO SWITCH GLG Limit Switch Series is designed to global EN50041 standards and features a metal, plug-in-body style with 1 LED. The modular design (heads/actuators, bodies, and contact blocks) of the limit switch allows for rapid response to meet customer applications.
The rugged die-cast metal housing of the switch is ideal for indoor and outdoor applications where a degree of IP or NEMA enclosure sealing is required. Normally closed snap-action contacts and normally closed slow-action contacts are positive opening.
Data Sheet
Manuals and Guides
Installation Instructions
Brochure
White Paper
Application Note
eBook
Name
Description
File Size
Date
Size
Name
Description
File Size
Date
Size

GLGA12A1B
MICRO SWITCH GLG Series Global Limit Switches, Side Rotary With Roller - Standard, 1NC 1NO SPDT Snap Action, 0.5 in - 14NPT conduit, Gold Contacts

GLGA12C
MICRO SWITCH GLG Series Global Limit Switches, Top Roller Plunger, 1NC 1NO SPDT Snap Action, 0.5 in - 14NPT conduit, Gold Contacts

GLGA12E7B
MICRO SWITCH GLG Series Global Limit Switches, Wobble - Coil Spring, 1NC 1NO SPDT Snap Action, 0.5 in - 14NPT conduit, Gold Contacts

GLGB12A1B
MICRO SWITCH GLG Series Global Limit Switches, Side Rotary With Roller - Standard, 1NC 1NO SPDT Snap Action, PG13.5, Gold Contacts

GLGB12B
MICRO SWITCH GLG Series Global Limit Switches, Top Plunger, 1NC 1NO SPDT Snap Action, PG13.5, Gold Contacts

GLGB12D
MICRO SWITCH GLG Series Global Limit Switches, Top Roller Arm, 1NC 1NO SPDT Snap Action, PG13.5, Gold Contacts

GLGB12E7B
MICRO SWITCH GLG Series Global Limit Switches, Wobble - Coil Spring, 1NC 1NO SPDT Snap Action, PG13.5, Gold Contacts

GLGC12A1B
MICRO SWITCH GLG Series Global Limit Switches, Side Rotary With Roller - Standard, 1NC 1NO SPDT Snap Action, 20 mm, Gold Contacts

GLGC12A2B
MICRO SWITCH GLG Series Global Limit Switches, Side Rotary With Roller - Adjustable, 1NC 1NO SPDT Snap Action, 20 mm, Gold Contacts

GLGC12B
MICRO SWITCH GLG Series Global Limit Switches, Top Plunger, 1NC 1NO SPDT Snap Action, 20 mm, Gold Contacts

GLGA12A1B
MICRO SWITCH GLG Series Global Limit Switches, Side Rotary With Roller - Standard, 1NC 1NO SPDT Snap Action, 0.5 in - 14NPT conduit, Gold Contacts

GLGA12C
MICRO SWITCH GLG Series Global Limit Switches, Top Roller Plunger, 1NC 1NO SPDT Snap Action, 0.5 in - 14NPT conduit, Gold Contacts

GLGA12E7B
MICRO SWITCH GLG Series Global Limit Switches, Wobble - Coil Spring, 1NC 1NO SPDT Snap Action, 0.5 in - 14NPT conduit, Gold Contacts

GLGB12A1B
MICRO SWITCH GLG Series Global Limit Switches, Side Rotary With Roller - Standard, 1NC 1NO SPDT Snap Action, PG13.5, Gold Contacts

GLGB12B
MICRO SWITCH GLG Series Global Limit Switches, Top Plunger, 1NC 1NO SPDT Snap Action, PG13.5, Gold Contacts

GLGB12D
MICRO SWITCH GLG Series Global Limit Switches, Top Roller Arm, 1NC 1NO SPDT Snap Action, PG13.5, Gold Contacts

GLGB12E7B
MICRO SWITCH GLG Series Global Limit Switches, Wobble - Coil Spring, 1NC 1NO SPDT Snap Action, PG13.5, Gold Contacts

GLGC12A1B
MICRO SWITCH GLG Series Global Limit Switches, Side Rotary With Roller - Standard, 1NC 1NO SPDT Snap Action, 20 mm, Gold Contacts

GLGC12A2B
MICRO SWITCH GLG Series Global Limit Switches, Side Rotary With Roller - Adjustable, 1NC 1NO SPDT Snap Action, 20 mm, Gold Contacts

GLGC12B
MICRO SWITCH GLG Series Global Limit Switches, Top Plunger, 1NC 1NO SPDT Snap Action, 20 mm, Gold Contacts