General Purpose Limit Switches
GLL Series
Min-Din EN50047 mounting. Plastic housing. Integral actuator. IP66 sealing. 20 mm to 22 mm mounting. cULus/CE/CCC approvals.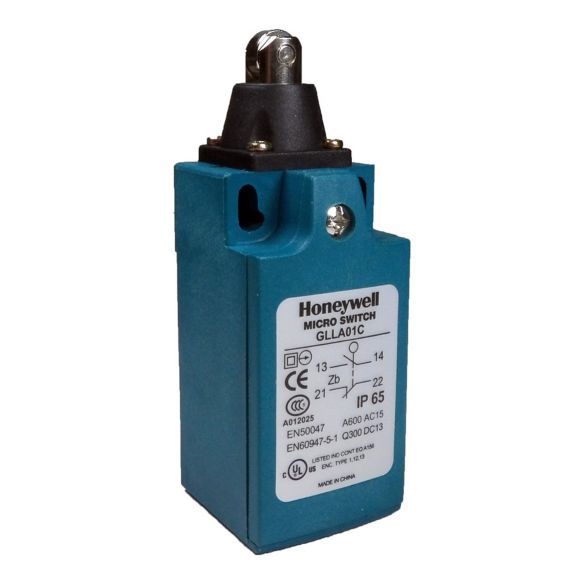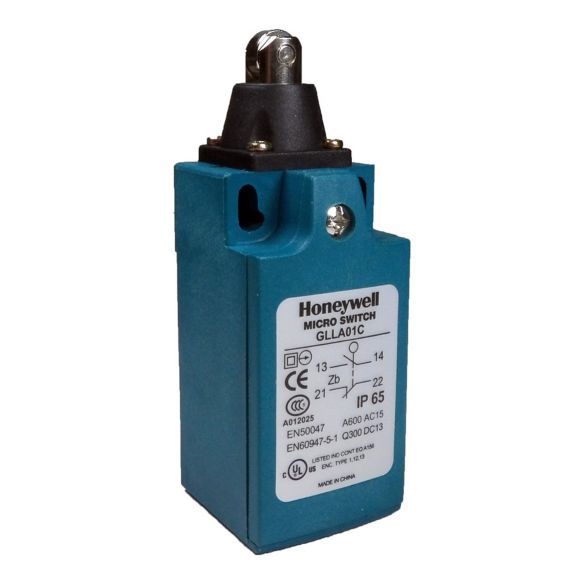 Honeywell MICRO SWITCH GLL Series limit switches" double insulated compact housing conforms to EN500047 and makes GLL Series switches often ideal for mounting where space is at a premium. These products feature direct opening normally closed circuits.
The MICRO SWITCH GLL Series is available in a variety of actuator styles required for OEM applications. Designed to the IEC electrical standard, GLL is suitable for world-wide use and also meets globally accepted mounting standards.
Data Sheet
Manuals and Guides
Installation Instructions
Brochure
White Paper
Application Note
eBook
Name
Description
File Size
Date
Size
Name
Description
File Size
Date
Size

GLLA01A1B
MICRO SWITCH GLL Series Global Limit Switches, Side Rotary, Fixed Length Lever with metal roller, 1NC/1NO Direct Opening SPDT snap action, 1/2 in conduit

GLLA01A1Y
MICRO SWITCH GLL Series Global Limit Switches, Side Rotary, Fixed Length Lever with 50mm rubber roller, 1NC/1NO Direct Opening SPDT snap action, 1/2 in conduit

GLLA01A2B
MICRO SWITCH GLL Series Global Limit Switches, Side Rotary, Adjustable Length Lever with metal roller, 1NC/1NO Direct Opening SPDT snap action, 1/2 in conduit

GLLA01A2Y
MICRO SWITCH GLL Series Global Limit Switches, Side Rotary, Adjustable Length Lever with 50mm rubber roller, 1NC/1NO Direct Opening SPDT snap action, 1/2 in conduit

GLLA01A3B
MICRO SWITCH GLL Series Global Limit Switches, Side Rotary, Fixed Length Lever with metal roller, 1NC/1NO Direct Opening SPDT snap action, 1/2 in conduit

GLLA01A4J
MICRO SWITCH GLL Series Global Limit Switches, Side Rotary, Adjustable Rod Lever, 1NC/1NO Direct Opening SPDT snap action, 1/2 in conduit

GLLA01B
LIMIT SWITCH

GLLA01C
MICRO SWITCH GLL Series Global Limit Switches, Top Roller Plunger, 1NC/1NO Direct Opening SPDT snap action, 1/2 in conduit

GLLA01D
MICRO SWITCH GLL Series Global Limit Switches, Top Horizontal Roller Lever Arm, 1NC/1NO Direct Opening SPDT snap action, 1/2 in conduit

GLLA03A1B
MICRO SWITCH GLL Series Global Limit Switches, Side Rotary, Fixed Length Lever with metal roller, 1NC/1NO Direct Opening Slow Action Break-Before-Make (BBM), 1/2 in conduit

GLLA01A1B
MICRO SWITCH GLL Series Global Limit Switches, Side Rotary, Fixed Length Lever with metal roller, 1NC/1NO Direct Opening SPDT snap action, 1/2 in conduit

GLLA01A1Y
MICRO SWITCH GLL Series Global Limit Switches, Side Rotary, Fixed Length Lever with 50mm rubber roller, 1NC/1NO Direct Opening SPDT snap action, 1/2 in conduit

GLLA01A2B
MICRO SWITCH GLL Series Global Limit Switches, Side Rotary, Adjustable Length Lever with metal roller, 1NC/1NO Direct Opening SPDT snap action, 1/2 in conduit

GLLA01A2Y
MICRO SWITCH GLL Series Global Limit Switches, Side Rotary, Adjustable Length Lever with 50mm rubber roller, 1NC/1NO Direct Opening SPDT snap action, 1/2 in conduit

GLLA01A3B
MICRO SWITCH GLL Series Global Limit Switches, Side Rotary, Fixed Length Lever with metal roller, 1NC/1NO Direct Opening SPDT snap action, 1/2 in conduit

GLLA01A4J
MICRO SWITCH GLL Series Global Limit Switches, Side Rotary, Adjustable Rod Lever, 1NC/1NO Direct Opening SPDT snap action, 1/2 in conduit

GLLA01B
LIMIT SWITCH

GLLA01C
MICRO SWITCH GLL Series Global Limit Switches, Top Roller Plunger, 1NC/1NO Direct Opening SPDT snap action, 1/2 in conduit

GLLA01D
MICRO SWITCH GLL Series Global Limit Switches, Top Horizontal Roller Lever Arm, 1NC/1NO Direct Opening SPDT snap action, 1/2 in conduit

GLLA03A1B
MICRO SWITCH GLL Series Global Limit Switches, Side Rotary, Fixed Length Lever with metal roller, 1NC/1NO Direct Opening Slow Action Break-Before-Make (BBM), 1/2 in conduit