Compact and Standard Safety Switches
24CE Series
Miniature housing IEC945-5-1, EN60947-5-1. Metal housing. IP66. CE. Silver contacts.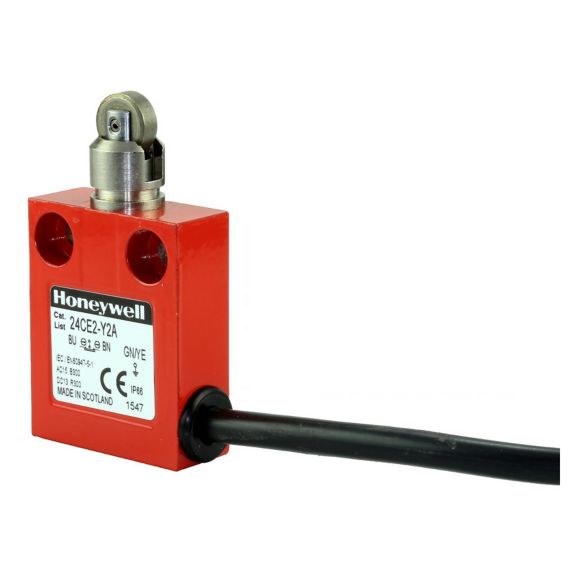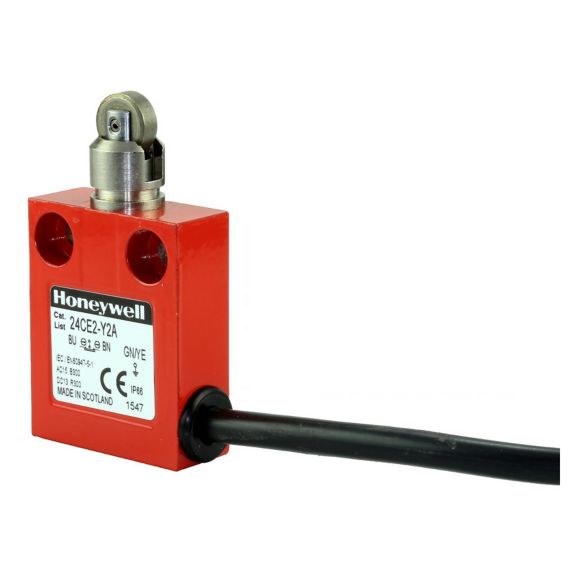 Honeywell's 24CE Series miniature electromechanical safety switches are designed with a rugged metal housing. This Series features positive opening normally closed contacts to EN/IEC 60947-5-1-3 specifications. Due to their small size and positive opening normally closed contact, the 24CE Series provides a safety solution for applications where the size of other products could be prohibitive on the machinery.
The 24CE Series offers a variety of configurations which include a wide range of actuators, and circuits to solve many application issues. These miniature switches are weather sealed to IP66 for demanding environments on indoor or outdoor machinery. In addition, the 24CE Series has been evaluated for safety functions up to a safety integrity level (SIL) of SIL3 when evaluated to the requirements of IEC 61508-2:2010.
Data Sheet
Manuals and Guides
Installation Instructions
Brochure
Technical Note
Certificate
Application Note
Product Photo
Name
Description
File Size
Date
Size
Name
Description
File Size
Date
Size
24CE Miniature Safety Switches Datasheet
2 MB
7/16/2021
Electromechanical Safety Switch Product Selection Guide
355.99 KB
7/16/2021
Limit Switches and Machine Safety Product Range Guide
7.98 MB
8/25/2022
MICRO SWITCHヘビーデューティリミットスイッチは、複数の取り付けとアクチュエータオプションを備えた堅牢なダイカストボディを備えています。低温度および高温構造、工場密封、配線済みバージョンが利用可能です。潜在的な用途:食品および飲料、建設および農業機器、マテリアルハンドリング、レール、産業用バルブ、化学および食品加工、船上、苛性廃棄物処理、および発電。
7.98 MB
9/8/2022
PK XP-4047: 24CE and 924CE Series Miniature Enclosed Safety Switch
948.54 KB
7/16/2021
MICRO SWITCH Safety Switches Comparison
492.88 KB
8/13/2021
Industrial Product Line Card
1.84 MB
7/15/2021
24CE & 924CE switch mechanical endurance certificate
27.54 KB
7/16/2021
24CE & 924CE switch SIRA certificate
377.66 KB
7/16/2021
24CE & 924CE switch electrical endurance certificate
27.38 KB
7/16/2021
Agricultural Vehicles
1.11 MB
3/23/2022
Limit Switches with Positive-Opening Contacts
3.02 MB
10/21/2021
24CE Series Product Photo
394.49 KB
7/16/2021

24CE31S1
MICRO SWITCH 24CE Series Miniature Safety Limit Switch, 1NC/1NO Direct Opening, Slow Action, Roller Plunger, Parallel (Boot Seal), Bottom Exit Cable, 1 m, 100 mA to 10 A (Thermal), Silver Contacts

24CE31S1
MICRO SWITCH 24CE Series Miniature Safety Limit Switch, 1NC/1NO Direct Opening, Slow Action, Roller Plunger, Parallel (Boot Seal), Bottom Exit Cable, 1 m, 100 mA to 10 A (Thermal), Silver Contacts