Key Interlock Switches
GK Series
Metal body for large doors/cages. Unique friction feature. UL, CSA, CE, SIL3. IP67. NEMA 1, 4, 12, 13. Silver & gold contacts.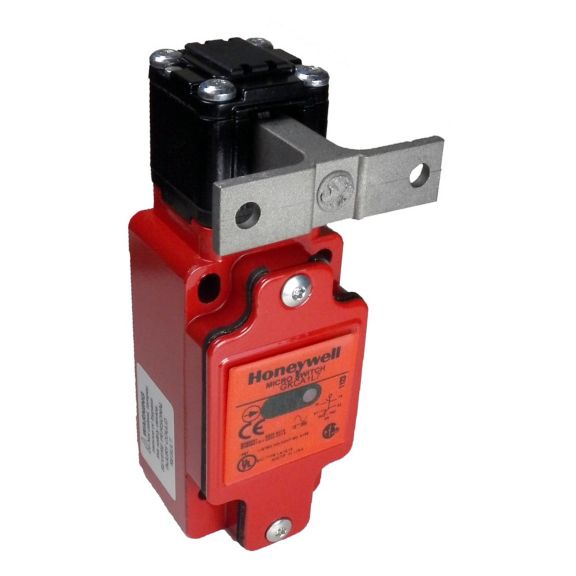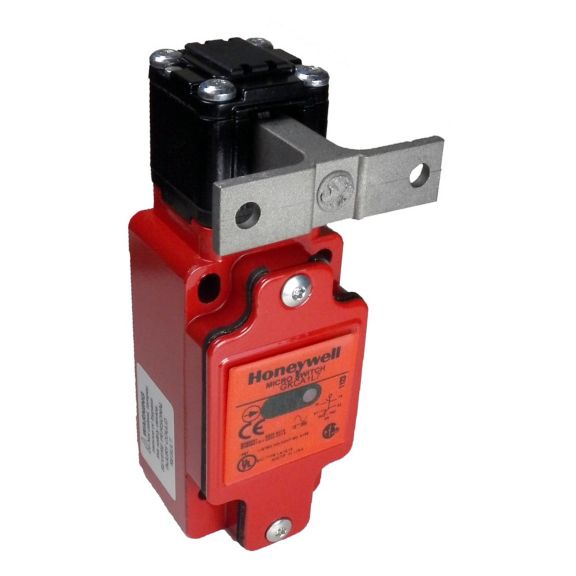 MICRO SWITCH GK Series switches are key-operated safety interlock rugged metal switches which monitor the positions of gates, guards, or doors. The key is attached to the moving portion of the gate, guard, or door. When the gate is closed, the key is inserted into the GK switch indicating a safe position (gate closed) and the machine process can start. The positive opening normally closed contacts are held closed when the key is inserted into the GK switch. Opening the gate, removes the key from the switch. This action opens the normally closed contacts of the switch and interrupts the machine's control circuit.
GK Series switches are designed with dual-entry positions for the key. The key can be inserted from the top or side of the switch which allows more flexibility in mounting the switch in the application. There are four different styles of keys and a variety of switch contact arrangements to satisfy the requirements for most applications requiring a safety interlock key switch. GK Series switches are designed with a unique friction feature for key retention. GK Series switches have been evaluated for safety functions up to and including a safety integrity level (SIL) of SIL3 when evaluated to the requirements of IEC 61508-2:2010.
Data Sheet
Name
Description
File Size
Date
Size
GK Series Global Key Operated Safety Interlock Switch
application/pdf 1.43 MB
7/16/2021
1.43 MB
Manuals and Guides
Name
Description
File Size
Date
Size
Limit Switches and Machine Safety Product Range Guide
application/pdf 7.98 MB
8/25/2022
7.98 MB
Electromechanical Safety Switch Product Selection Guide
application/pdf 355.99 KB
7/16/2021
355.99 KB
MICRO SWITCHヘビーデューティリミットスイッチは、複数の取り付けとアクチュエータオプションを備えた堅牢なダイカストボディを備えています。低温度および高温構造、工場密封、配線済みバージョンが利用可能です。潜在的な用途:食品および飲料、建設および農業機器、マテリアルハンドリング、レール、産業用バルブ、化学および食品加工、船上、苛性廃棄物処理、および発電。
application/pdf 7.98 MB
9/8/2022
7.98 MB
Installation Instructions
Name
Description
File Size
Date
Size
PK 80109: GK Series Dual Entry Key Operated Safety Interlock Switch
application/pdf 548 KB
7/16/2021
548 KB
Brochure
Name
Description
File Size
Date
Size
MICRO SWITCH Safety Switches Comparison
application/pdf 492.88 KB
8/13/2021
492.88 KB
Technical Note
Name
Description
File Size
Date
Size
Industrial Product Line Card
application/pdf 1.84 MB
7/15/2021
1.84 MB
Certificate
Name
Description
File Size
Date
Size
GK switch SIRA certificate
application/pdf 58.79 KB
7/16/2021
58.79 KB
GK switch mechanical endurance certificate
application/pdf 27.59 KB
7/16/2021
27.59 KB
GK switch electrical endurance certificate
application/pdf 27.3 KB
7/16/2021
27.3 KB
Application Note
Name
Description
File Size
Date
Size
Limit Switches with Positive-Opening Contacts
application/pdf 3.02 MB
10/21/2021
3.02 MB
Agricultural Vehicles
application/pdf 1.11 MB
3/23/2022
1.11 MB
Name
Description
File Size
Date
Size
Name
Description
File Size
Date
Size
GK Series Global Key Operated Safety Interlock Switch
1.43 MB
7/16/2021
Limit Switches and Machine Safety Product Range Guide
7.98 MB
8/25/2022
Electromechanical Safety Switch Product Selection Guide
355.99 KB
7/16/2021
MICRO SWITCHヘビーデューティリミットスイッチは、複数の取り付けとアクチュエータオプションを備えた堅牢なダイカストボディを備えています。低温度および高温構造、工場密封、配線済みバージョンが利用可能です。潜在的な用途:食品および飲料、建設および農業機器、マテリアルハンドリング、レール、産業用バルブ、化学および食品加工、船上、苛性廃棄物処理、および発電。
7.98 MB
9/8/2022
PK 80109: GK Series Dual Entry Key Operated Safety Interlock Switch
548 KB
7/16/2021
MICRO SWITCH Safety Switches Comparison
492.88 KB
8/13/2021
Industrial Product Line Card
1.84 MB
7/15/2021
GK switch SIRA certificate
58.79 KB
7/16/2021
GK switch mechanical endurance certificate
27.59 KB
7/16/2021
GK switch electrical endurance certificate
27.3 KB
7/16/2021
Limit Switches with Positive-Opening Contacts
3.02 MB
10/21/2021
Agricultural Vehicles
1.11 MB
3/23/2022

GKBA1LX
MICRO SWITCH GK Series Key Operated Safety Switch, 1NC/1NO Direct Opening, Snap Action, 1/2 NPT, Zinc Die-cast Housing, Silver Contacts

GKBA30LX
MICRO SWITCH GK Series Key Operated Safety Switch, 4NC Direct Opening, 1/2 NPT, Zinc Die-cast Housing, Gold-plated Contacts

GKBA36LX
MICRO SWITCH GK Series Key Operated Safety Switch, 3NC/1NO Direct Opening, Slow Action, 1/2 NPT, Zinc Die-cast Housing, Gold-plated Contacts

GKBC30LX
MICRO SWITCH GK Series Key Operated Safety Switch, 4NC Direct Opening, 20 mm, Zinc Die-cast Housing, Gold-plated Contacts

GKBC36LX
MICRO SWITCH GK Series Key Operated Safety Switch, 3NC/1NO Direct Opening, Slow Action, 20 mm, Zinc Die-cast Housing, Gold-plated Contacts

GKBC6LX
SAFETY LIMIT SWITCH-HEAVY DUTY

GKCA30LX
MICRO SWITCH GK Series Key Operated Safety Switch, 4NC Direct Opening, 1/2 NPT, Zinc Die-cast Housing, Gold-plated Contacts

GKCA6LX
MICRO SWITCH GK Series Key Operated Safety Switch, 2NC Direct Opening, Slow Action, 1/2 NPT, Zinc Die-cast Housing, Silver Contacts

GKCC1LX
MICRO SWITCH GK Series Key Operated Safety Switch, 1NC/1NO Direct Opening, Snap Action, 20 mm, Zinc Die-cast Housing, Silver Contacts

GKCC30LX
MICRO SWITCH GK Series Key Operated Safety Switch, 4NC Direct Opening, 20 mm, Zinc Die-cast Housing, Gold-plated Contacts

GKBA1LX
MICRO SWITCH GK Series Key Operated Safety Switch, 1NC/1NO Direct Opening, Snap Action, 1/2 NPT, Zinc Die-cast Housing, Silver Contacts

GKBA30LX
MICRO SWITCH GK Series Key Operated Safety Switch, 4NC Direct Opening, 1/2 NPT, Zinc Die-cast Housing, Gold-plated Contacts

GKBA36LX
MICRO SWITCH GK Series Key Operated Safety Switch, 3NC/1NO Direct Opening, Slow Action, 1/2 NPT, Zinc Die-cast Housing, Gold-plated Contacts

GKBC30LX
MICRO SWITCH GK Series Key Operated Safety Switch, 4NC Direct Opening, 20 mm, Zinc Die-cast Housing, Gold-plated Contacts

GKBC36LX
MICRO SWITCH GK Series Key Operated Safety Switch, 3NC/1NO Direct Opening, Slow Action, 20 mm, Zinc Die-cast Housing, Gold-plated Contacts

GKBC6LX
SAFETY LIMIT SWITCH-HEAVY DUTY

GKCA30LX
MICRO SWITCH GK Series Key Operated Safety Switch, 4NC Direct Opening, 1/2 NPT, Zinc Die-cast Housing, Gold-plated Contacts

GKCA6LX
MICRO SWITCH GK Series Key Operated Safety Switch, 2NC Direct Opening, Slow Action, 1/2 NPT, Zinc Die-cast Housing, Silver Contacts

GKCC1LX
MICRO SWITCH GK Series Key Operated Safety Switch, 1NC/1NO Direct Opening, Snap Action, 20 mm, Zinc Die-cast Housing, Silver Contacts

GKCC30LX
MICRO SWITCH GK Series Key Operated Safety Switch, 4NC Direct Opening, 20 mm, Zinc Die-cast Housing, Gold-plated Contacts