High Frequency Accelerometers
Model MA342 Series
High frequency accelerometers. 2 Hz to 10 kHz. 1/4-28 UNF female mounting threads. 2-pin MS connector.
Overview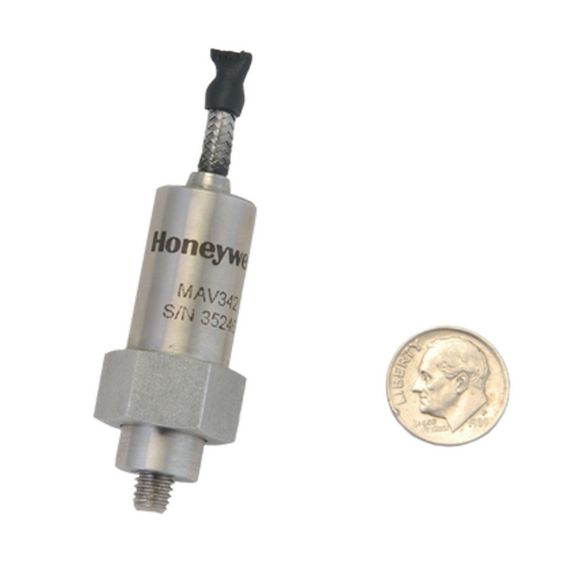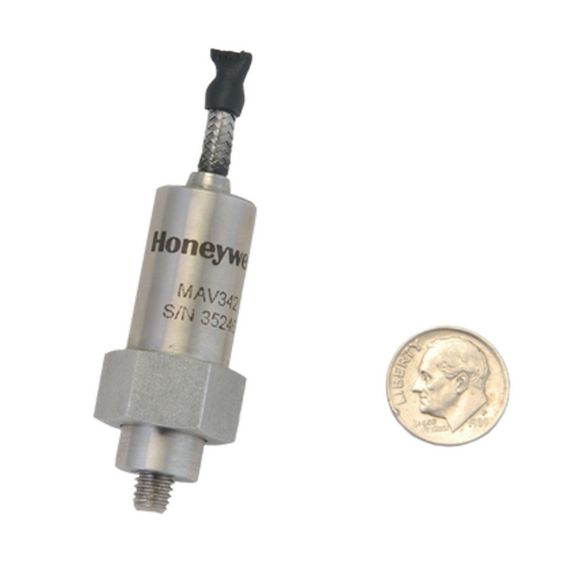 The MA341/342 Series miniature amplified piezoelectric accelerometers are designed to be used in Industrial test and automation environments: including laboratory testing, modal studies and test cells where space is limited and small size is desired or a high natural frequency is required. The constant current low output impedance output combined with the ability to drive high load capacitance allows long runs of low cost cable without degradation of data. The seismic element is mechanically isolated from the mounting base, resulting in a low base strain sensitivity.
The stainless steel materials are non-magnetic resulting in very low magnetic field susceptibility. These features, together with a sealed body, assure accurate and reliable data. The MA341/342 series is available in a number of configurations and options that includes different mounting arrangement patterns and different stainless steel armored cable lengths, (specify length at time of ordering).
Features
High frequency
2 Hz to 15 kHz usable frequency range
IEPE output
mV/G output
Isolated ac output
Stainless steel overbraided PTFE cable
Data Sheet
Name
Description
File Size
Date
Size
Test & Measurement Models MA341 and MA342 Accelerometer Datasheet
application/pdf 220.8 KB
7/17/2021
220.8 KB
Test & Measurement Accelerometer Accessories Datasheet
application/pdf 320.71 KB
7/17/2021
320.71 KB
Accelerometer Mating Connector/Cable Assembly Datasheet
application/pdf 320.71 KB
7/17/2021
320.71 KB
Brochure
Name
Description
File Size
Date
Size
T&M Overview Brochure
application/pdf 418.77 KB
7/17/2021
418.77 KB
Name
Description
File Size
Date
Size
Name
Description
File Size
Date
Size
SKUs

060-J128-01
Model MA342, high frequency IEPE accelerometer, 100 mV/G, top cable exit, 1/4-28 UNF swivel base, 5 m integral stainless steel overbraided PTFE cable, useable freq. range 2 Hz to 15 KHz, current range 0.5 mA to 8 mA

060-J128-01
Model MA342, high frequency IEPE accelerometer, 100 mV/G, top cable exit, 1/4-28 UNF swivel base, 5 m integral stainless steel overbraided PTFE cable, useable freq. range 2 Hz to 15 KHz, current range 0.5 mA to 8 mA