Vibration Meter Kits
Model VM120
Handheld Battery Operated Vibration Meter Kit with LCD Display and Built-In Accelerometer. 2 g, 20 g, 200 g.. Measures peak to peak values.
Overview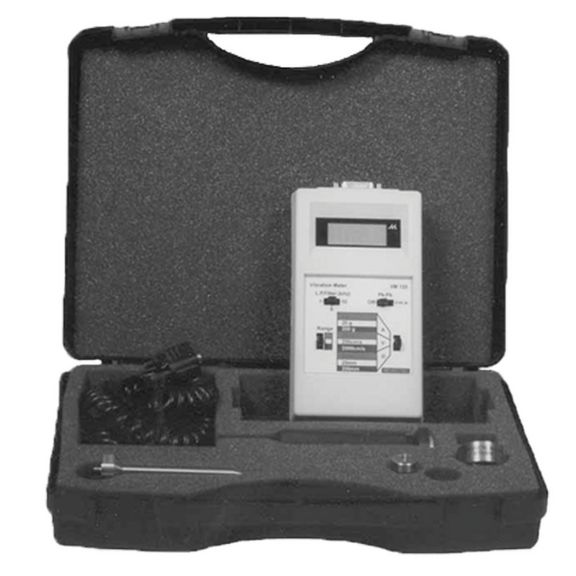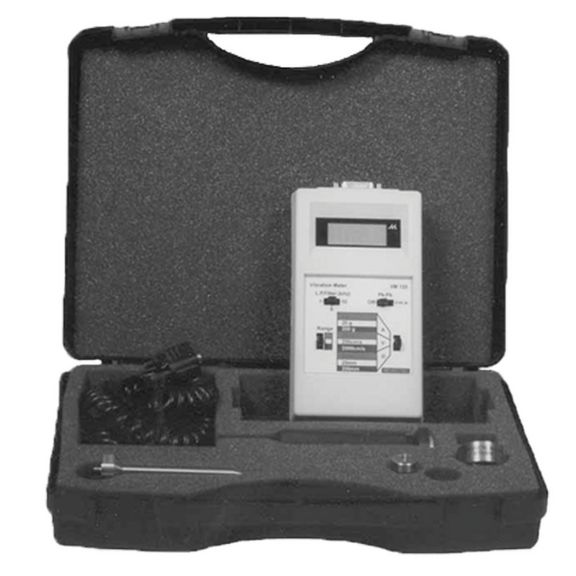 The Model VM120 vibration meter is a battery-powered, portable instrument designed to accept any MA series accelerometer enabling vibration measurements to be taken. The meter is capable of providing RMS and peak measurements of acceleration, velocity, and displacement. A switch for filtering high frequencies is provided. Both dc and ac output via a D-type socket are available for logging or for further signal analysis.
Model VM120 measures peak to peak. This means that for a sine wave the value for the VM120 will be twice the size though measuring the same signal. Differences could become more apparent for non sinusoidal vibrations.
Features
Hand held
LCD display
Battery powered
Velocity and displacement output
ac or dc output
Designed to work with constant current accelerometers
Low pass filter reduces wide-band noises
Data Sheet
Name
Description
File Size
Date
Size
Test & Measurement Accelerometer Accessories Datasheet
application/pdf 320.71 KB
7/17/2021
320.71 KB
Models VM110 and VM120 Vibration Meter Kit Datasheet
application/pdf 231.59 KB
7/17/2021
231.59 KB
Accelerometer Mating Connector/Cable Assembly Datasheet
application/pdf 320.71 KB
7/17/2021
320.71 KB
Brochure
Name
Description
File Size
Date
Size
T&M Overview Brochure
application/pdf 418.77 KB
7/17/2021
418.77 KB
Name
Description
File Size
Date
Size
Name
Description
File Size
Date
Size