Miniature Load Cells
Model 31 Series
Miniature load cells. Rugged double diaphragm capacity: ≤100 lb: single diaphragm: >100 lb. Male thread attachments.
Overview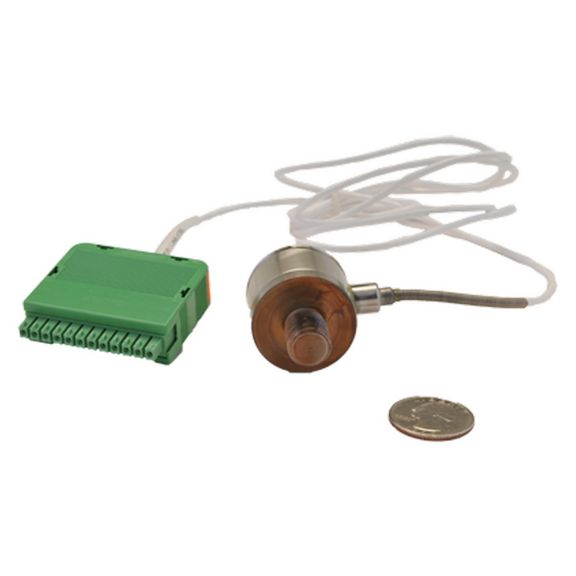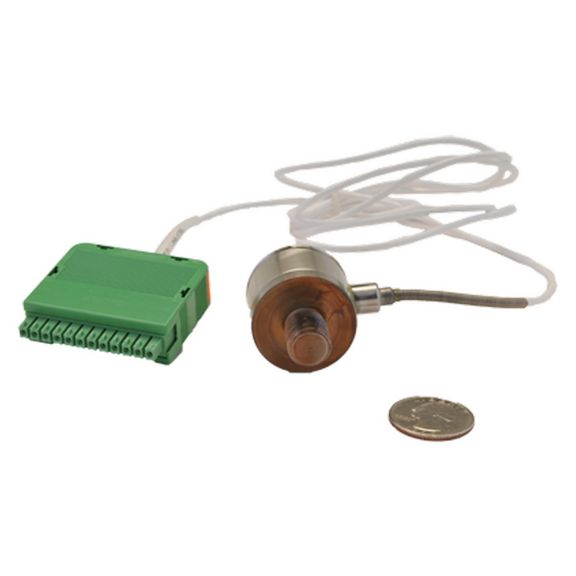 Honeywell miniature load cells are designed to fit into systems with limited space or tight clearances. The Model 31 series are Honeywell's highest accuracy, rugged, miniature load cells designed to measure both tension and compression load forces from 50 g to up to 10,000 lb or 0.5 N up to 50,000 N, with high accuracies of 0.15 % to 0.25 % full scale.
The all-welded, stainless steel construction is designed to eliminate or reduce to a minimum the effect of off-axis loads. Can be completely welded for underwater applications. If you need special modifications or a complete custom design to meet your unique requirements, please contact us.
Features
Miniature sizes ranging from 12,7 mm to 35,05 mm in diameter and from 11,43 mm to 38,1 mm height
Load range measurements: 50 gs to 10,000 lb: 0.5 N to 5,000 N: or 5 lb to 50,000 lb
Stainless steel construction: All-welded option available for underwater applications
High accuracies of 0.15 % to 0.25 % full scale
mV/V output
Data Sheet
Manuals and Guides
Installation Instructions
Brochure
Technical Note
Application Note
Others
Name
Description
File Size
Date
Size
Name
Description
File Size
Date
Size

060-1426-02
Model 31 Load Cell:, 1000 gm, 15°C to 70°C [60°F to 160°F] temperature compensation, non-amplified (mV/V), integral twisted Teflon® leads with balance board, 1,5 m [5 ft] cable length, radial electrical exit orientation

060-1426-03
Model 31 Load Cell:, 5 lb, 15°C to 70°C [60°F to 160°F] temperature compensation, non-amplified (mV/V), integral twisted Teflon® leads with balance board, 1,5 m [5 ft] cable length, radial electrical exit orientation

060-1426-04
Model 31 Load Cell:, 10 lb, 15°C to 70°C [60°F to 160°F] temperature compensation, non-amplified (mV/V), integral twisted Teflon® leads with balance board, 1,5 m [5 ft] cable length, radial electrical exit orientation

060-1430-04
AL311BL, 1A, 2U, 6E, 15C:MODEL 31, 25 LB

060-1430-05
Model 31 Load Cell:, 50 lb, 15°C to 70°C [60°F to 160°F] temperature compensation, non-amplified (mV/V), Teflon® cable, 1,5 m [5 ft] cable length, radial electrical exit orientation

060-1430-06
Model 31 Load Cell:, 100 lb, 15°C to 70°C [60°F to 160°F] temperature compensation, non-amplified (mV/V), Teflon® cable, 1,5 m [5 ft] cable length, radial electrical exit orientation

060-1432-04
Model 31 Load Cell:, 250 lb, 15°C to 70°C [60°F to 160°F] temperature compensation, non-amplified (mV/V), Teflon® cable, 1,5 m [5 ft] cable length, radial electrical exit orientation

060-1432-07
Model 31 Load Cell:, 1,000 lb, 15°C to 70°C [60°F to 160°F] temperature compensation, non-amplified (mV/V), Teflon® cable, 1,5 m [5 ft] cable length, radial electrical exit orientation

060-1432-08
AL311CR,1A,2U,6E,15C:MODEL 31, 500 LBS

060-1435-03
AL311AN,1A,2U,4A,6E,15C:MODEL 31, 250 GM

060-1426-02
Model 31 Load Cell:, 1000 gm, 15°C to 70°C [60°F to 160°F] temperature compensation, non-amplified (mV/V), integral twisted Teflon® leads with balance board, 1,5 m [5 ft] cable length, radial electrical exit orientation

060-1426-03
Model 31 Load Cell:, 5 lb, 15°C to 70°C [60°F to 160°F] temperature compensation, non-amplified (mV/V), integral twisted Teflon® leads with balance board, 1,5 m [5 ft] cable length, radial electrical exit orientation

060-1426-04
Model 31 Load Cell:, 10 lb, 15°C to 70°C [60°F to 160°F] temperature compensation, non-amplified (mV/V), integral twisted Teflon® leads with balance board, 1,5 m [5 ft] cable length, radial electrical exit orientation

060-1430-04
AL311BL, 1A, 2U, 6E, 15C:MODEL 31, 25 LB

060-1430-05
Model 31 Load Cell:, 50 lb, 15°C to 70°C [60°F to 160°F] temperature compensation, non-amplified (mV/V), Teflon® cable, 1,5 m [5 ft] cable length, radial electrical exit orientation

060-1430-06
Model 31 Load Cell:, 100 lb, 15°C to 70°C [60°F to 160°F] temperature compensation, non-amplified (mV/V), Teflon® cable, 1,5 m [5 ft] cable length, radial electrical exit orientation

060-1432-04
Model 31 Load Cell:, 250 lb, 15°C to 70°C [60°F to 160°F] temperature compensation, non-amplified (mV/V), Teflon® cable, 1,5 m [5 ft] cable length, radial electrical exit orientation

060-1432-07
Model 31 Load Cell:, 1,000 lb, 15°C to 70°C [60°F to 160°F] temperature compensation, non-amplified (mV/V), Teflon® cable, 1,5 m [5 ft] cable length, radial electrical exit orientation

060-1432-08
AL311CR,1A,2U,6E,15C:MODEL 31, 500 LBS

060-1435-03
AL311AN,1A,2U,4A,6E,15C:MODEL 31, 250 GM