Miniature Load Cells
Model 53 Series
Low cost miniature load cells. 5 lb to 50,000 lb capacities. Stainless steel diaphragm design.
Overview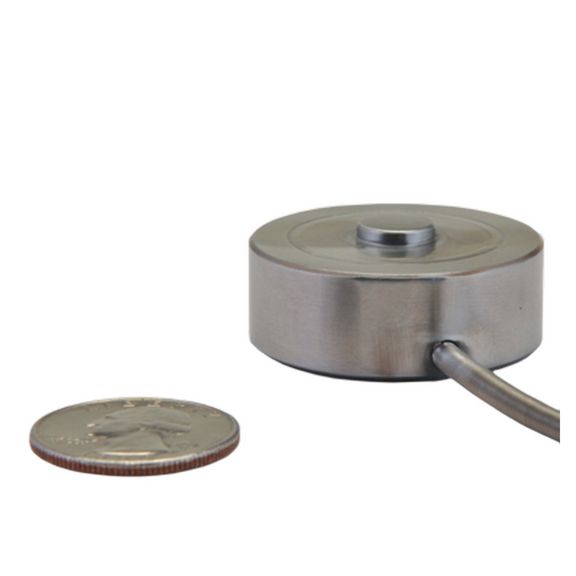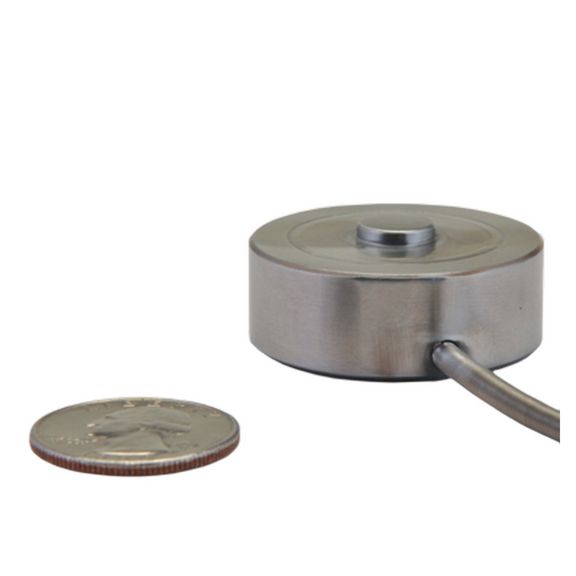 Honeywell miniature load cells are designed to fit into systems with limited space or tight clearances. Model 53 bonded, foil strain gauge transducers are designed for cost efficient production and testing applications (e.g., press calibration). Able to measure compression force up to 50,000 lb or 200,000 N, this model achieves a maximum non-linearity of 0.25 % full scale.
Precision gauging techniques and stainless steel construction provides excellent long-term stability and reliability under severe operating conditions. If you need special modifications or a complete custom design to meet your unique requirements, please contact us.
Features
5 lb to 50K lb
Stainless steel
Mini footprint
Button-style design
mV/V output
Data Sheet
Name
Description
File Size
Date
Size
Model 53 Economical Load Cell Datasheet
application/pdf 402.91 KB
7/17/2021
402.91 KB
Test & Measurement Load Accessories Datasheet
application/pdf 519.98 KB
7/17/2021
519.98 KB
Manuals and Guides
Name
Description
File Size
Date
Size
Load Cell Range Guide
application/pdf 1.25 MB
7/17/2021
1.25 MB
Brochure
Name
Description
File Size
Date
Size
Oil and Gas Brochure -
application/pdf 3.4 MB
10/25/2022
3.4 MB
Technical Note
Name
Description
File Size
Date
Size
Model 53 Outline Drawing - 200 lb to 2500 lb
application/pdf 59.94 KB
7/17/2021
59.94 KB
Model 53 Outline Drawing - 3k lb to 12.5k lb
application/pdf 39.42 KB
7/17/2021
39.42 KB
Model 53 Outline Drawing - 50k lb
application/pdf 196.52 KB
7/17/2021
196.52 KB
Model 53 External Wiring Diagram
application/pdf 16.27 KB
7/17/2021
16.27 KB
Model 53 Outline Drawing - 15k lb to 30k lb
application/pdf 61.06 KB
7/17/2021
61.06 KB
Application Note
Name
Description
File Size
Date
Size
Aerospace Test and Measurement Capabilities
application/pdf 1.94 MB
7/17/2021
1.94 MB
Others
Name
Description
File Size
Date
Size
Model 53 Top View
image/png 90.85 KB
7/17/2021
90.85 KB
Model 53 Front View
image/png 70.51 KB
7/17/2021
70.51 KB
Model 53 Side View
image/png 87.38 KB
7/17/2021
87.38 KB
Name
Description
File Size
Date
Size
Name
Description
File Size
Date
Size
SKUs

060-0238-05
Model 53 Load Cell: 500 lb, 15°C to 70°C [60°F to 160°F] temperature compensation, non-amplified (mV/V), Teflon® cable, 1,5 m [5 ft] cable length, radial electrical exit orientation

060-0238-07
AL131CV,1A,2U,6E,15C:MODEL 53, 1,000 LBS

060-0238-10
AL131DL,1A,2U,6E,15C:MODEL 53, 2,000 LBS

060-0239-04
Model 53 Load Cell:, 5,000 lb, 15°C to 70°C [60°F to 160°F] temperature compensation, non-amplified (mV/V), Teflon® cable, 1,5 m [5 ft] cable length, radial electrical exit orientation

060-0239-08
Model 53 Load Cell:, 10,000 lb, 15°C to 70°C [60°F to 160°F] temperature compensation, non-amplified (mV/V), Teflon® cable, 1,5 m [5 ft] cable length, radial electrical exit orientation

060-0240-02
AL131EL,1A,2U,6E,15C:MODEL 53, 20,000 LB

060-0241-04
Model 53 Load Cell:, 50,000 lb, 15°C to 70°C [60°F to 160°F] temperature compensation, non-amplified (mV/V), Teflon® cable, 1,5 m [5 ft] cable length, radial electrical exit orientation

060-0238-05
Model 53 Load Cell: 500 lb, 15°C to 70°C [60°F to 160°F] temperature compensation, non-amplified (mV/V), Teflon® cable, 1,5 m [5 ft] cable length, radial electrical exit orientation

060-0238-07
AL131CV,1A,2U,6E,15C:MODEL 53, 1,000 LBS

060-0238-10
AL131DL,1A,2U,6E,15C:MODEL 53, 2,000 LBS

060-0239-04
Model 53 Load Cell:, 5,000 lb, 15°C to 70°C [60°F to 160°F] temperature compensation, non-amplified (mV/V), Teflon® cable, 1,5 m [5 ft] cable length, radial electrical exit orientation

060-0239-08
Model 53 Load Cell:, 10,000 lb, 15°C to 70°C [60°F to 160°F] temperature compensation, non-amplified (mV/V), Teflon® cable, 1,5 m [5 ft] cable length, radial electrical exit orientation

060-0240-02
AL131EL,1A,2U,6E,15C:MODEL 53, 20,000 LB

060-0241-04
Model 53 Load Cell:, 50,000 lb, 15°C to 70°C [60°F to 160°F] temperature compensation, non-amplified (mV/V), Teflon® cable, 1,5 m [5 ft] cable length, radial electrical exit orientation