Flush Pressure Transducers
Model A-105
Flush diaphragm pressure transducers. 100 psi to 15,000 psi. 0.50 % full-scale accuracy.
Overview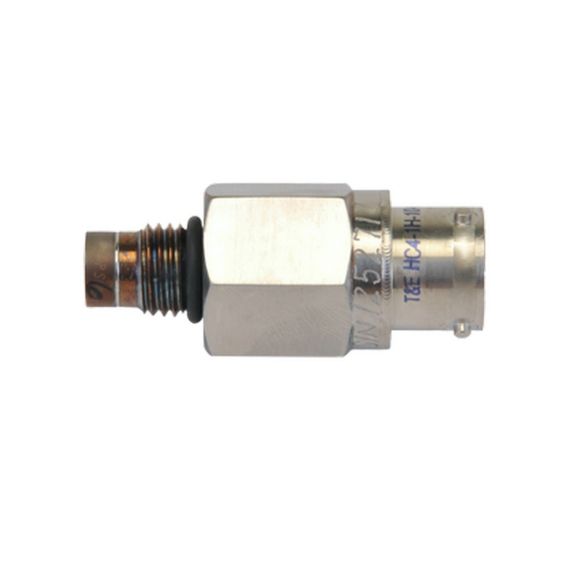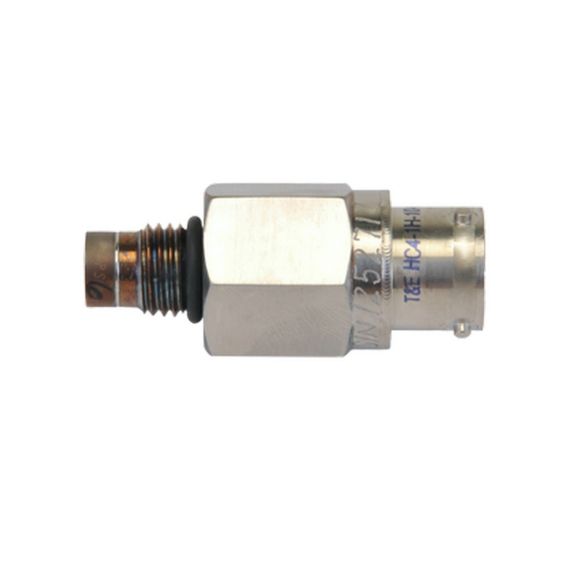 The Model A-105 gauge pressure transducers are manufactured with a unitized 17-4 PH stainless steel, wetted diaphragm. The advantage of this type of design is that a thin diaphragm and heavy sidewalls are made from one piece of stainless steel. This unitized diaphragm is rugged, but at the same time, can be made thin enough to measure low pressures.
Available pressure ranges span from 100 psig to 15,000 psig. These models can be used in corrosive fluid environments. The Model A-105 has welded electrical connectors as an integral part of the transducer body and recommended for applications involving rough handling, or where an all-welded, stainless steel transducer is required. All units have four (4) active bonded strain gauges arranged in a Wheatstone-bridge configuration.
Features
100 psig to 15000 psig range
Flush mount design
No dead volume
Miniature footprint
Stainless steel
CE approved
Data Sheet
Manuals and Guides
Brochure
Technical Note
Application Note
eBook
Others
Name
Description
File Size
Date
Size
Name
Description
File Size
Date
Size
SKUs

060-0287-07G
Model A-105 Flush Diaphragm Pressure Transducer; 100 psi to 15,000 psi; Flush-Mount Design; 17-4 PH Stainless Steel, Wetted Material; Miniature Footprint; 0.50 % Accuracy

060-0287-13G
Model A-105 Flush Diaphragm Pressure Transducer; 100 psi to 15,000 psi; Flush-Mount Design; 17-4 PH Stainless Steel, Wetted Material; Miniature Footprint; 0.50 % Accuracy

060-0287-15G
Model A-105 Flush Diaphragm Pressure Transducer; 100 psi to 15,000 psi; Flush-Mount Design; 17-4 PH Stainless Steel, Wetted Material; Miniature Footprint; 0.50 % Accuracy

060-0287-17G
Model A-105 Flush Diaphragm Pressure Transducer; 100 psi to 15,000 psi; Flush-Mount Design; 17-4 PH Stainless Steel, Wetted Material; Miniature Footprint; 0.50 % Accuracy

060-0287-07G
Model A-105 Flush Diaphragm Pressure Transducer; 100 psi to 15,000 psi; Flush-Mount Design; 17-4 PH Stainless Steel, Wetted Material; Miniature Footprint; 0.50 % Accuracy

060-0287-13G
Model A-105 Flush Diaphragm Pressure Transducer; 100 psi to 15,000 psi; Flush-Mount Design; 17-4 PH Stainless Steel, Wetted Material; Miniature Footprint; 0.50 % Accuracy

060-0287-15G
Model A-105 Flush Diaphragm Pressure Transducer; 100 psi to 15,000 psi; Flush-Mount Design; 17-4 PH Stainless Steel, Wetted Material; Miniature Footprint; 0.50 % Accuracy

060-0287-17G
Model A-105 Flush Diaphragm Pressure Transducer; 100 psi to 15,000 psi; Flush-Mount Design; 17-4 PH Stainless Steel, Wetted Material; Miniature Footprint; 0.50 % Accuracy