Specialty Gloves
Stainless Steel Mesh Body Protection - Shirts
Stainless Steel Mesh Body Protection - Shirts
Overview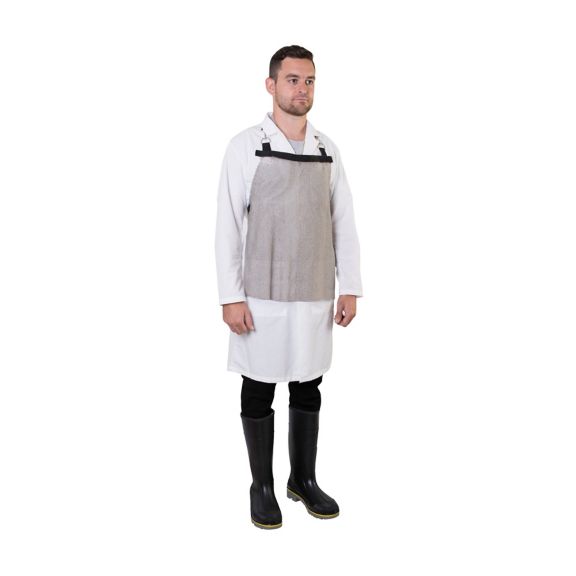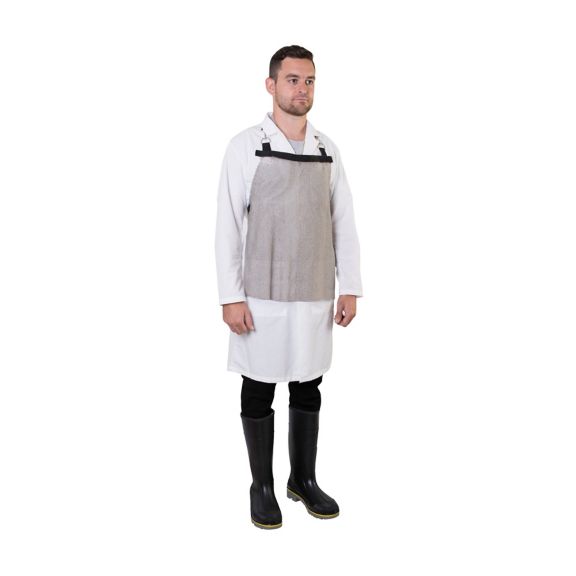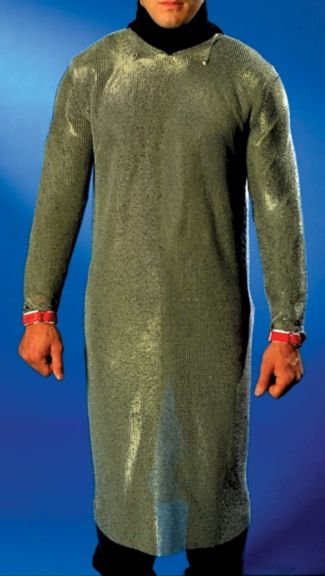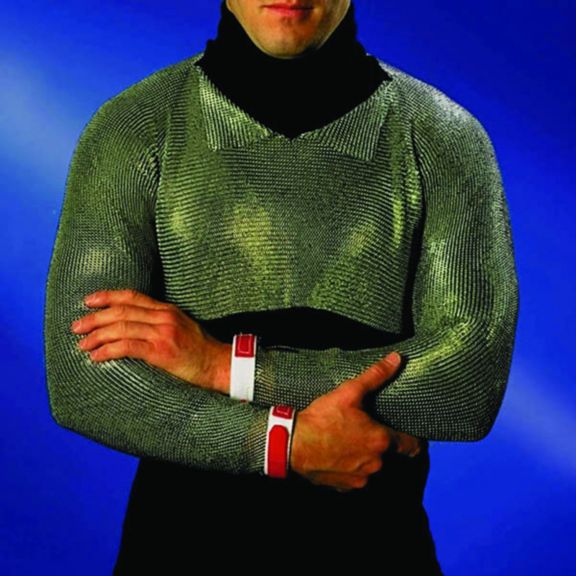 Garments made of stainless steel mesh are the ultimate in protection of the body against cut: and slash. Each garment is made of a fluid fabric of individually welded rings for a comfortable fit to move as your body moves. Mesh is corrosion free and easily cleaned: making them resistant to bacteria.
Features & Benefits:
Stainless steel metal mesh offers an extreme level of cut protection.
Each stainless steel ring is individually welded and 4 ring joined to make a fluid sheet of mesh.
Sleeves are available in several different style variations.
Aprons: and tunics are also available in different style: size and length variations.
Titanium styles: for lightweight comfort: are also available - contact your Customer Care or Territory Sales Mgr for a quote request.
Others
Covers
Reusability
Material
Material : Stainless Steel

A218L
Stainless steel metal mesh double sleeve w/stainless steel full t-shirt

MT50L
Stainless steel mesh tunic with full coverage of arms, shoulders, torso, & thighs (available in snap-front (SF) or split-leg (SL)

MT50L S/L
STRAIGHT MESH TUNIC WITH SPLIT

MT50M
Stainless steel mesh tunic with full coverage of arms, shoulders, torso, & thighs (available in snap-front (SF) or split-leg (SL)

MT50M S/L
STRAIGHT MESH TUNIC WITH SPLIT

MT50S
Stainless steel mesh tunic with full coverage of arms, shoulders, torso, & thighs (available in snap-front (SF) or split-leg (SL)

MT50S S/L
STRAIGHT MESH TUNIC WITH SPLIT

MT50XL
Stainless steel mesh tunic with full coverage of arms, shoulders, torso, & thighs (available in snap-front (SF) or split-leg (SL)

MT50XL S/L
STRAIGHT MESH TUNIC WITH SPLIT

MT50XXL
STRAIGHT MESH TUNIC NO SPLIT X

A218L
Stainless steel metal mesh double sleeve w/stainless steel full t-shirt

MT50L
Stainless steel mesh tunic with full coverage of arms, shoulders, torso, & thighs (available in snap-front (SF) or split-leg (SL)

MT50L S/L
STRAIGHT MESH TUNIC WITH SPLIT

MT50M
Stainless steel mesh tunic with full coverage of arms, shoulders, torso, & thighs (available in snap-front (SF) or split-leg (SL)

MT50M S/L
STRAIGHT MESH TUNIC WITH SPLIT

MT50S
Stainless steel mesh tunic with full coverage of arms, shoulders, torso, & thighs (available in snap-front (SF) or split-leg (SL)

MT50S S/L
STRAIGHT MESH TUNIC WITH SPLIT

MT50XL
Stainless steel mesh tunic with full coverage of arms, shoulders, torso, & thighs (available in snap-front (SF) or split-leg (SL)

MT50XL S/L
STRAIGHT MESH TUNIC WITH SPLIT

MT50XXL
STRAIGHT MESH TUNIC NO SPLIT X