Platinenbestückbare Drucksensoren
Basic-ABP-Serie
Kompensiert. ±1,5 % FSS-TEB. Niederdruck. Differenzial oder relativ. Digital- oder Analogausgang. DIP, leiterlos SMT, SMT. Kosteneffektiv
Überblick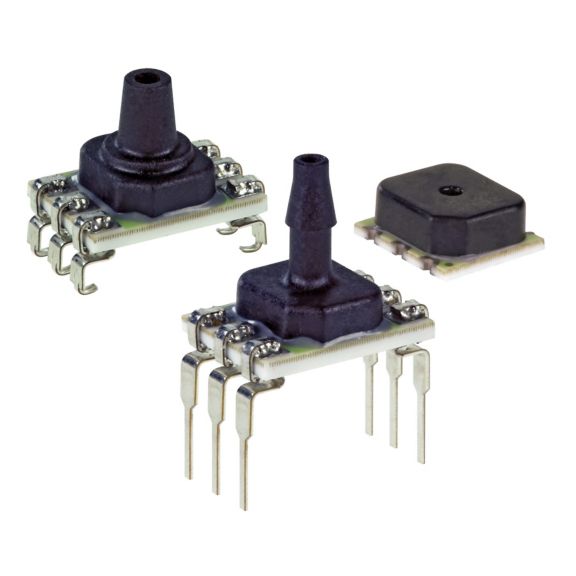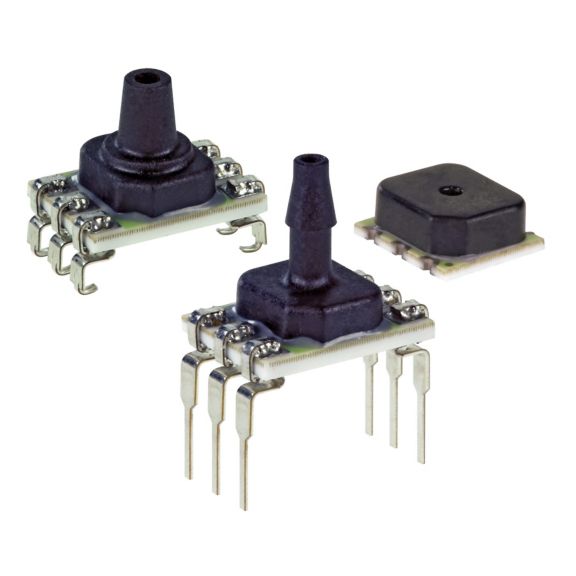 Druckbereiche
>±60.mbar bis ±10.bar - ±6.kPa bis ±1.MPa - ±1.psi bis ±150.psi
Beschreibung
Bei der ABP-Serie handelt es sich um piezo-resistive Silizium-Drucksensoren mit Digital- oder ratiometrischem Analogausgang zum Einlesen des Drucks über den gesamten angegebenen Druck- und Temperaturbereich. Sie sind kalibriert und gleichen Abweichungen bei Messwandlern, Empfindlichkeit, Temperaturauswirkungen und Genauigkeitsfehler (Nichtlinearität, Wiederholbarkeit und Hysterese) mithilfe eines integrierten anwendungsspezifischen Schaltkreises (ASIC) aus. Kalibrierte Druckausgabewerte werden bei ca. 1.kHz für analoge Ausgänge und 2.kHz für digitale Ausgänge aktualisiert. Alle Produkte wurden gemäß ISO 9001 Standards entwickelt und hergestellt.
Trockengasoption: Der Eingangsanschluss ist auf nicht korrodierende, nicht ionische Medien (z..B. trockene Luft, Gase) beschränkt, Kondenswasser ist zu vermeiden. Gase sind beschränkt auf Medien, die mit Hochtemperaturpolyamid, Silikon, Aluminiumoxid-Keramik, Silizium, Gold und Glas kompatibel sind.
Flüssigmedienoption: Sie umfasst eine zusätzliche Gelbschichtung auf Silikonbasis zum Schutz der Elektronik unter Anschluss.P1, die die Verwendung von nicht korrodierenden Flüssigkeiten (z..B. Wasser und Salzlösung) sowie die Nutzung bei Anwendungen, in denen Kondensation auftreten kann, ermöglicht. Da der Anschluss.P2 für die Verwendung nicht korrodierender Flüssigkeiten ausgelegt ist, eignet sich diese Option häufig für die Nass/Nass-Differentialmessung.
Mehrwert für die Kunden
Einfache Integration: Die geringe Größe spart Platz auf der Leiterplatte oder sorgt bei kleinen Geräten und solchen mit geringer Leistung für einen einfacheren Aufbau. Erfüllt die Anforderungen der Feuchtigkeitsempfindlichkeitsstufe 1, was eine unbegrenzte Lagerfähigkeit ermöglicht bei Lagerung nach, <30 °C/85 %RH and, under most storage conditions, allows for PCB soldering without any material concern about solder joint quality due to aging of the sensor terminals, which minimizes the concern about aging of the terminals prior PCB assembly. Pressure choices allow engineers to select range required for their application. Leadless SMT, SMT, and DIP package options.
Kosteneffektiv: Die geringe Größe erlaubt es Ingenieuren, die Konstruktions- und Fertigungskosten zu reduzieren und dabei gleichzeitig eine verbesserte Leistung und Zuverlässigkeit der von ihnen entworfenen Systeme zu gewährleisten.
Genau: Gesamtfehlertoleranz (TEB) und weiter Druckbereich erlauben Ingenieuren die Optimierung der Systemleistung durch Verbesserung der Auflösung und der Systemgenauigkeit. Eine optionale interne Diagnosefunktion überprüft die Richtigkeit der Sensorwerte.
Flexibilität: Versorgungsspannungsbereich, eine Vielfalt an Druckeinheiten, -ausführungen und -bereichen, Ausgangsoptionen und ein weiter Betriebstemperaturbereich vereinfachen eine anwendungsspezifische Verwendung.
Flexibel einsetzbar: Durch die Kompatibilität mit nassen Medien, Schlafmodus und Temperaturausgangsoptionen wird der Sensor zu einer vielseitigen Lösung für IoT-Anwendungen (Internet of Things (Internet der Dinge)).
Die Marke Honeywell: Einsatz der von mehreren weltweiten Patenten geschützten firmeneigene Technologie von Honeywell.
Differenzierungsmerkmal:
Durch die höhere Genauigkeit kann der Entwicklungsingenieur einen Messfehler vollumfänglich verstehen.
Ein weiter Versorgungsspannungsbereich ermöglicht flexibles Design.
Leistungsaufnahme bei Gebrauch der Schlafmodusoption ermöglicht die Verwendung in batteriebetriebenen Anwendungen.
Datenblatt
Handbücher und Anleitungen
Installationsanweisung
CAD Modell
Broschüre
Technischer Hinweis
White Paper
Anwendungshinweis
Produkt-Foto
Name
Beschreibung
Dateigröße
Datum
Größe
Name
Beschreibung
Dateigröße
Datum
Größe

ABPDANN005PG2A3

ABPDANT005PGAA5

ABPDANT015PGAA5

ABPDJJT001PGAA5

ABPDLNN100MG2A3

ABPDRRT005PG2A5

ABPLANN001PG2A5

ABPLANT015PD2A5

ABPLLND060MGAA3

ABPLLNN600MGAA3

ABPDANN005PG2A3

ABPDANT005PGAA5

ABPDANT015PGAA5

ABPDJJT001PGAA5

ABPDLNN100MG2A3

ABPDRRT005PG2A5

ABPLANN001PG2A5

ABPLANT015PD2A5

ABPLLND060MGAA3

ABPLLNN600MGAA3