Self-Retracting Lifelines & Personal Fall Limiters
Miller MightyLite™ Leading Edge Self-Retracting Lifeline
Miller MightyLite™ Leading Edge Self-Retracting Lifeline
Обзор продукта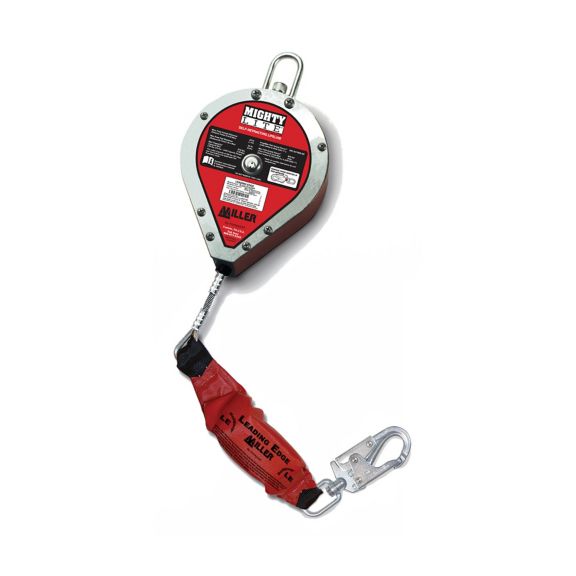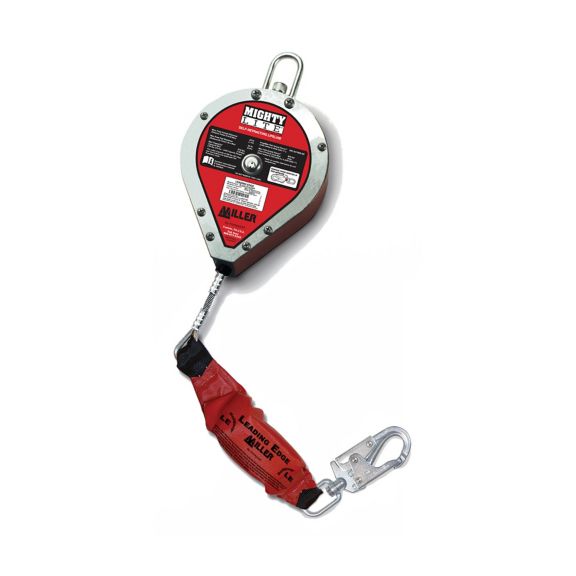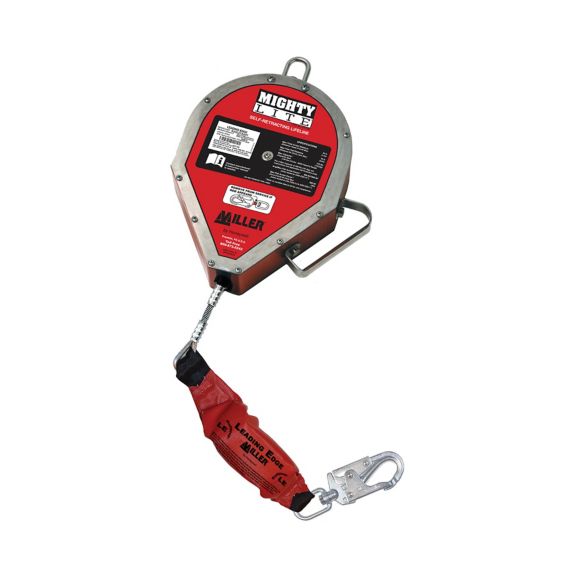 LEADING EDGE SELF-RETRACTING LIFELINE
The Miller MightyLite™ Leading Edge Self-Retracting Lifeline (LE SRL) is designed to protect a worker from a fall that involves going over an edge. The MightyLite LE SRL features a shock absorber integrated into the lifeline: lowering fall arrest forces.
Designed For Dual Applications
Engineeredfor use in leading edge applications or with a traditional overhead anchorage.
Extended Service Life
The MightyLite LE SRL features durable: corrosion-resistant stainless steel and aluminum construction.
Features & Benefits:
Engineered for use in leading edge applications or with a traditional overhead anchorage
Designed to protect a worker if a fall occurs that involves going over an edge
Features a shock absorber integrated into the lifeline: lowering fall arrest forces
Durable: corrosion-resistant stainless steel and aluminum construction extends service life
30% lighter than competitive models in class for easy handling
Carabiner and tagline included for easy lifeline access and connection
Dual swivels design (unit top and snap hook) minimizes lifeline twisting during use
Rated for up to a 310 lb. user in leading edge applications and up to a 400 lb. user when mounted overhead
Certified to CSA Z259.2.2 and CSA Z259.12-11 (for overhead use only)
Models available with Kevlar® Shock-Absorbing Packs for Welding Applications
Others
Connector Gate Strength
Lifeline Diameter
Lifeline Material
Unit Connector
Edge Rated
Lifeline Connector
Lifeline Material : Galvanized Steel
Unit Connector : Carabiner
Lifeline Connector : Locking Snap Hook
Connector Gate Strength : 3,600|3,600 US Pound
Lifeline Diameter : 5|5 millimetre
Технические характеристики
Name
Description
File Size
Date
Size
MightyLite Leading Edge SRL Data Sheet
application/pdf 262.9 KB
11/3/2021
262.9 KB
Руководства и инструкции
Name
Description
File Size
Date
Size
MightyLite SRL User Manual
application/pdf 2.9 MB
11/3/2021
2.9 MB
Others
Name
Description
File Size
Date
Size
MightyLite Leading Edge SRL FAQ'S
application/pdf 348.03 KB
11/3/2021
348.03 KB
Name
Description
File Size
Date
Size
MightyLite SRL User Manual
2.9 MB
11/3/2021
2.9 MB
MightyLite Leading Edge SRL FAQ'S
348.03 KB
11/3/2021
348.03 KB
MightyLite Leading Edge SRL Data Sheet
262.9 KB
11/3/2021
262.9 KB
Name
Description
File Size
Date
Size
MightyLite Leading Edge SRL Data Sheet
262.9 KB
11/3/2021
MightyLite SRL User Manual
2.9 MB
11/3/2021
MightyLite Leading Edge SRL FAQ'S
348.03 KB
11/3/2021