Self-Retracting Lifelines & Personal Fall Limiters
Miller Scorpion™ Personal Fall Limiters
Miller Scorpion™ Personal Fall Limiters
Обзор продукта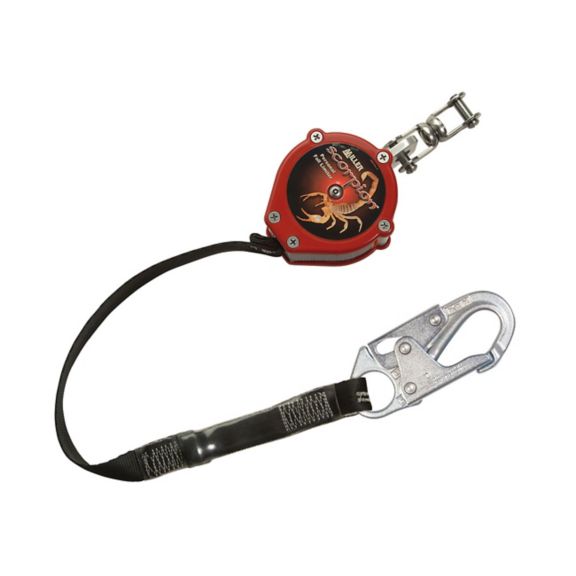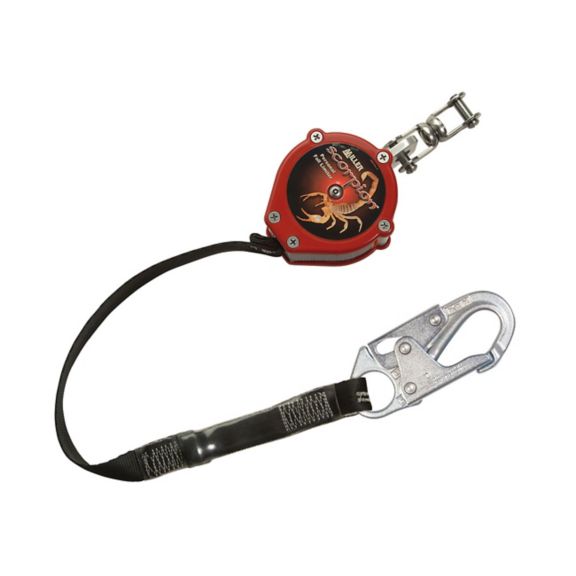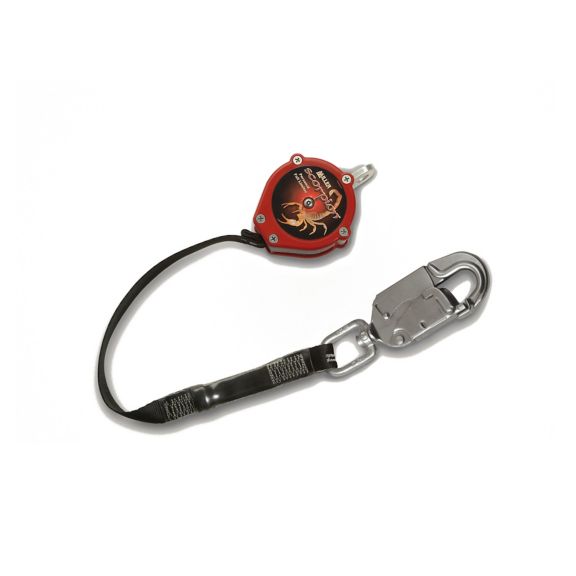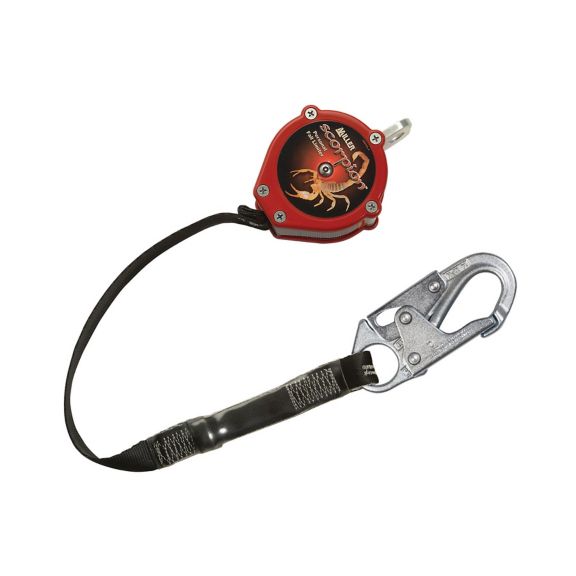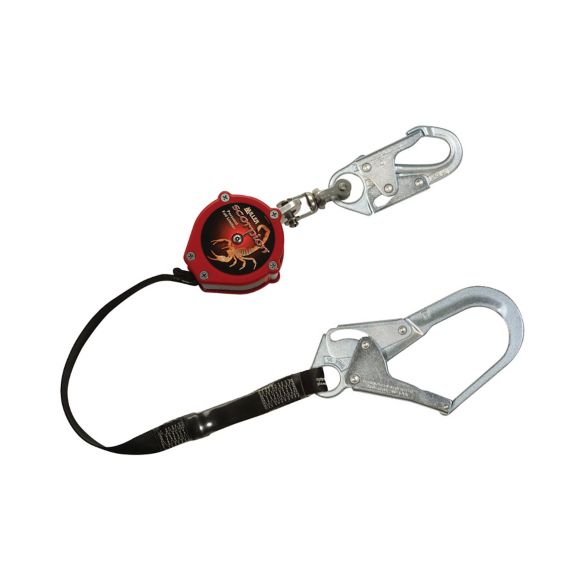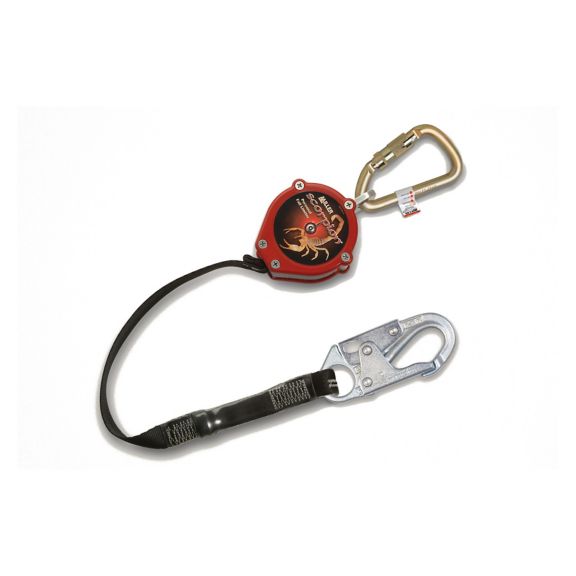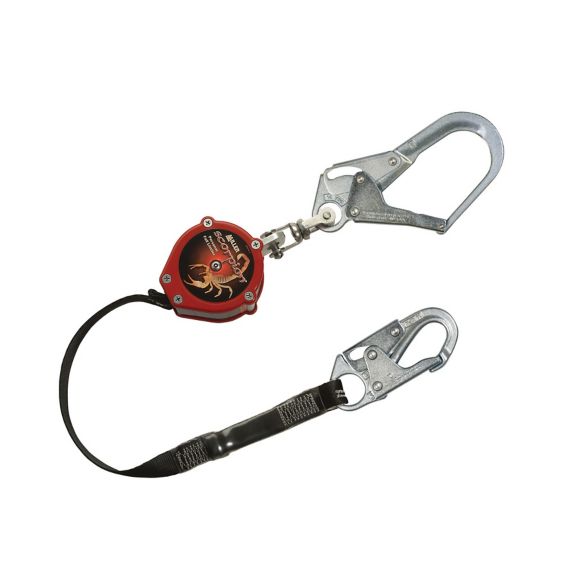 The lightweight: compact design of the 9 ft. (2.7 m) Miller Scorpion™ Personal Fall Limiter offers greater mobility: safety: and versatility when compared to shock-absorbing lanyards.
Improved Mobility & Safety
Requires less fall clearance and prevents tripping hazards. Visual load indicator indicates when the unit must be removed from service.
Versatility
Attach it directly to the harness D-ring for use as a personal fall limiter: or use it as a traditional retractable lifeline.
Features & Benefits:
Small: lightweight design 2.9 lbs.(1.3 kg)
Quick-activating: high-strength stainless steel braking system – arrests free falls
9-ft.(2.7 m)of working capacity
Variety of integral anchorage connectors available
400 lbs.(181.4 kg)capacity models available upon request
No annual factory recertification required
Visual load indicator – indicates the unit must be removed from service
Scorpion™ Unit Connector Options
Without connector
Steel twist-lock carabiner
Stainless steel swivel shackle
Carabiner and swivel shackle
D-ring swivel hook
Rebar hook and swivel shackle
Locking snap hook and swivel shackle
Captive eye carabiner
Scorpion™ Lanyard End Connector Options
Locking snap hook
Locking rebar hook
Locking rebar swivel hook
Locking swivel snap hook
Web loop for carabiner
Others
Connector Gate Strength
Lifeline Connector

Locking Swivel Rebar Hook

Locking Snap Hook

Locking Snap Hook

Locking Swivel Rebar Hook

Lifeline Material

Polyester

Polyester

Vectran

Vectran

Unit Connector

Snap Hook

Swivel Shackle

Snap Hook

Swivel Shackle
Others
Lifeline Connector

Locking Swivel Rebar Hook

Locking Snap Hook

Locking Snap Hook

Locking Swivel Rebar Hook

Lifeline Material

Polyester

Polyester

Vectran

Vectran

Unit Connector

Snap Hook

Swivel Shackle

Snap Hook

Swivel Shackle
Lifeline Connector : Locking Swivel Rebar Hook | Locking Snap Hook|Locking Snap Hook|Locking Swivel Rebar Hook
Lifeline Material : Polyester|Polyester | Vectran|Vectran
Unit Connector : Snap Hook|Swivel Shackle|Snap Hook | Swivel Shackle
Connector Gate Strength : 3,600|3,600 US Pound
Технические характеристики
Name
Description
File Size
Date
Size
Scorpion PFL Data Sheet
application/pdf 233.78 KB
11/3/2021
233.78 KB
Руководства и инструкции
Name
Description
File Size
Date
Size
Self-Retracting Lifelines and Personal Fall Limiters User Manual
application/pdf 2.9 MB
11/3/2021
2.9 MB
Others
Name
Description
File Size
Date
Size
Lanyards & Self-Retracting Lifelines SKU Sheet
application/pdf 316.31 KB
11/3/2021
316.31 KB
Name
Description
File Size
Date
Size
Scorpion PFL Data Sheet
233.78 KB
11/3/2021
233.78 KB
Lanyards & Self-Retracting Lifelines SKU Sheet
316.31 KB
11/3/2021
316.31 KB
Self-Retracting Lifelines and Personal Fall Limiters User Manual
2.9 MB
11/3/2021
2.9 MB
Name
Description
File Size
Date
Size
Scorpion PFL Data Sheet
233.78 KB
11/3/2021
Self-Retracting Lifelines and Personal Fall Limiters User Manual
2.9 MB
11/3/2021
Lanyards & Self-Retracting Lifelines SKU Sheet
316.31 KB
11/3/2021