Self-Retracting Lifelines & Personal Fall Limiters
Miller Twin Turbo™ Fall Protection Systems with G2 Connector
Miller Twin Turbo™ Fall Protection Systems with G2 Connector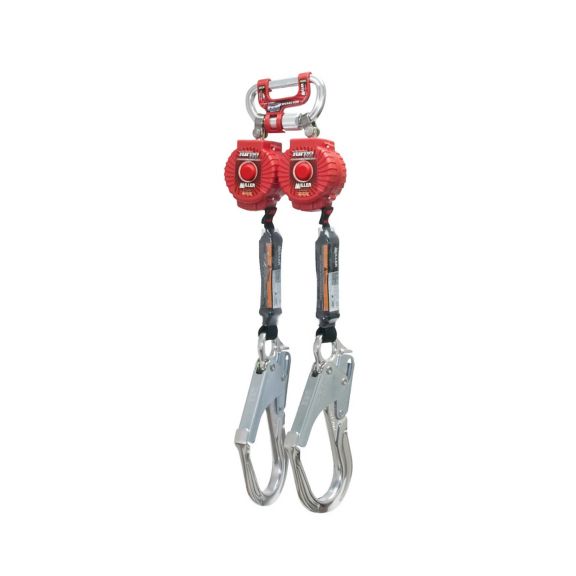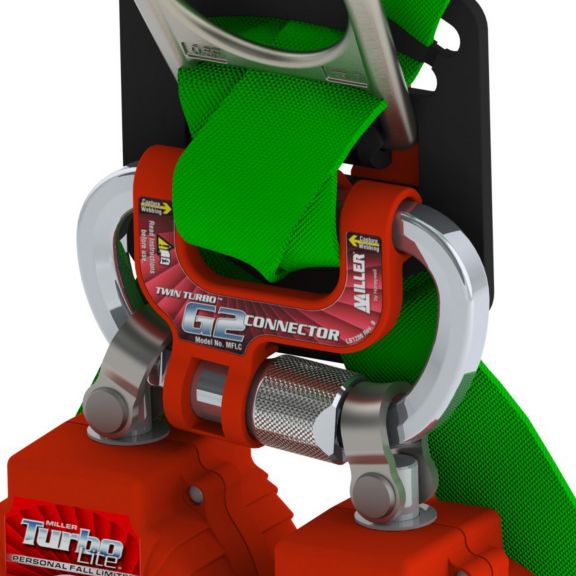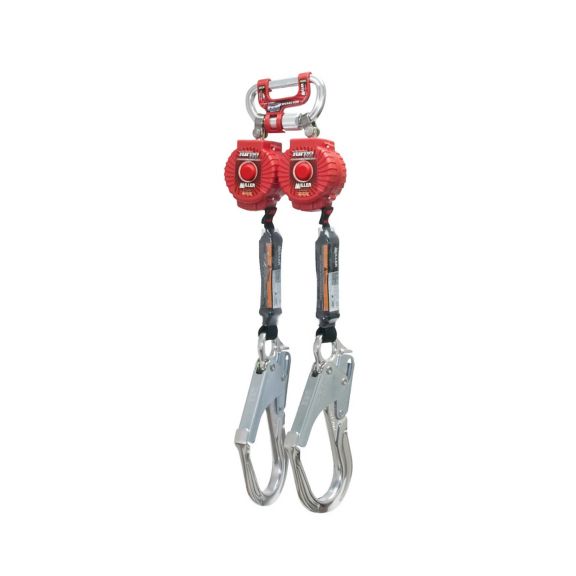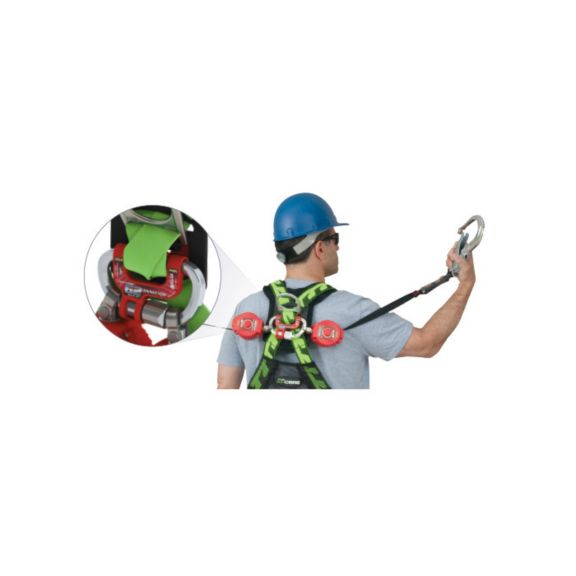 WITH G2 CONNECTOR
The Miller Twin Turbo™ G2 Connector is a compact: lightweight device: uniquely engineered to allow two compatible personal fall limiters (or self-retracting lifelines) to be connected with the back of a user's harness for a 100% tie-off fall protection.
Comfortable
The lightest-weight Twin Connector on the market: it increases productivity by reducing worker fatigue.
Durable
Its corrosion-resistant aluminum connector teamed with high-impact nylon result in a longer product life.
Features & Benefits:Performance and Safety
Better alternative to double-leg lanyards – Reduces fall clearance requirements for use in more applications
PFLs swivel independently – Provides ultimate worker mobility and prevents webbing from twisting and binding in the unit
Superior safety – Webbing Retainer Clip rotates freely to prevent unintentional opening of carabiner gate during a fall increases worker safety
D-Pad Clip – Maintains harness adjustment while working by keeping the harness webbing and D-Pad in place
Twin Turbo G2 Connector meets all applicable standards including OSHA: ANSI and CSA
Increased Versatility
Connects to harness webbing below the D-ring – Frees harness D-ring for rescue and connection to an overhead Self-Retracting Lifeline
Webbing Retainer Clip offers generous webbing slot – Accommodates thicker webbing designs for more versatility and allows for easy insertion of webbing
New patent-pending Miller Twin Turbo™ G2 Connector provides 100% tie-off for the Miller TurboLite™ and Miller Turbo T-BAK™ Personal Fall Limiters (PFLs)
Others
Connector Gate Strength
Lifeline Material

Polyester

Vectran

Vectran

Polyester

Lifeline Connector

Locking Snap Hook

Locking Rebar Hook

Locking Rebar Hook

Locking Snap Hook

Unit Connector
Others
Lifeline Material

Polyester

Vectran

Vectran

Polyester

Lifeline Connector

Locking Snap Hook

Locking Rebar Hook

Locking Rebar Hook

Locking Snap Hook
Lifeline Material : Polyester | Vectran|Vectran|Polyester
Lifeline Connector : Locking Snap Hook | Locking Rebar Hook|Locking Rebar Hook|Locking Snap Hook
Unit Connector : Twin Turbo G2 Connector
Connector Gate Strength : 3,600|3,600 US Pound
Технические характеристики
Name
Description
File Size
Date
Size
G2 Data Sheet
application/pdf 157.42 KB
11/3/2021
157.42 KB
Руководства и инструкции
Name
Description
File Size
Date
Size
Twin Turbo G2 Connector User Manual
application/pdf 865.16 KB
11/3/2021
865.16 KB
Брошюра
Name
Description
File Size
Date
Size
Turbolite Twin Turbo Brochure
application/pdf 2.18 MB
11/3/2021
2.18 MB
Twin Turbo With G2 Connector Brochure
application/pdf 730.65 KB
11/3/2021
730.65 KB
Name
Description
File Size
Date
Size
Name
Description
File Size
Date
Size
G2 Data Sheet
157.42 KB
11/3/2021
Twin Turbo G2 Connector User Manual
865.16 KB
11/3/2021
Turbolite Twin Turbo Brochure
2.18 MB
11/3/2021
Twin Turbo With G2 Connector Brochure
730.65 KB
11/3/2021