Self-Retracting Lifelines & Personal Fall Limiters
Titan™ Fall Limiters
Titan™ Fall Limiters
Обзор продукта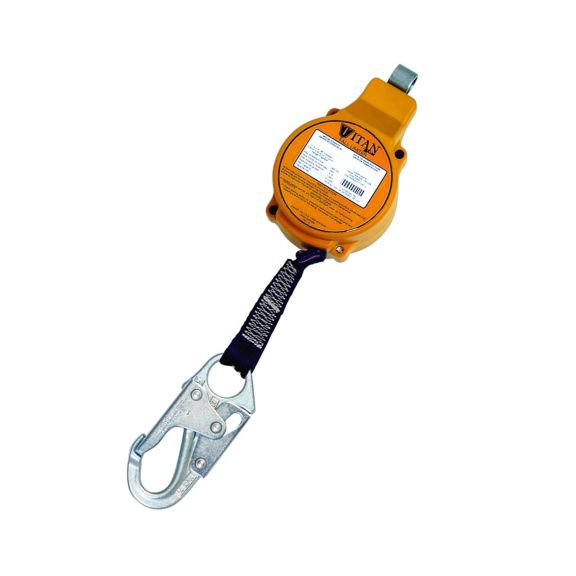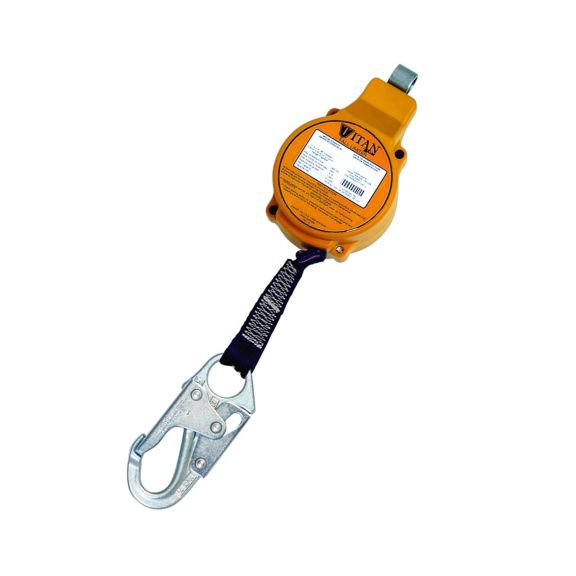 Designed for applications requiring up to 11 ft. working length: the Titan™ Fall Limiters are small enough to fit in the palm of your hand.
Improved Safety
Requires less fall clearance than shock-absorbing lanyards and reduces trip hazards. All units are equipped with a fall indicator: in the event of a fall: a flag deploys to indicate that the unit has been subjected to fall arresting forces and should be removed from service.
Greater User Mobility
Offers 11-ft. (3.4 m) of working capacity compared to a standard shock-absorbing lanyard that only provides 6-ft. (1.8 m) of mobility resulting in increased productivity.
Features & Benefits:
Offers 11-ft. (3.4 m) of working capacity
Quick-activating stainless steel braking mechanism arrests free falls
Compact: lightweight design
Corrosion-resistant interior components
No annual factory recertification required
Visual load indicator
Unit Anchorage Connector Options
Without connection (TFL-Z7/11FT)
Steel twist-lock carabiner (TFL-1-Z7/11FT)
Stainless steel swivel shackle (TFL-2-Z7/11FT)
Carabiner and swivel shackle (TFL-3-Z7/11FT)
Stainless steel swivel shackle & locking rebar hook (TFL-6-Z7/11FT)
Others
Connector Gate Strength
Breaking Strength
Standards

OSHA 1926.502;OSHA 1910.66

ANSI A10.32

CSA Z259.2.2-98

OSHA 1926.502;OSHA 1910.66

ANSI A10.32

CSA Z259.2.2-98
Others
Standards

OSHA 1926.502;OSHA 1910.66

ANSI A10.32

CSA Z259.2.2-98

OSHA 1926.502;OSHA 1910.66

ANSI A10.32

CSA Z259.2.2-98
Standards : OSHA 1926.502;OSHA 1910.66|ANSI A10.32|CSA Z259.2.2-98|OSHA 1926.502;OSHA 1910.66 | ANSI A10.32 | CSA Z259.2.2-98
Connector Gate Strength : 3,600 US Pound|3,600
Breaking Strength : 13.34|13.34 US Pound
Технические характеристики
Name
Description
File Size
Date
Size
Titan Fall Limiter Data Sheet
application/pdf 308.16 KB
11/3/2021
308.16 KB
Руководства и инструкции
Name
Description
File Size
Date
Size
Self-Retracting Lifelines and Personal Fall Limiters User Manual
application/pdf 2.9 MB
11/3/2021
2.9 MB
Name
Description
File Size
Date
Size
Self-Retracting Lifelines and Personal Fall Limiters User Manual
2.9 MB
11/3/2021
2.9 MB
Titan Fall Limiter Data Sheet
308.16 KB
11/3/2021
308.16 KB
Name
Description
File Size
Date
Size
Titan Fall Limiter Data Sheet
308.16 KB
11/3/2021
Self-Retracting Lifelines and Personal Fall Limiters User Manual
2.9 MB
11/3/2021