Self Contained Breathing Apparatus (SCBA)
SCBA Test Bench
Posi 3 USB - The industry's leading NFPA-compliant SCBA test bench with USB communication capability. Test results can be printed or saved for simplified record keeping.
Обзор продукта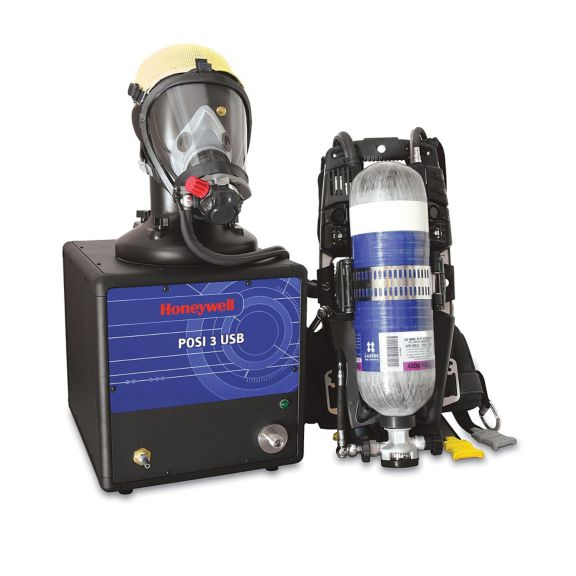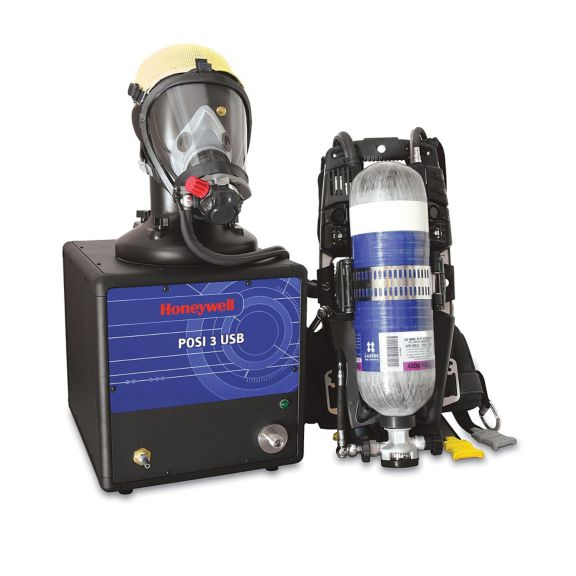 The PosiChek family of SCBA test equipment has been the industry standard for thousands of fire departments, refineries, chemical plants and nuclear power stations worldwide since it was first introduced in 1988. The Honeywell Posi 3 USB unit incorporates several hardware and software upgrades to keep pace with increasingly rigorous testing criteria to keep your SCBA equipment operating at its best.
NFPA 1852 mandates that all compliant SCBA be tested on a calibrated breathing machine before being put into service, and at least once per year thereafter. Honeywell's Posi 3 USB meets the stringent standards set forth by NFPA. With the Quick Test feature, the Posi 3 USB can evaluate the operational readiness of an SCBA in less than 2 minutes, consuming less than 1% of its air supply.
.
Features & Benefits
Performs full readiness testing
Face piece leak check
Test bench meets stringent NFPA standards
.
Quick Specs
Size (excluding head):.Height 14.1 inches: Width 13.5 inches: Depth 16.0 inches
Weight (excluding head) 34 pounds
Operating Temperature 41ºF to 113ºF.
Storage Temperature 14ºF to 113ºF
.
.
Additional Features and Benefits:
.
Posi 3 USB Performs Full Readiness Testing
Facepiece leak check
Exhalation check valve opening pressure
Static facepiece pressure
Bypass flow rate
Pressure gauge accuracy
Low pressure alarm activation
First stage regulator performance
Breathing resistance at standard (40 LPM)
Breathing resistance at maximum (100 LPM)
.
.
| | |
| --- | --- |
| Item Number | Item Description |
| 54-56-1717 | POSI 3 USB, AMERICAN 500 PSI ME |
| 54-56-2717 | POSI 3 USB, AMERICAN, Sound Detection System, 500 PSI MP |
| 54-56-5117 | POSI 3 USB with 5500 Transducer |
| 54-56-6117 | POSI 3 USB with 5500 Transducer & Sound Detection System |
| 54-58-10 | Posi 3 USB SCBA Test Software - Standard US |
| 54-58-03 | Posi 3 USB SCBA Test Software - Standard Metric |
| 54-58-02 | Posi 3 USB SCBA Test Software -.Draeger US |
| 54-58-04 | Posi 3 USB SCBA Test Software - Fenzy |
| 54-58-05 | Posi 3 USB SCBA Test Software - Interspiro US |
| 54-58-06 | Posi 3 USB SCBA Test Software - ISI |
| 54-58-07 | Posi 3 USB SCBA Test Software - MSA |
| 54-58-01 | Posi 3 USB SCBA Test Software.- Survivair |
| 54-21-A15 | Case and Foam, Posi 3, with Head |
| 54-21-A16 | Case and Foam, Posi 3, Instrument |
| 13-348 | Manual - Posi 3 USB SCBA Test Setup Guide |
Руководства и инструкции
Name
Description
File Size
Date
Size
Posi3 USB Quick Start Guide
application/pdf 2.16 MB
11/3/2021
2.16 MB
POSI 3 USB Setup Guide
application/pdf 1.55 MB
11/3/2021
1.55 MB
Брошюра
Name
Description
File Size
Date
Size
Posi3 USB Brochure
application/pdf 233.71 KB
11/3/2021
233.71 KB
Others
Name
Description
File Size
Date
Size
Calibration kit License request V4
application/vnd.openxmlformats-officedocument.wordprocessingml.document 42.01 KB
11/3/2021
42.01 KB
Posi3 USB License Request R5
application/vnd.openxmlformats-officedocument.wordprocessingml.document 229.23 KB
11/3/2021
229.23 KB
manual
Name
Description
File Size
Date
Size
Posi3 USB Product Guide
application/pdf 2.94 MB
11/3/2021
2.94 MB
Name
Description
File Size
Date
Size
Name
Description
File Size
Date
Size
Posi3 USB Quick Start Guide
2.16 MB
11/3/2021
POSI 3 USB Setup Guide
1.55 MB
11/3/2021
Posi3 USB Brochure
233.71 KB
11/3/2021
Calibration kit License request V4
42.01 KB
11/3/2021
Posi3 USB License Request R5
229.23 KB
11/3/2021
Posi3 USB Product Guide
2.94 MB
11/3/2021