Configuration / System Workstations
Systevo Workstation (24 VDC) System-Release V11 Standard
System Workstation for configuration, display, operation and logging for Systevo Call Ackermann, equipped with system release V11.
Overview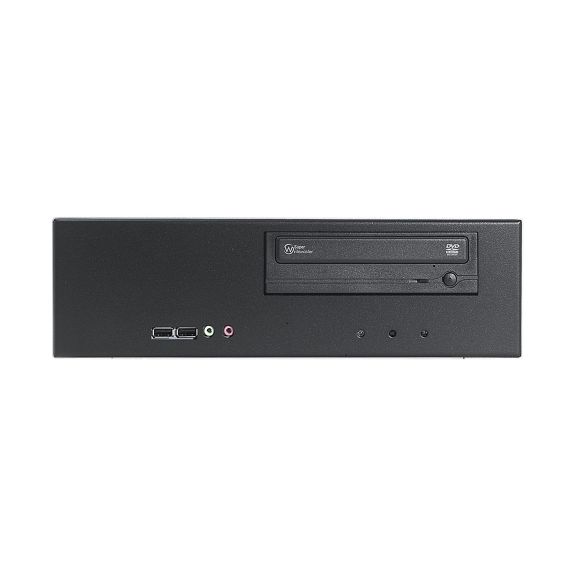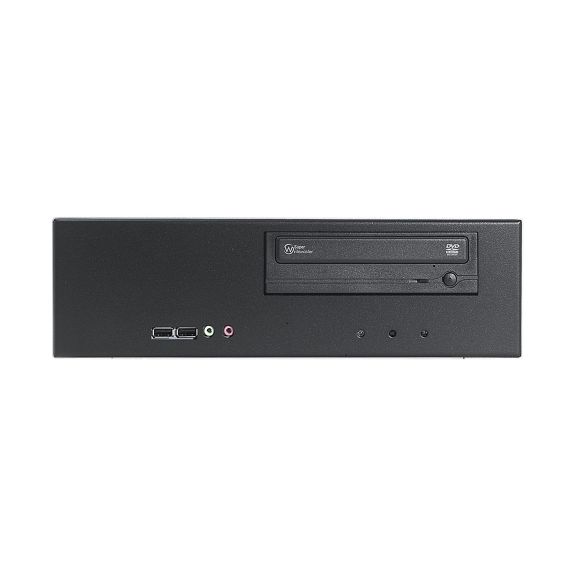 This product is no longer available
Part Number: 765M35D
Product not available anymore. Successor: 765M440 with System-Release 12.
System Workstation for configuration, display, operation and logging for Systevo Call Ackermann, equipped with system release V11.
System license required, depending on the system functions/size.Optionally as an interface to third-party systems, such as DECT system, fire detection system.
Comprised of a high-quality system computer with keyboard, mouse, SSD, DVD+/-RW, interfaces (RS232, LAN).
Equipped with user software with system release V11:
Configuration tool Systevo Call Ackermann
Allocation of the room configuration
Definition of functions/parameters of the call system in accordance with DIN VDE 0834-1: 2016-06
Set-up of the call types, call type groups, call type upgrades
Set-up of the VoIP/SIP channel for mobile call querying via DECT/WIFI(separate license/SIP license required)
Configuration of input/output events for controlling external systems: Light/blind/TV
Setting of radio and TV channel
System management tools, database management system
Network functions for system accesses
Freely configurable services (interconnection)
Allocation of timed services
Selection of call type groups for services
Configuration of the volume of the acoustic call forwarding (day/night)
Definition of target-oriented forwarding between stations (call types)
Freely configurable announcement functions
Selection of destinations for announcements
Fault monitoring and reporting (in accordance with DIN VDE 0834-1:2016-06)
Graphic / tabular display of messages according to priority/call type/time
Presence/call messages
Access control via user ID (if necessary)
Output of the data on a printer
Following Functions only in combination with a master station:
Call retrieval/, cancellation
Dialing up of rooms / making announcements to selected destinations
Entry and administration of patient data, incl. administration of the bed occupation (manual)
Optional:
Message transmission to a wireless messaging system (e.g. WIFI-/DECT system
Or Paging)
Freely configurable recipient addresses for messages from groups of the call system
Definition of the display format for the messages to be transmitted
Set-up of various services (e.g. day, night service)
Allocation of repetition times, acoustic call tones, etc.
Features
Minimum equipment:
Universal housing, as desktop or installation frame for 19" rack
Mainboard with Quad-Core µP J19xx, 2 GHz or equivalent, min. 4 GB RAM
1* Solid-State HDD (SSD) min. 128 GB
drive DVD+-RW, VGA graphics card
4* RS232, 1* parallel, USB
2* LAN Ethernet (min 10/100 MBit)
Mouse and keyboard, radio-controlled clock DCF-77
Hardened operating system Windows 10 IoT Entry
Backup/user software
Continuous operation: 24/7
Additional information
EN 55022/55024/61000-3/60950-1.
2004/108/EC, 2006/95/EC, 2005/32/EC.
2003/95/EC, Regulation (EC)1275/2008.
Others
Weight

approx. 3,6 kg (19" frame)

approx. 6,5 kg (workstation)

Operating voltage (A)
Storage Temperature
Ambient Temperature
Power Consumption
Air humidity
Dimensions

W: 420 mm H: 325 mm D: 95 mm workstation

W:425 mm H: 482 mm D: 132 mm 19" frame
Others
Weight

approx. 3,6 kg (19" frame)

approx. 6,5 kg (workstation)

Dimensions

W: 420 mm H: 325 mm D: 95 mm workstation

W:425 mm H: 482 mm D: 132 mm 19" frame
Weight : approx. 3,6 kg (19" frame)|approx. 6,5 kg (workstation)
Operating voltage (A) : 24 V
Storage Temperature : 0 °C ... 50 °C
Ambient Temperature : 10 °C ... 35 °C
Power Consumption : 100 W max. Watt
Dimensions : W: 420 mm H: 325 mm D: 95 mm workstation|W:425 mm H: 482 mm D: 132 mm 19" frame
Data Sheet
Name
Description
File Size
Date
Size
Systevo Workstation (24 VDC) System-Release V11 Standard
application/pdf 35.52 KB
11/4/2022
35.52 KB
Name
Description
File Size
Date
Size
Systevo Workstation (24 VDC) System-Release V11 Standard
35.52 KB
11/4/2022
35.52 KB
Name
Description
File Size
Date
Size
Systevo Workstation (24 VDC) System-Release V11 Standard
35.52 KB
11/4/2022