Industrial
PX65 Industrial Printer
The PX45 and PX65 Series industrial printers are flexible, compact, and programmable, enabling customers to optimize their printing operations, streamline deployment, and achieve quick return on investment.
Overview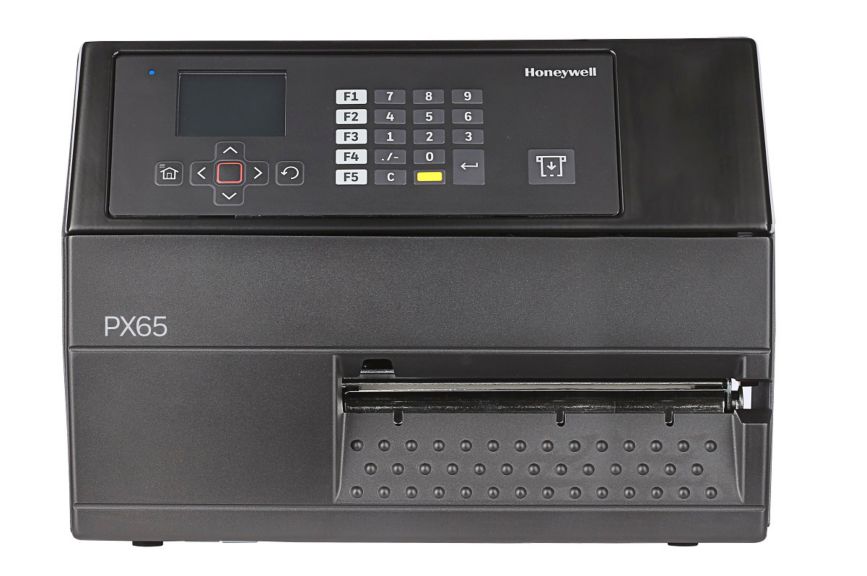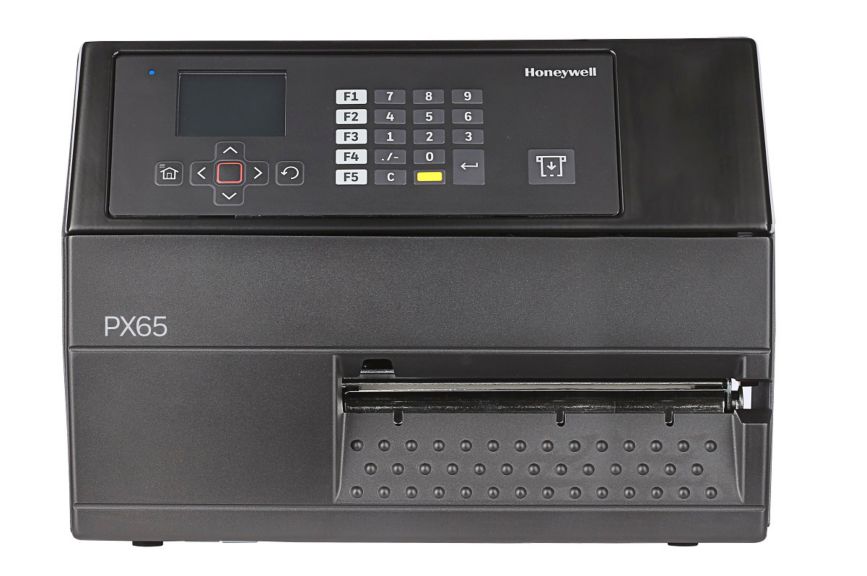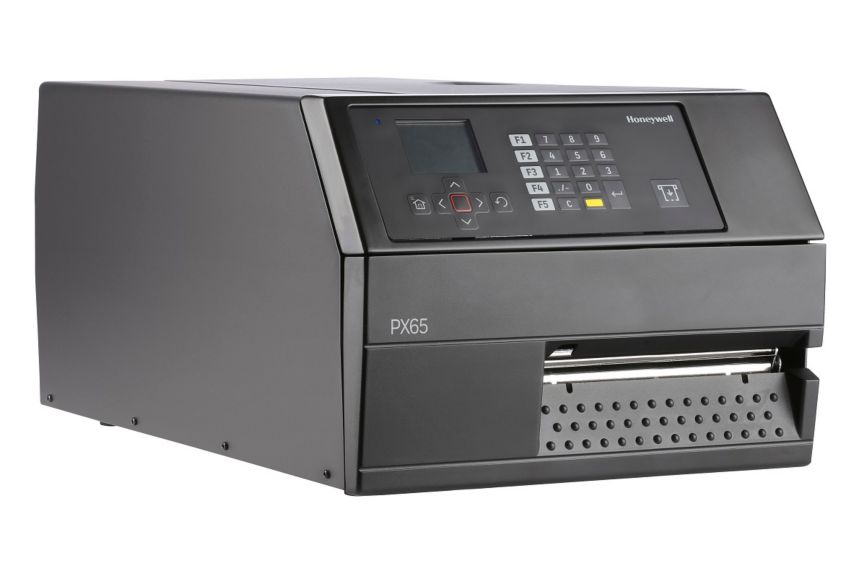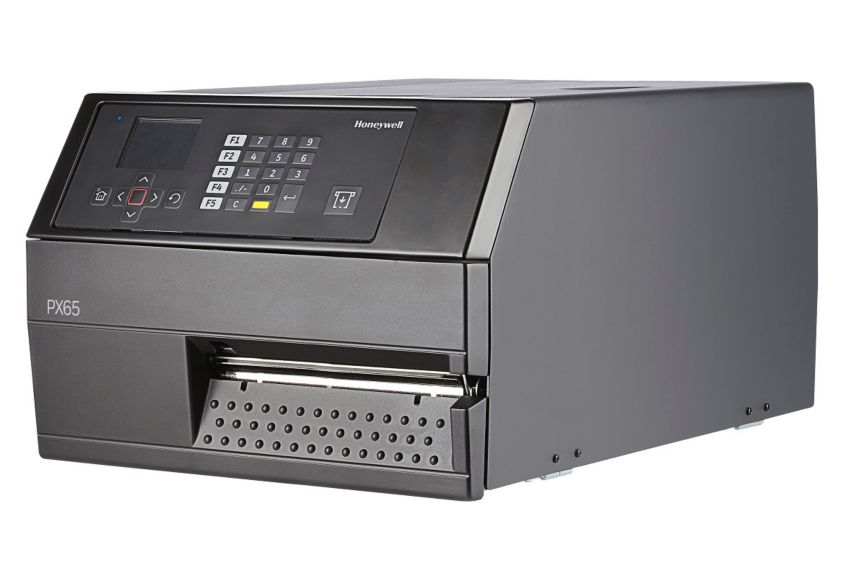 The rugged, all-metal PX45 and PX65 printers deliver outstanding performance – up to 12 inches per second from first label to last – and incorporate features that reduce downtime and minimize maintenance costs. Both versions are available with 203 or 300 dpi resolution, and the PX45 also offers 406 dpi, for precision labeling without any loss of speed. This is ideal for compliance labeling applications with variable data requiring immediate results.
The PX45 and PX65 printers' smart design features support increased productivity in demanding environments. As Smart Printers, they can host stand-alone applications, developed through the Fingerprint and C# programming languages, helping reduce errors and streamline operational processes.
The printers' device management and diagnostic capabilities – provided in web-based PrintSet 5 Configuration Management tool, configuration tool PrintSet MC for mobile devices and cloud-based Operational Intelligence– reduce downtime and simplify deployment. Replacing printheads is fast and easy, thanks to the magnetic QuickMount™ printhead design. The PX45 and PX65 printers are co-engineered and tested with Honeywell labels and other media products, optimizing performance when used with genuine Honeywell media.
Features
Compatible Software

BarTender

Nicelabel

Operational Intelligence

SOTI Connect

Teklynx Labelview

Compatible Drivers

CUPS Driver for Linux

Certified Device Types for SAP

InterDriver Windows

Application

DC/Warehouse

Healthcare

Manufacturing

Features

Compact Size

Seamless Connectivity
Dimensions
Overall Dimensions

L x H x W: 482 mm x 238 mm x 335mm (19.0 in x 9.4 in x 13.2 in)

Weight range

12.6 kg (31.12 lbs) kilogram
Software & Firmware
Downloadable Font Type

Bitmap Font

OpenType Font (TrueType based)

TrueType Font

Linear Barcodes
2D Barcodes
Printer Command Language

C# Smart Printing

DPL

Direct Protocol (DP)

Fingerprint (FP)

Intermec Printer Language (IPL)

PDF

XML-enabled for SAP AII and Oracle WMS

ZSim2 (ZPL-II)

Image File Format
Font Engine

Monotype Font Engine

WTLE for global language support
Printing Specifications
Print Speeds
Print Method

Direct Thermal

Thermal Transfer

Resolutions
Media
Maximum Ribbon Length
Printer Media Type

Label

Linered

Linerless

RFID

Tag

Maximum Media Roll Diameter
Network
Wireless Communication

IEEE 802.11 a/b/g/n/ac

WEP, WPA, WPA2, 802.11x (EAPTTLS,LEAP, PEAP, FAST)

Wi-Fi Certified

Network Specifications
RFID Specifications
Memory & Data
Memory

External Multi-GB USB memory device (FAT16/FAT32)

Flash Memory
RAM Memory
Hardware
Printer Connection Interface

Industrial Interface: 8 digital in/out

Parallel: IEEE 1284

RS-232, up to 115.2 KB/s

USB 2.0 Device High Speed

USB 2.0 Host High Speed
Electrical
Operating Frequency
Operating voltage
Environmental
Operating temperature

+5°C to +40°C (+41°F to +104°F)

Operating Humidity
Storage Temperature

-20°C to +70°C (-4°F to +152°F)

Storage Humidity
Service Terms
Warranty Duration

One year factory warranty
Features
Compatible Software

BarTender

Nicelabel

Operational Intelligence

SOTI Connect

Teklynx Labelview

Compatible Drivers

CUPS Driver for Linux

Certified Device Types for SAP

InterDriver Windows

Application

DC/Warehouse

Healthcare

Manufacturing

Features

Compact Size

Seamless Connectivity
Dimensions
Overall Dimensions

L x H x W: 482 mm x 238 mm x 335mm (19.0 in x 9.4 in x 13.2 in)

Weight range

12.6 kg (31.12 lbs) kilogram
Software & Firmware
Downloadable Font Type

Bitmap Font

OpenType Font (TrueType based)

TrueType Font

Printer Command Language

C# Smart Printing

DPL

Direct Protocol (DP)

Fingerprint (FP)

Intermec Printer Language (IPL)

PDF

XML-enabled for SAP AII and Oracle WMS

ZSim2 (ZPL-II)

Font Engine

Monotype Font Engine

WTLE for global language support
Printing Specifications
Print Method

Direct Thermal

Thermal Transfer
Media
Printer Media Type

Label

Linered

Linerless

RFID

Tag

Maximum Media Roll Diameter
Network
Wireless Communication

IEEE 802.11 a/b/g/n/ac

WEP, WPA, WPA2, 802.11x (EAPTTLS,LEAP, PEAP, FAST)

Wi-Fi Certified
Memory & Data
Memory

External Multi-GB USB memory device (FAT16/FAT32)
Hardware
Printer Connection Interface

Industrial Interface: 8 digital in/out

Parallel: IEEE 1284

RS-232, up to 115.2 KB/s

USB 2.0 Device High Speed

USB 2.0 Host High Speed
Environmental
Operating temperature

+5°C to +40°C (+41°F to +104°F)

Storage Temperature

-20°C to +70°C (-4°F to +152°F)
Service Terms
Warranty Duration

One year factory warranty
Compatible Software : BarTender|Nicelabel|Operational Intelligence|SOTI Connect|Teklynx Labelview
Compatible Drivers : CUPS Driver for Linux|Certified Device Types for SAP|InterDriver Windows
Application : DC/Warehouse|Healthcare|Manufacturing
Features : Compact Size|Seamless Connectivity
Overall Dimensions : L x H x W: 482 mm x 238 mm x 335mm (19.0 in x 9.4 in x 13.2 in)
Weight range : 12.6 kg (31.12 lbs) kilogram
Downloadable Font Type : Bitmap Font|OpenType Font (TrueType based)|TrueType Font
Linear Barcodes : All major 1D barcodes
Print Speeds : 100–225 mm/s (4–9 ips)
Print Method : Direct Thermal|Thermal Transfer
Resolutions : 203 dpi|300 dpi
2D Barcodes : All major 2D barcodes
Maximum Ribbon Length : 1,476 foot
Printer Media Type : Label|Linered|Linerless|RFID|Tag
Wireless Communication : IEEE 802.11 a/b/g/n/ac|WEP, WPA, WPA2, 802.11x (EAPTTLS,LEAP, PEAP, FAST)|Wi-Fi Certified
Printer Command Language : C# Smart Printing|DPL|Direct Protocol (DP)|Fingerprint (FP)|Intermec Printer Language (IPL)|PDF|XML-enabled for SAP AII and Oracle WMS|ZSim2 (ZPL-II)
Memory : External Multi-GB USB memory device (FAT16/FAT32)
Image File Format : BMP|GIF|PCX|PNG
Flash Memory : 512 MB megabyte
RAM Memory : 256 MB megabyte
Printer Connection Interface : Industrial Interface: 8 digital in/out|Parallel: IEEE 1284|RS-232, up to 115.2 KB/s|USB 2.0 Device High Speed|USB 2.0 Host High Speed
Operating Frequency : 45 - 65 Hz
Operating voltage : 100 - 240 V AC
Operating temperature : +5°C to +40°C (+41°F to +104°F)
Operating Humidity : 20 - 80 % non-condensing
Warranty Duration : One year factory warranty
Maximum Media Roll Diameter : 8.38 inch
Network Specifications : Ethernet 10/100 Mbps
Storage Temperature : -20°C to +70°C (-4°F to +152°F)
RFID Specifications : RFID
Storage Humidity : 20 - 80 % non-condensing
Font Engine : Monotype Font Engine|WTLE for global language support
Platform : Honeywell Printer Edge
Data Sheet
Name
Description
File Size
Date
Size
PX45 and PX65 Series Printers Datasheet
application/pdf 99.95 KB
2/16/2023
99.95 KB
Manuals and Guides
Name
Description
File Size
Date
Size
Command Reference User Guide: DPL (DPL-EN-CR Rev E)
application/pdf 1.07 MB
12/5/2023
1.07 MB
Command Reference Guide: Fingerprint (FP-EN-CR Rev A)
application/pdf 4.92 MB
12/5/2023
4.92 MB
User Guide: Honeywell Smart Printing Software Developer Kit (SDK-SP-EN-UG-01 REV E)
application/pdf 357.19 KB
12/5/2023
357.19 KB
Command Reference User Guide: ZSIM (ZSIM-EN-CR-01 Rev E)
application/pdf 661.97 KB
12/5/2023
661.97 KB
Command Reference User Guide: IPL (IPL-EN-CR Rev C)
application/pdf 2.38 MB
12/5/2023
2.38 MB
User Guide: PX45/PX65 Industrial Printer (PX45-65-EN-UG Rev B)
application/pdf 12.94 MB
7/18/2023
12.94 MB
User Guide: PX45/PX65 Interface Boards and Accessories (PX45-65-ACC-EN-UG Rev B)
application/pdf 5.43 MB
5/23/2023
5.43 MB
Quick Start Guide: PX65 Industrial Printer (PX65-EN-QS Rev A)
application/pdf 1.26 MB
9/15/2022
1.26 MB
User Guide: Printer Network and Security (ALLSKU-PR-EN-SG-01 Rev F)
application/pdf 303.43 KB
12/5/2023
303.43 KB
Regulatory Information
Name
Description
File Size
Date
Size
Regulatory Sheet: PX45/PX65 Industrial Printer (PX45-65-ML-RS-02 Rev A)
application/pdf 1.85 MB
2/20/2023
1.85 MB
Brief
Name
Description
File Size
Date
Size
Application Brief: Print PDF Directly To Honeywell Printer (PRT-PDF-EN-AB-01 Rev D)
application/pdf 80.82 KB
12/4/2023
80.82 KB
Application Brief: Honeywell Device Types For Use With SAP® Systems (PRT-SAP-EN-AB-01 Rev E)
application/pdf 1.22 MB
12/4/2023
1.22 MB
Application Brief: CUPS Printing In Linux/UNIX® For Honeywell Printers (PRT-CUPS-EN-AB-01 Rev D)
application/pdf 73.05 KB
12/4/2023
73.05 KB
Name
Description
File Size
Date
Size
Name
Description
File Size
Date
Size
PX45 and PX65 Series Printers Datasheet
99.95 KB
2/16/2023
Command Reference User Guide: DPL (DPL-EN-CR Rev E)
1.07 MB
12/5/2023
Command Reference Guide: Fingerprint (FP-EN-CR Rev A)
4.92 MB
12/5/2023
User Guide: Honeywell Smart Printing Software Developer Kit (SDK-SP-EN-UG-01 REV E)
357.19 KB
12/5/2023
Command Reference User Guide: ZSIM (ZSIM-EN-CR-01 Rev E)
661.97 KB
12/5/2023
Command Reference User Guide: IPL (IPL-EN-CR Rev C)
2.38 MB
12/5/2023
User Guide: PX45/PX65 Industrial Printer (PX45-65-EN-UG Rev B)
12.94 MB
7/18/2023
User Guide: PX45/PX65 Interface Boards and Accessories (PX45-65-ACC-EN-UG Rev B)
5.43 MB
5/23/2023
Quick Start Guide: PX65 Industrial Printer (PX65-EN-QS Rev A)
1.26 MB
9/15/2022
User Guide: Printer Network and Security (ALLSKU-PR-EN-SG-01 Rev F)
303.43 KB
12/5/2023
Regulatory Sheet: PX45/PX65 Industrial Printer (PX45-65-ML-RS-02 Rev A)
1.85 MB
2/20/2023
Application Brief: Print PDF Directly To Honeywell Printer (PRT-PDF-EN-AB-01 Rev D)
80.82 KB
12/4/2023
Application Brief: Honeywell Device Types For Use With SAP® Systems (PRT-SAP-EN-AB-01 Rev E)
1.22 MB
12/4/2023
Application Brief: CUPS Printing In Linux/UNIX® For Honeywell Printers (PRT-CUPS-EN-AB-01 Rev D)
73.05 KB
12/4/2023