Arc Flash PPE
1000V Insulated Tool Kits for Hybrid and Electric Vehicles
1000V Electrical Insulated Tool Kit for Hybrid Vehicles and Hand Tool Kits
Overview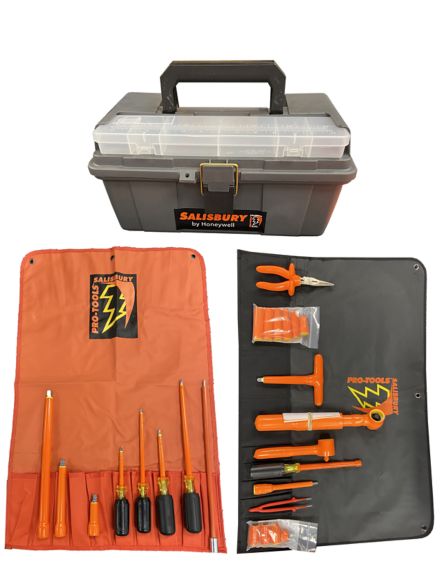 Do you have the necessary tools to guard against the dangers of electrocution from hybrid & electric vehicles?

Mechanics and firefighters should be cautious when working on hybrid vehicles because hybrid vehicles use a combination of a gasoline motor and a high-voltage electric motor.

The electric motor operates on voltages as high as 500 volts, that's more than eight times the lethal voltage. Be ready for anything. Don't be caught worrying about the "what ifs" while working on these vehicles.

Salisbury offers 3 1000V Insulated Hand Tool Kits.
The EV124 contains everything your shop may need for EV maintenance work.
The TK84 was specifically designed with Honda engineers to meet the needs of their Civic and Accord electric vehicles.
The TK12HB is a smaller kit designed to meet basic needs of a hybrid vehicle.
Catalog
Name
Description
File Size
Date
Size
SALISBURY Parts List TK12HB
41.2 KB
9/7/2023
41.2 KB
Content List for EV124
105.62 KB
9/8/2023
105.62 KB
SALISBURY Parts List TK84
113.62 KB
9/19/2023
113.62 KB
Name
Description
File Size
Date
Size
SALISBURY Parts List TK12HB
41.2 KB
9/7/2023
Content List for EV124
105.62 KB
9/8/2023
SALISBURY Parts List TK84
113.62 KB
9/19/2023

EV124
EV MASTER SHOP INSULATED TOOL KIT

TK12HB
Tool Kit Hybrid Vehicles

TK84
HONDA CIVIC & ACCORD EV SERVICE KIT

EV124
EV MASTER SHOP INSULATED TOOL KIT

TK12HB
Tool Kit Hybrid Vehicles

TK84
HONDA CIVIC & ACCORD EV SERVICE KIT