Anchorage Connectors
Miller Fusion™ Roof Anchor Post
Miller Fusion™ Roof Anchor Post
Overview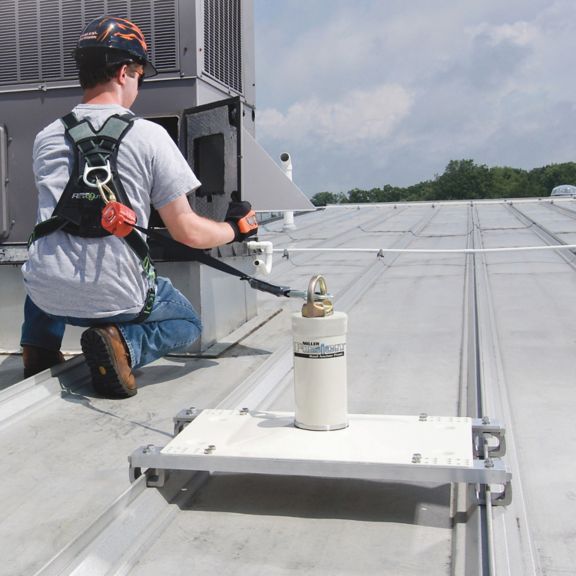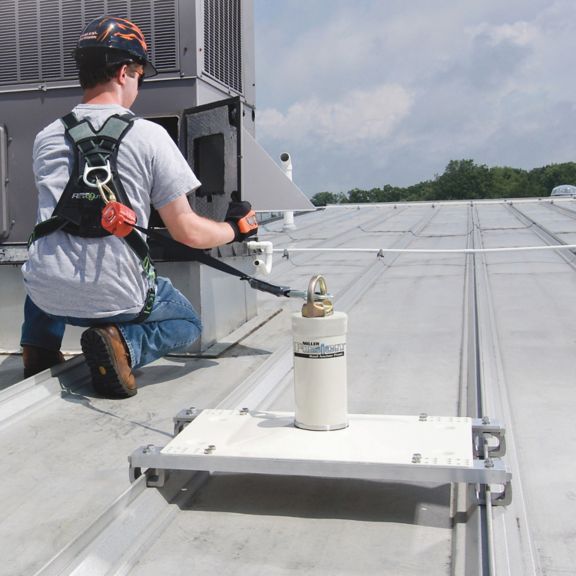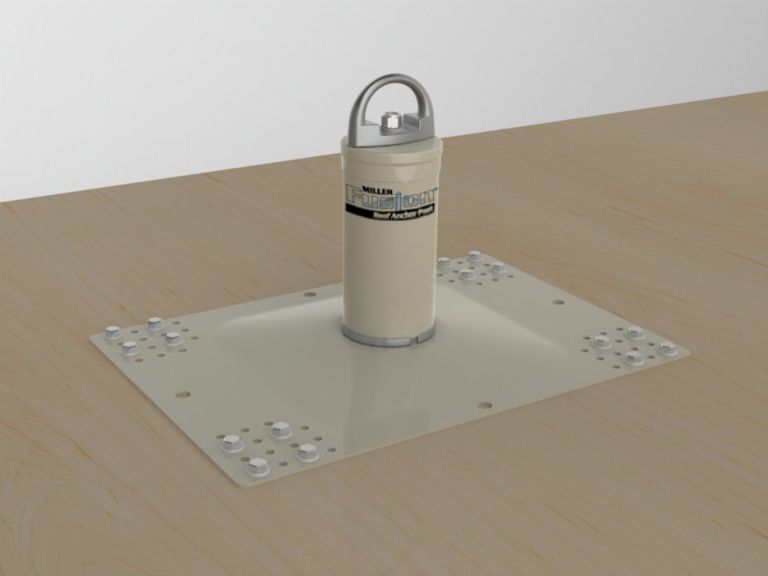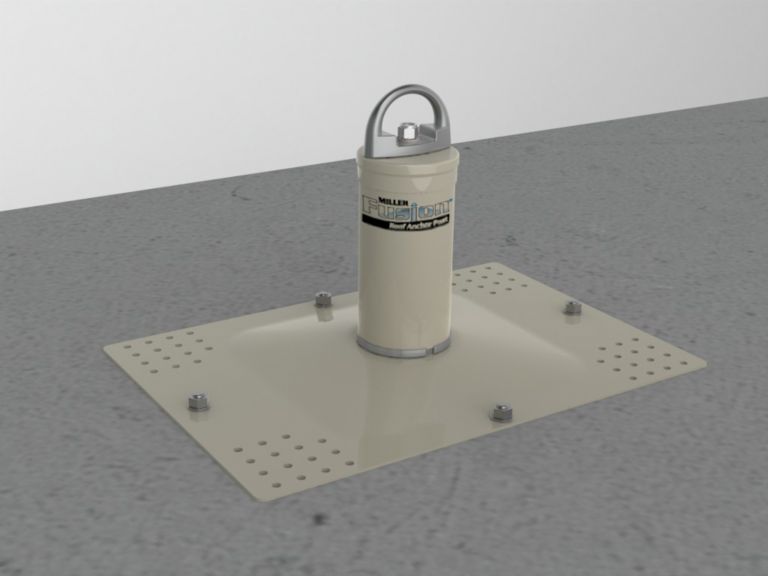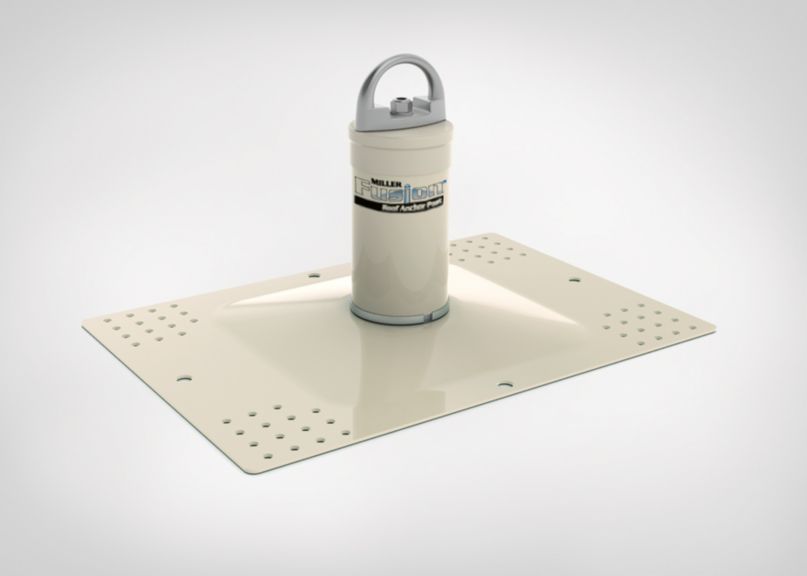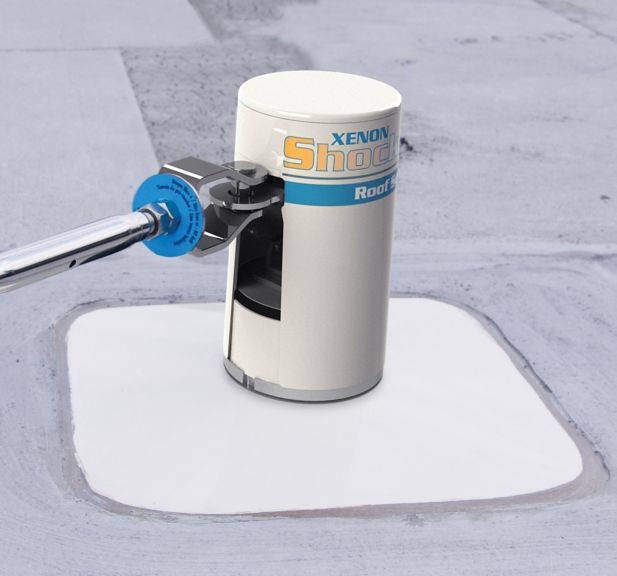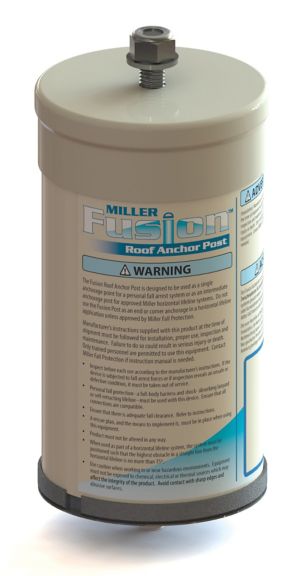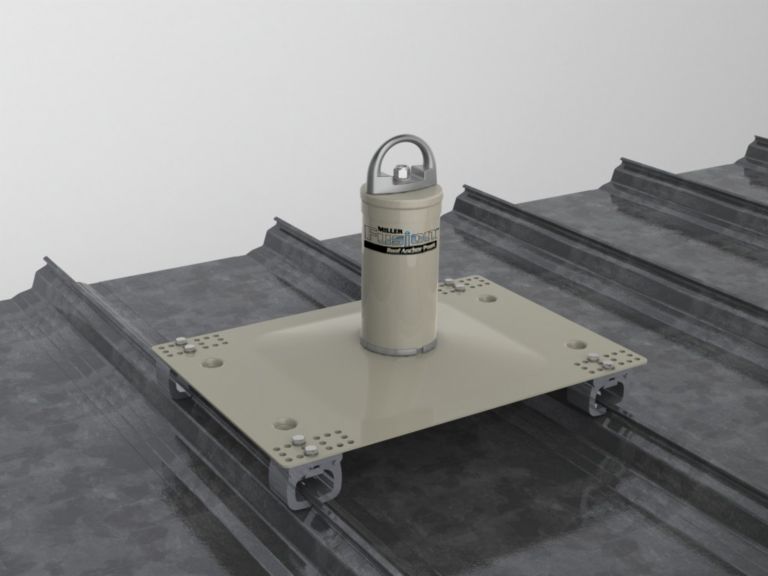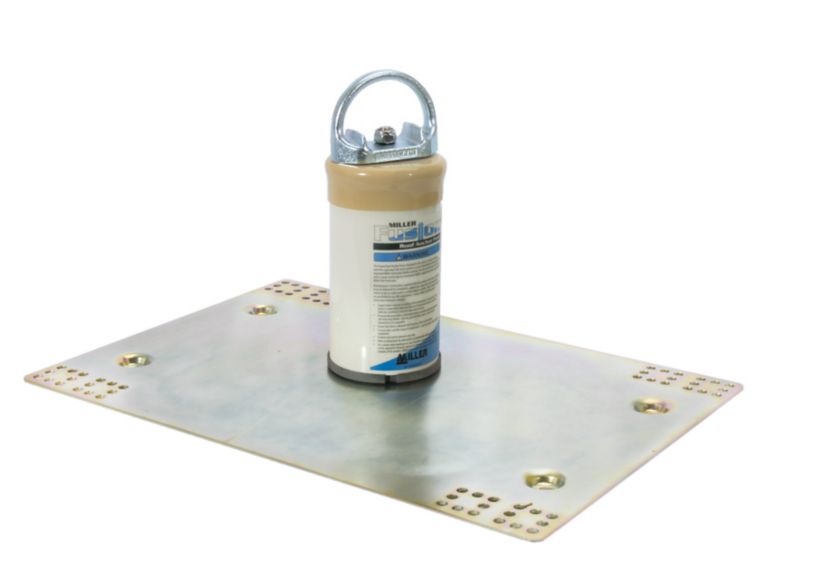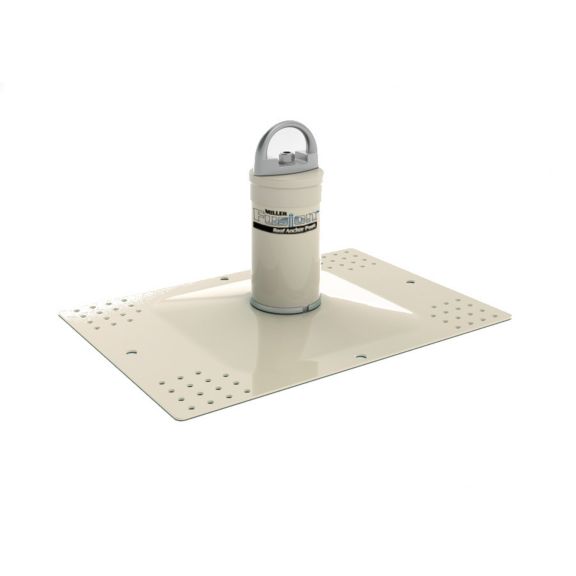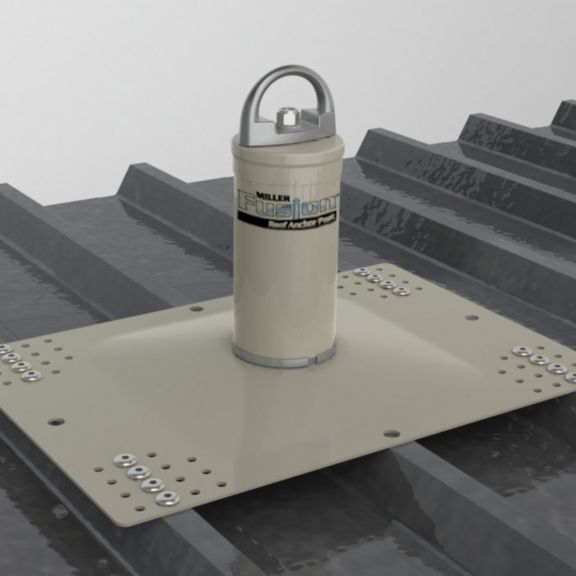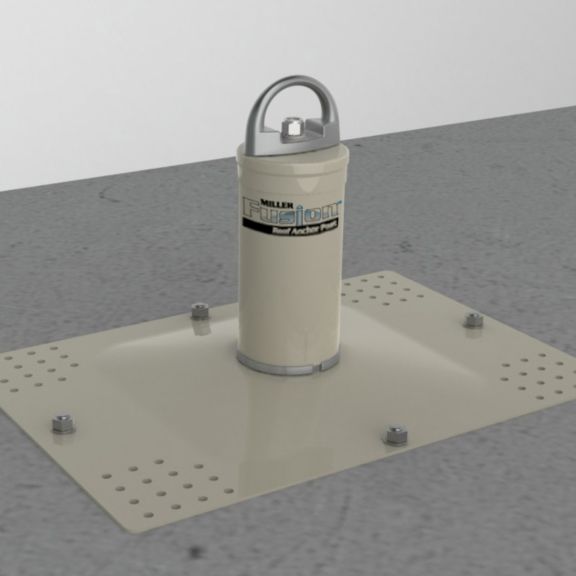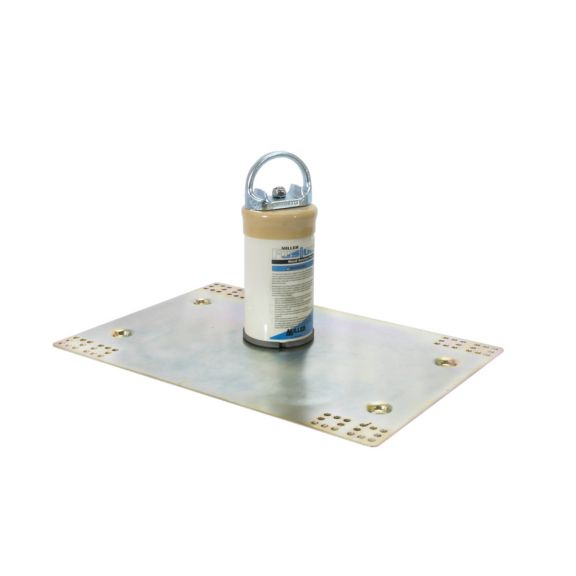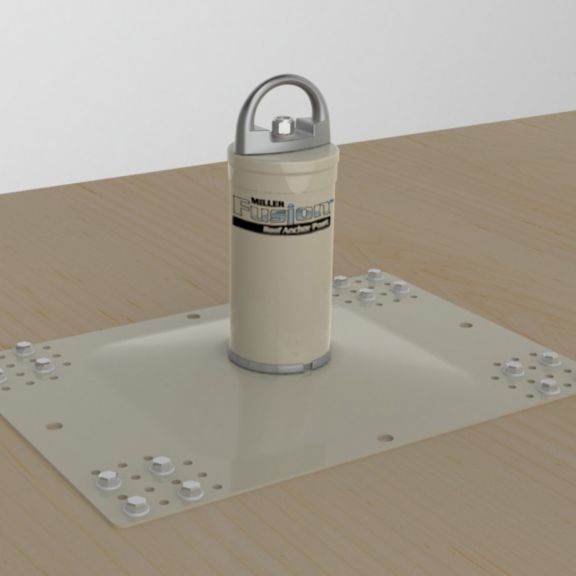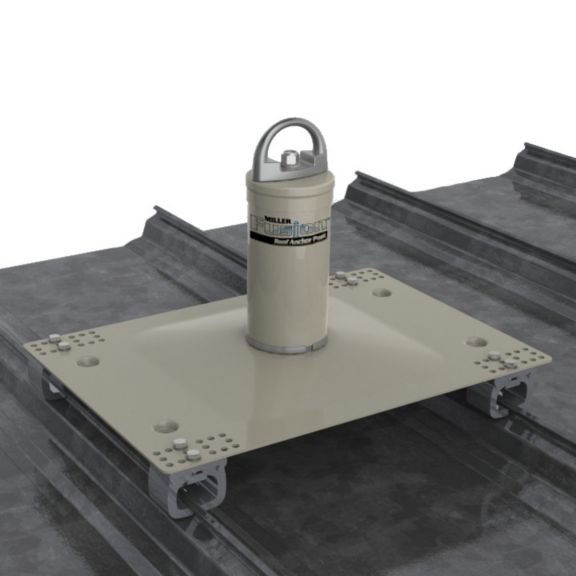 PERMANENT OR TEMPORARY SOLUTION
The versatile Miller Fusion™ Roof Anchor Post single-point anchor adapts to a wide range of roof designs including standing seam, membrane/built-up, metal sheathing, concrete and wood. The innovative base plate is designed for quick set-up with no need for roof surface penetration.
Dependable Connection
Should a fall occur, forces are reduced with its energy-absorbing design to maintain a secure connection to the structure.
Easy Installation
A quick and easy installation reduces the set-up cost requiring minimal labor and eliminating the need for roof penetration and repair.
Features & Benefits:
Significantly reduces the fall forces on the roof structure – In the event of a fall, the top of the Miller Fusion Roof Anchor Post reorients with the force in a direct line and activates the patent-pending energy absorber.
Durable design that withstands the changing outdoor environment – Internal components are made of stainless steel
Double coating for extra protection – The steel post and base are plated with zinc followed by a premium powder coating for two layers of protection
Versatile single-point anchor adapts to a wide range of roof designs
Models for steel decking, concrete and wood can be used on other non-roof structure
Applications:
Roof inspection and maintenance
Air conditioning, ventilation fan and solar panel maintenance
Skylight cleaning
Debris removal from gutters
Installation and maintenance of satellite dishes and other communication systems
Miller Fusion Roof Anchor Post adapts to a variety of roof structures: Standing Seam Design:
Aluminum clamping mechanism is designed to pre-install to the base plate and is self centering for easy installation
The clamping bolts are tightened from above the plate for easy fastening and inspection
Can be used for permanent and temporary installations
Three models are available to accommodate standing seam spacing up to 24-in. (610 mm)
Metal Sheathing Design:
Designed to attach to metal sheathing with a minimum 24 gauge (0.024-in. [.61 mm]) thickness
Hardware kit includes sealing materials to prevent water damage to roof
Membrane/Built-up Design:
Easy-to-install toggle kit fastens through membrane, insulation and into metal sheathing, wood sheathing or concrete
Models available for built-up roof thicknesses accommodate up to 10.5-in. (267 mm)
Wood Design:
Installs into plywood with minimum thickness of 5/8-in. (15.9 mm) CDX
Includes lag screw kit
Designed for temporary installation only
Concrete Decking Design:
Installs into concrete decking with minimum thickness of 6.5-in. (165 mm) and minimum concrete compressive strength of 3000 PSI (20.7 MPa)
Includes concrete expansion anchor kit
Multi-Purpose Metal Sheathing, Wood and Concrete Design:
This multi-purpose post uses the same base as models X10011, X10040 and X10050
Miller specified hardware must be purchased for this base. (This model does not include hardware)
Data Sheet
Name
Description
File Size
Date
Size
ShockFusion & Fusion Roof Posts Data Sheet
application/pdf 306 KB
7/15/2021
306 KB
Manuals and Guides
Name
Description
File Size
Date
Size
Fusion Roof Anchor Posts User Manual
application/pdf 1.26 MB
7/15/2021
1.26 MB
Brochure
Name
Description
File Size
Date
Size
Fusion Roof Anchor Post Brochure
application/pdf 575.79 KB
7/15/2021
575.79 KB
Others
Name
Description
File Size
Date
Size
OSHA Residential Construction Regulation
application/pdf 96.24 KB
7/15/2021
96.24 KB
Fusion Roof Anchor Posts FAQ'S
application/pdf 311.24 KB
7/15/2021
311.24 KB
Name
Description
File Size
Date
Size
Name
Description
File Size
Date
Size