Confined Space Equipment
Miller DuraHoist™ Portable Fall Arrest Post and Extension Post
Miller DuraHoist™ Portable Fall Arrest Post and Extension Post
Overview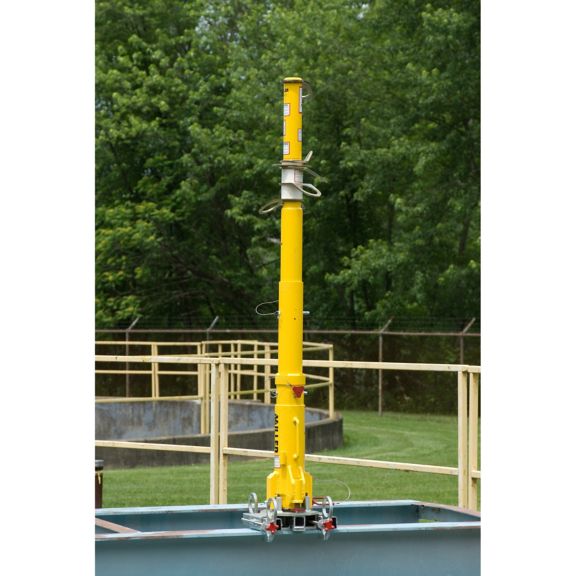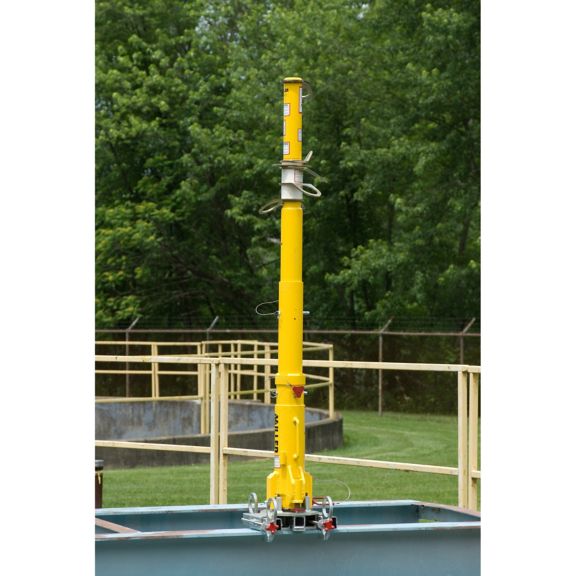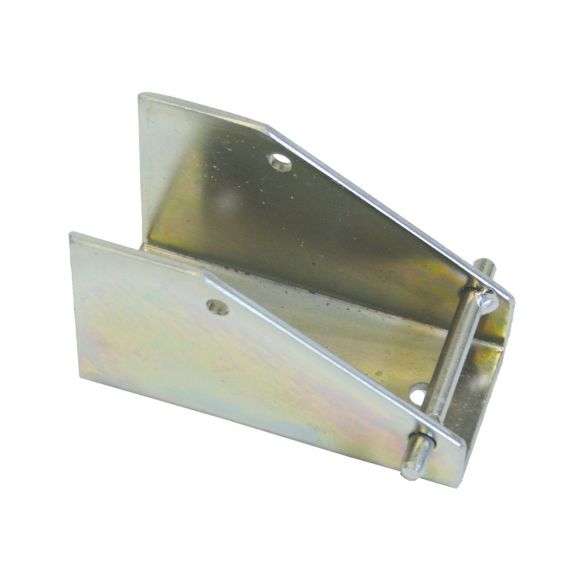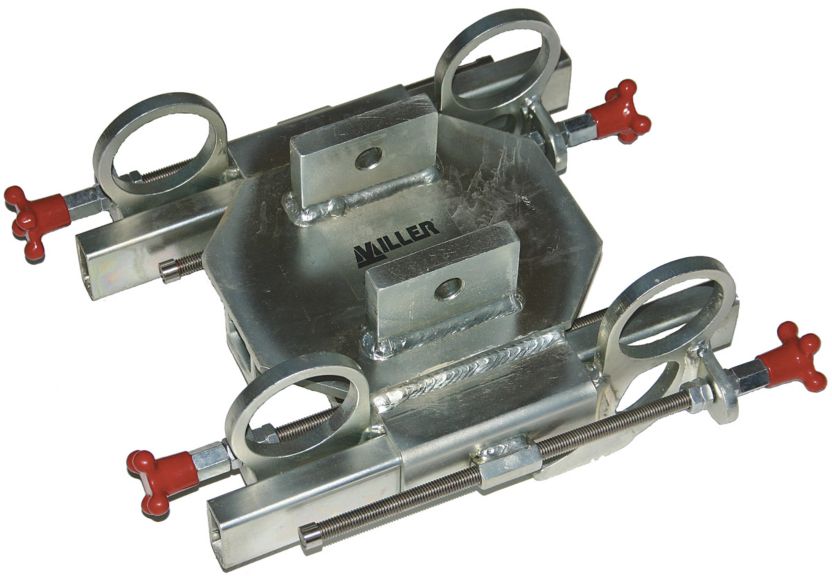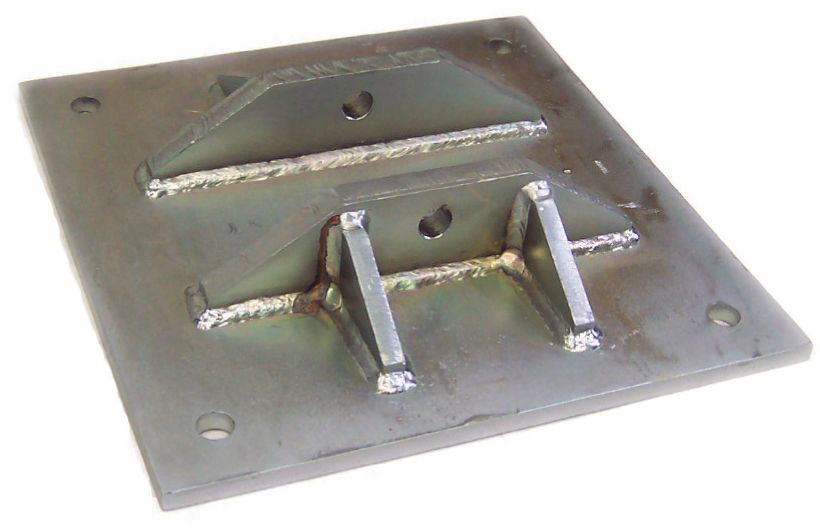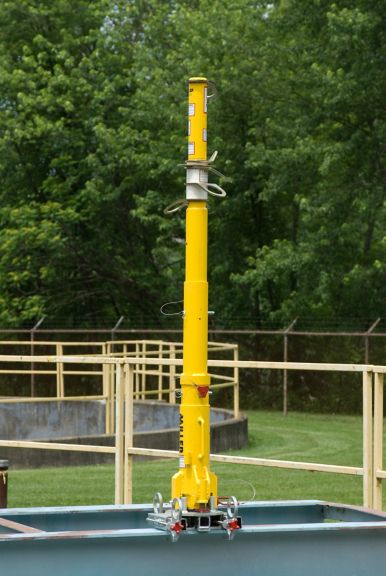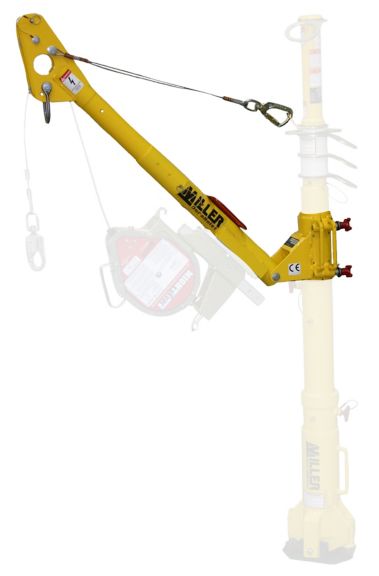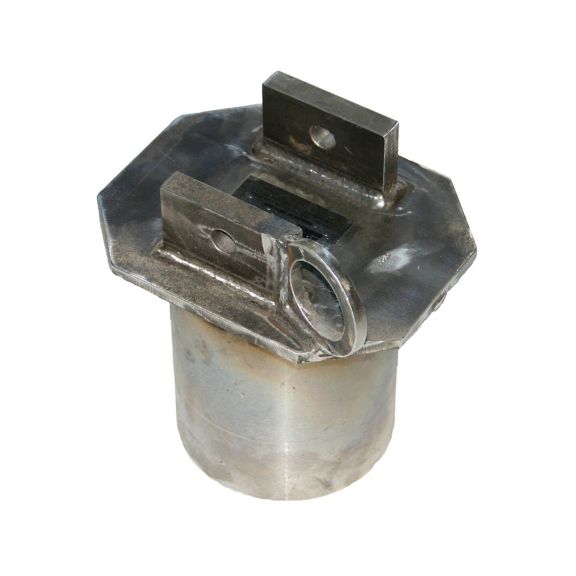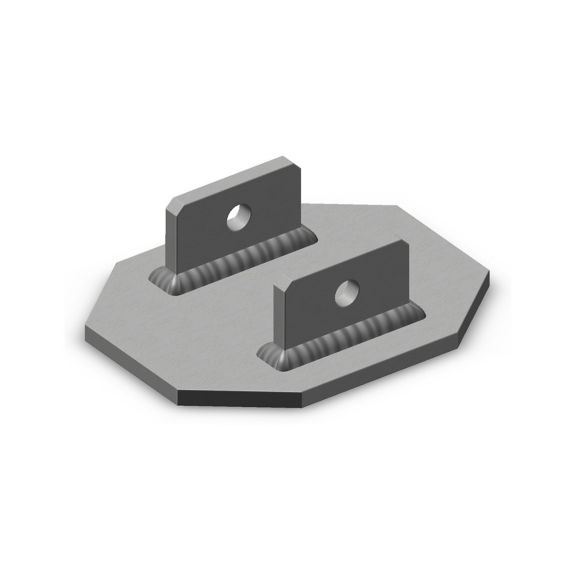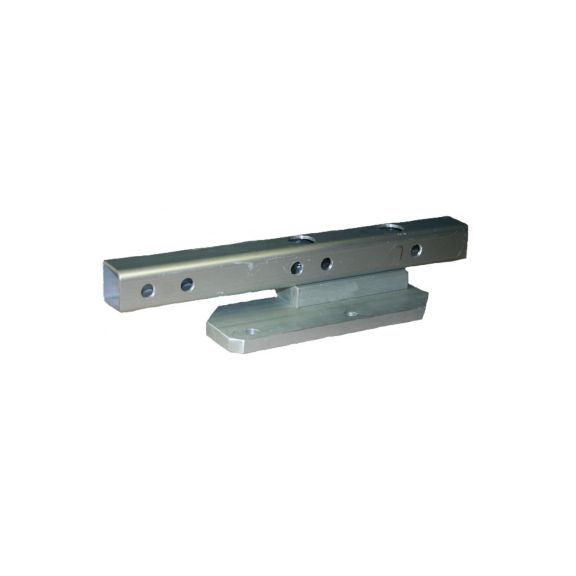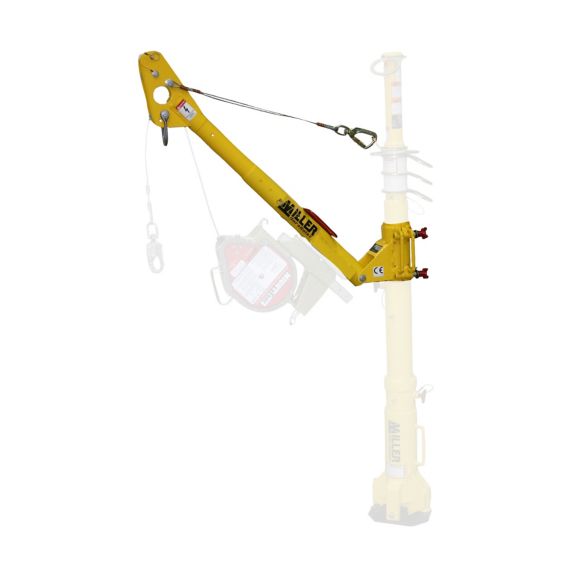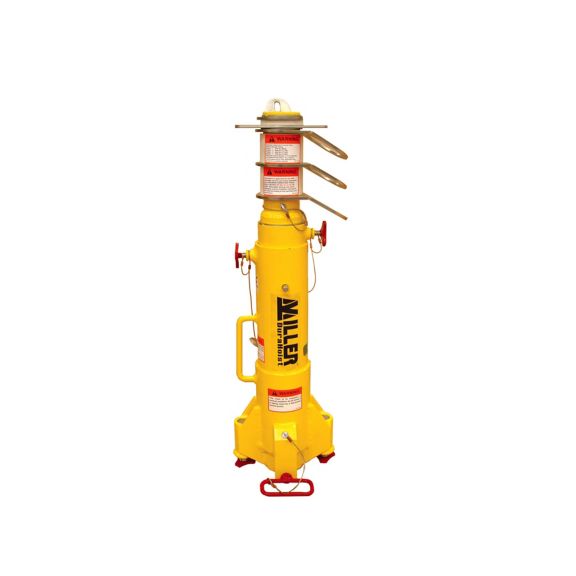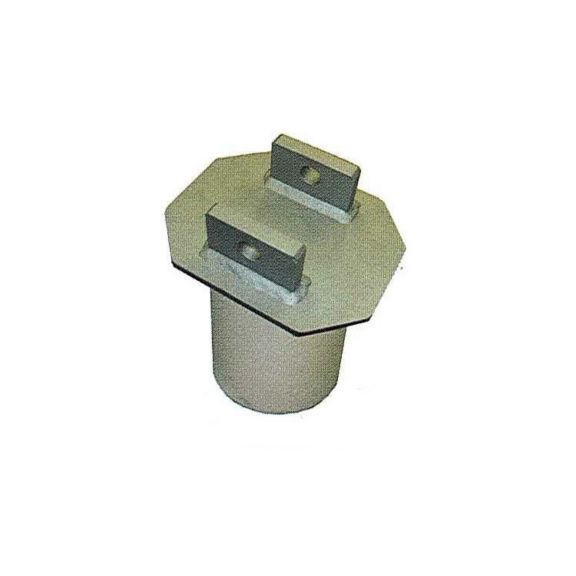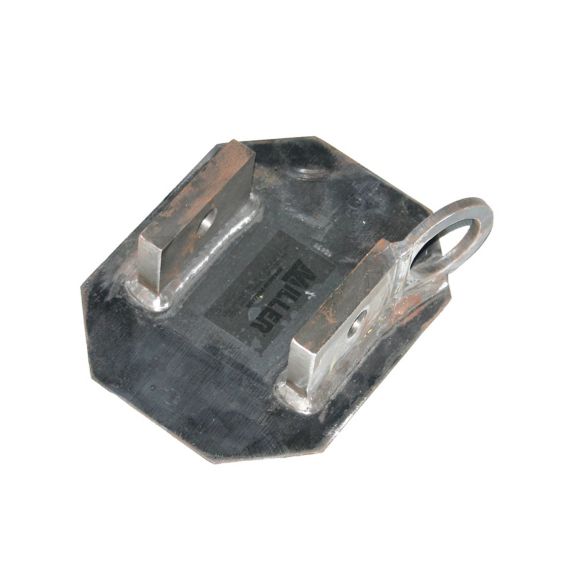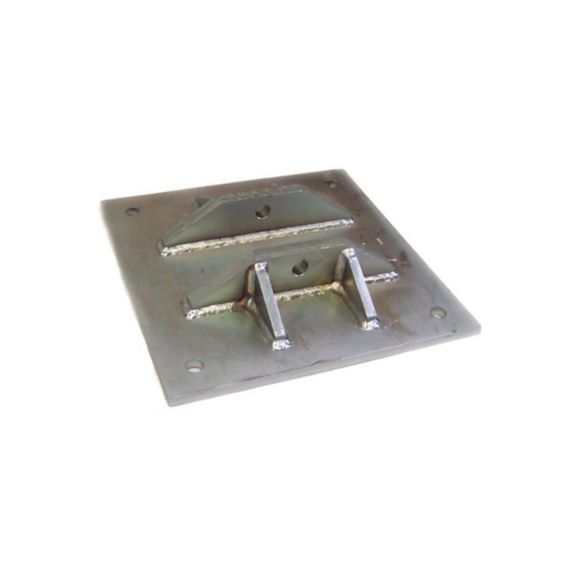 FOR FALL ARREST APPLICATIONS
The Miller DuraHoist™ Portable Fall Arrest Post provides three independent swivel tie-off points for fall arrest anchorage: three-stage/four-position telescoping design and horizontal lifeline capabilities.
Ultimate Versatility
The modular design allows the use of components in various configurations and applications. Multiple winches and/or lifeline systems may be mounted as required.
Easy To Use
Lightweight: manageable components for easy storage: transport and set-up. No tools required for assembly.
Features & Benefits:
Three-stage/four-position telescoping design and aluminum construction for easy transportation and set-up
Leveling screws allow the system to be plumbed to vertical on inclines up to 15 degrees
Portable and fixed bases allow for versatile usage
Telescoping design allows overall height to be adjusted in three stages from 32.75-in.(.83 m) to 57.25-in. (1.45 m)
14-in. (.36 m) Extension Post Provides option to tie-off one worker at an increased height of 68.5-in. (1.74 m)
Suggested Applications: Electrical transformers: leading edge deck work: confined space and rescue: industrial presses: bridge cranes: large cranes: limited horizontal lifeline applications
Miller DuraHoist™ Rescue/Material Handling Davit Arm
Designed for rescue and material handling applications
Quick-attach design assembles easily
Lightweight aluminum construction makes davit arm easy to transport and set-up
Miller TechLine™ Temporary Horizontal Lifeline (HLL) Kits
Offers continuous fall protection for length of the lifeline when used in conjuction with DuraHoist Fall Arrest Post (DH-AP-1/)
Ideal for applications where an overhead anchorage does not exist
Kit includes 11/16-in. (17.5 mm) kernmantle rope lifeline: lifeline adjuster/tensioner: two connecting O-rings: snap hook: and in-line shock absorber
Miller Portable and Fixed Anchor Base & Anchor Plates
Portable I-Beam Anchor (DH-AP-9/) attaches to steel I-beams. Bolt-on Anchor Plate (DH-AP-12/) can be used in concrete or steel applications (portable or permanent)
Fixed anchor plates are designed to be permanently welded to existing structures in locations of frequent work or where the use of a portable base is impractical Plates for inclined surfaces (DH-AP-6/: DH-AP-7/) can be customized to your specific incline requirements up to a maximum of 45 degrees
Miller Hoist/Winch and Mounting Brackets
The Complete Mounting Bracket Assembly (DH-19-MILLER/) is required to mount a Miller ManHandler Hoist/Winch or Miller MightEvac SRL to the DuraHoist Confined Space System
Others
Material
Maximum Number of Users
Compatible With

Miller DuraHoist Fall-Arrest Masts and Accessories

Suitable Winch or Self-Retracting Lifeline
Others
Compatible With

Miller DuraHoist Fall-Arrest Masts and Accessories

Suitable Winch or Self-Retracting Lifeline
Material : Aluminum|Mild Steel
Maximum Number of Users : 3
Compatible With : Miller DuraHoist Fall-Arrest Masts and Accessories|Suitable Winch or Self-Retracting Lifeline
Brochure
Name
Description
File Size
Date
Size
DuraHoist Brochure
application/pdf 1.5 MB
8/22/2022
1.5 MB
Others
Name
Description
File Size
Date
Size
SP376 Rev. A DH-AP-5
application/pdf 88.28 KB
7/15/2021
88.28 KB
SP360 Rev. A DH-AP-3
application/pdf 361.68 KB
7/15/2021
361.68 KB
SP377 Rev. B DH-AP-6
application/pdf 140.13 KB
7/15/2021
140.13 KB
SP 379 Rev. A DH-AP-8
application/pdf 79.86 KB
7/15/2021
79.86 KB
SP358 Rev. A DH-AP-1
application/pdf 154.87 KB
7/15/2021
154.87 KB
SP375 Rev. B DH-AP-4
application/pdf 107.88 KB
7/15/2021
107.88 KB
Miller TechLine Temporary Horizontal Lifeline System
application/pdf 183.98 KB
7/15/2021
183.98 KB
Miller TechLine Temporary Horizontal Lifeline System
application/pdf 273.28 KB
7/15/2021
273.28 KB
HIS-MF-dh-ap-9.pdf
application/pdf 520.52 KB
7/15/2021
520.52 KB
SP359 Rev. A DH-AP-2
application/pdf 42.08 KB
7/15/2021
42.08 KB
Miller TechLine Temporary Horizontal Lifeline System
application/pdf 168.42 KB
7/15/2021
168.42 KB
Miller TechLine Temporary Horizontal Lifeline System
application/pdf 251.61 KB
7/15/2021
251.61 KB
Name
Description
File Size
Date
Size
Name
Description
File Size
Date
Size

120170/
DH-1 DURAHOIST LABEL SET

DH-19-AP-8/
ASSEMBLY BRACKET

DH-2BAG/
Set of Two Carrying Bags for DH-2/

DH-3BAG/
Carrying bag for DH-3/

DH-4BAG/
Bag for DH-4/

DH-AB-DBI/
Adapter Bracket For DBI Winch

DH-AB-DBI/30
Adapter Bracket For DBI Winch (30 Degree Incline)

DH-AP-1-3BAG/
Davit Arm Bag/ Portable Fall-Arrest System Bag

DH-AP-10/
Adapter Plate for mounting Adapter Bracket for MightEvac SRL (DH-AB-MILLER/) to Rescue/Material Handling Davit Arm (DH-AP-3/)

DH-AP-11/
Assembly of DH-AP-10/ and DH-AB-MILLER/

120170/
DH-1 DURAHOIST LABEL SET

DH-19-AP-8/
ASSEMBLY BRACKET

DH-2BAG/
Set of Two Carrying Bags for DH-2/

DH-3BAG/
Carrying bag for DH-3/

DH-4BAG/
Bag for DH-4/

DH-AB-DBI/
Adapter Bracket For DBI Winch

DH-AB-DBI/30
Adapter Bracket For DBI Winch (30 Degree Incline)

DH-AP-1-3BAG/
Davit Arm Bag/ Portable Fall-Arrest System Bag

DH-AP-10/
Adapter Plate for mounting Adapter Bracket for MightEvac SRL (DH-AB-MILLER/) to Rescue/Material Handling Davit Arm (DH-AP-3/)

DH-AP-11/
Assembly of DH-AP-10/ and DH-AB-MILLER/