Fall Protection Kits
Titan™ II B-Compliant Roof Kits
Titan™ II B-Compliant Roof Kits
Overview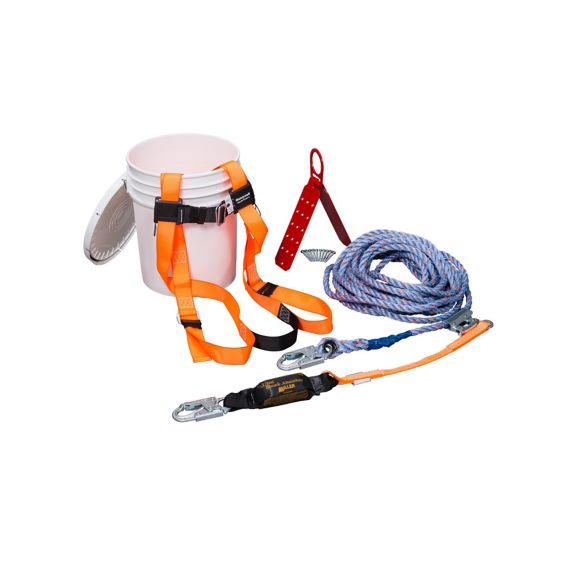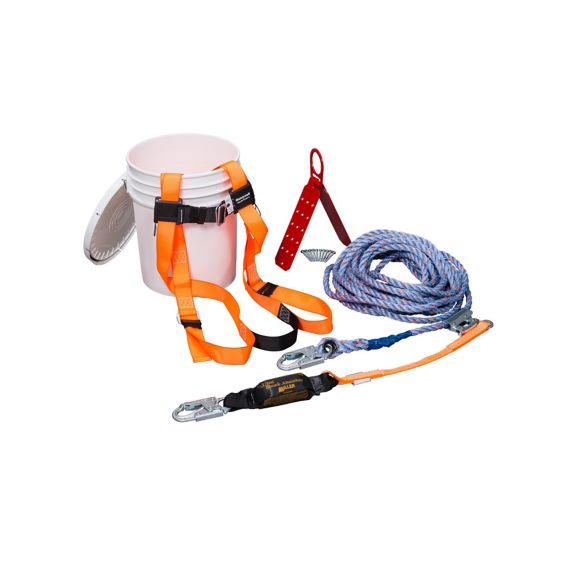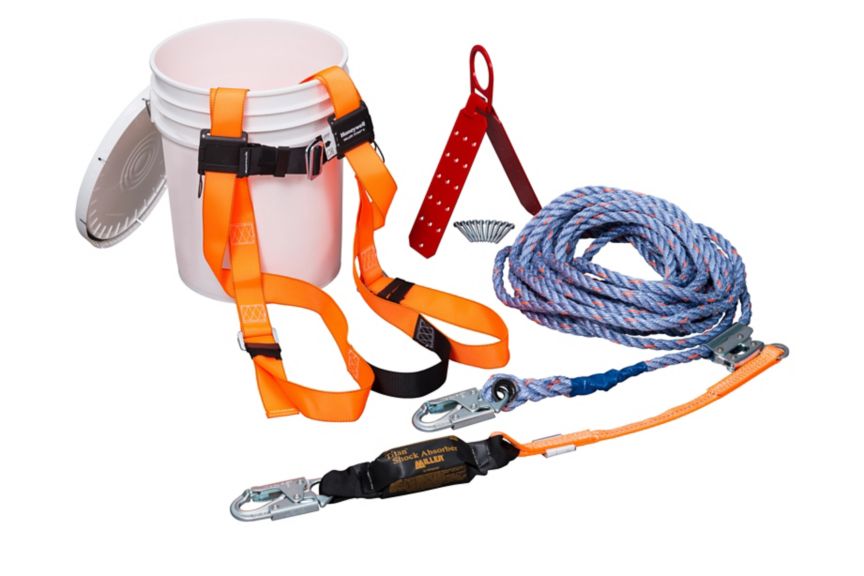 The Titan II B-Compliant™ Roof Kits provide a complete fall protection solution for roofing applications.
Simplified Protection
The kits simplify product selection by providing all of the components necessary for fall protection safety and to meet federal OSHA compliance.
Lightweight
The Titan™ II B-Compliant Roof Kits has a lightweight: full-body harness: size universal(L/XL).
Features & Benefits:
Rope grab with permanently-attached 3-ft. (.9 m) lanyard with shock-absorber pack
High-strength: 5/8-in. (16 mm) diameter copolymer rope lifeline with locking snap hook
Reusable stainless steel roof anchor bracket with plated D-ring
Waterproof storage container
Others
Harness Size
Rope Lifeline Material
Storage Container
Harness Style
Rope Lifeline Material : Copolymer
Harness Style : Full-Body
Manuals and Guides
Name
Description
File Size
Date
Size
Temporary Roof Anchor & System Kit user Manuals
application/pdf 1.64 MB
7/15/2021
1.64 MB
Brochure
Name
Description
File Size
Date
Size
Residential Roofing Brochure
application/pdf 858.97 KB
7/15/2021
858.97 KB
Others
Name
Description
File Size
Date
Size
Titan Roof Kits Info Sheet
application/pdf 729.31 KB
7/15/2021
729.31 KB
OSHA Residential Construction Regulation
application/pdf 96.24 KB
7/15/2021
96.24 KB
Titan Roof Kits FAQS
application/pdf 98.73 KB
7/15/2021
98.73 KB
Name
Description
File Size
Date
Size
Name
Description
File Size
Date
Size

TRK2000-Z7/25FT
TITAN COMPLIANCE ROOF KIT 25FT

TRK2000-Z7/50FT
TITAN COMPLIANCE ROOF KIT 50FT

TRK2000-Z7/25FT
TITAN COMPLIANCE ROOF KIT 25FT

TRK2000-Z7/50FT
TITAN COMPLIANCE ROOF KIT 50FT