Harnesses, Belts & Accessories
Miller AirCore Harness for Tower Climbing
Miller AirCore Harness for Tower Climbing
Overview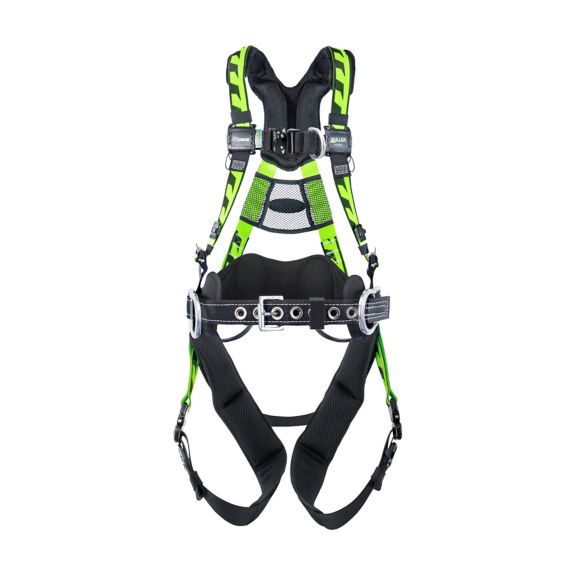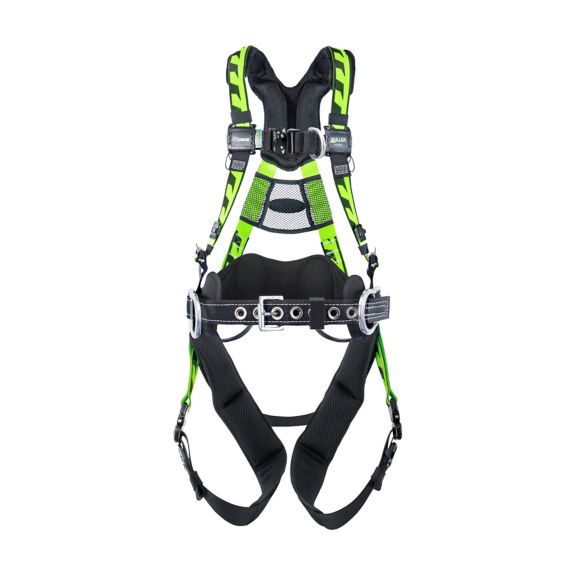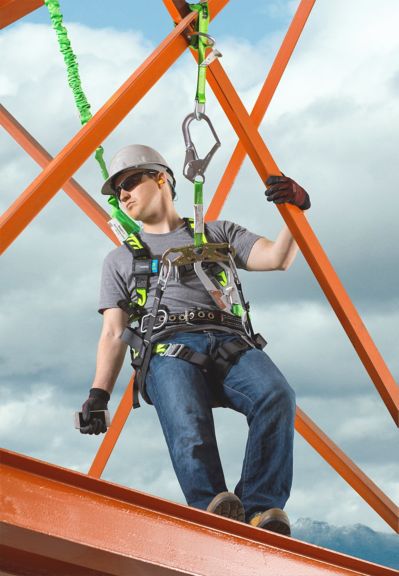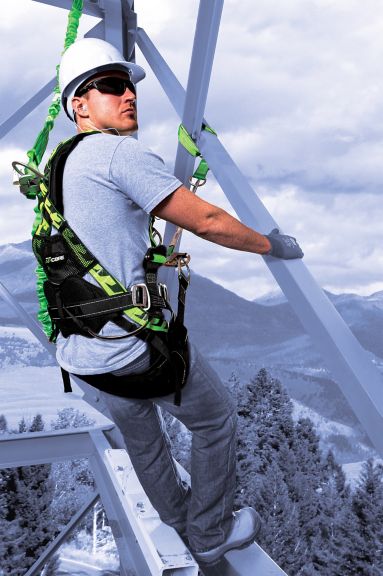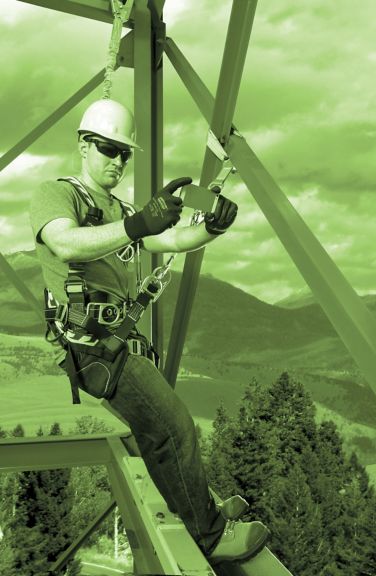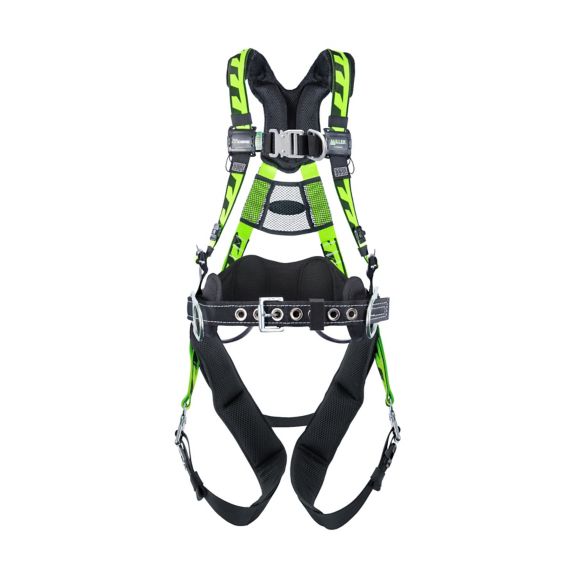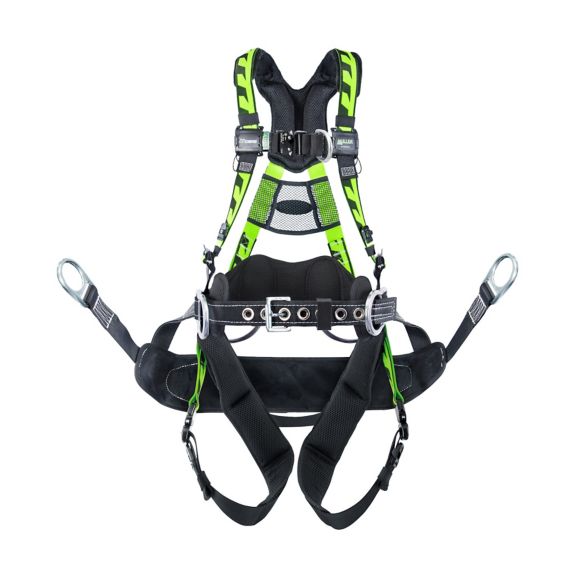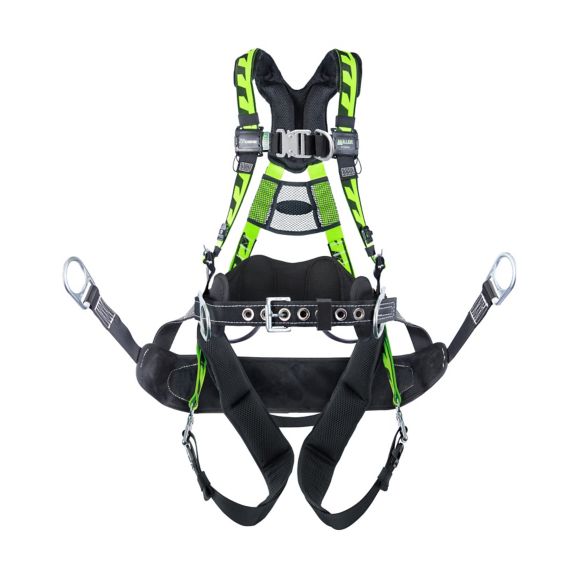 FOR TV: RADIO & TRANSMISSION TOWERS
The Miller AirCore™ Tower Climbing harness keeps your workers comfortable and safe – increasing productivity. It is designed for workers climbing cell phone: TV: radio and utility towers: while building/decommissioning towers: changing out transmission lines/antennas: or replacing lights.
Lightweight
The materials and components were carefully selected to reduce fatique for all-day endurance and increase work productivity.
Comfortable
Designed for physically demanding jobs: its breathable: open-core padding technology provides optimal airflow keeping workers cooler and more confortable.
Features & Benefits:Easy to Adjust
Improved cam buckle – Lightweight: low profile and easy adjustability
Leather Bos'n chair attachment – Removable/adjustable leather rigid work seat for added support
Quick-connect chest buckles for easy donning
Convenient
Removable belt with tool loops – Uniquely designed to stay in position when disconnected: even when tools are attached
Oversized ID tag – Provides quick and easy harness size identification
Up to 21% lighter in weight than similar competitive harnesses
Stylish Design
Webbing design creates an original and vibrant color for easy identification: greater visibility and increased safety
Others
RFID
Shoulder Strap Buckle Type
Chest Strap Buckle Type

Quick-Connect

Quick-Connect

Leg Strap Buckle Type

Quick-Connect

Quick-Connect

Webbing Material
Sub-Pelvic Strap
Shoulder Padding
Padding Material

Polyurethane

Polyurethane

Padding Location
D-Ring Locations
D-Ring Material
Webbing Color
Harness Style
Webbing Type
Product Type
Harness Size
Others
Shoulder Strap Buckle Type

Chest Strap Buckle Type

Quick-Connect

Quick-Connect

Leg Strap Buckle Type

Quick-Connect

Quick-Connect

Padding Material

Polyurethane

Polyurethane
Shoulder Strap Buckle Type : Cam Buckle|Cam Buckle
Chest Strap Buckle Type : Quick-Connect|Quick-Connect
Leg Strap Buckle Type : Quick-Connect|Quick-Connect
Webbing Material : Polyester|Polyester
Sub-Pelvic Strap : Yes|Yes
Shoulder Padding : Yes|Yes
Padding Material : Polyurethane|Polyurethane
Padding Location : Lumbar|Lumbar
D-Ring Locations : Back|Front|Side
D-Ring Material : Aluminum|Steel
Webbing Color : Blue|Green
Harness Style : Stretchable|Stretchable
Webbing Type : Stretchable|Stretchable
Product Type : Harness Degrees Celsius
Harness Size : 2/3 XL|S/M|U
Data Sheet
Name
Description
File Size
Date
Size
AirCore Tower Climbing Harness Data Sheet
application/pdf 1.01 MB
7/15/2021
1.01 MB
AirCore Tower Climbing Harness Data Sheet
application/pdf 1.01 MB
7/15/2021
1.01 MB
Manuals and Guides
Name
Description
File Size
Date
Size
AirCore Tower Climbing Harness User Manual
application/pdf 331.48 KB
7/15/2021
331.48 KB
Harness User Manual Rev G
application/pdf 2.8 MB
9/23/2022
2.8 MB
Brochure
Name
Description
File Size
Date
Size
AirCore Tower Climbing Harness Brochure
application/pdf 1.31 MB
7/15/2021
1.31 MB
AirCore Tower Climbing Harness Brochure
application/pdf 1.31 MB
7/15/2021
1.31 MB
Others
Name
Description
File Size
Date
Size
AirCore Front D-Ring Harness FAQ'S
application/pdf 304.06 KB
7/15/2021
304.06 KB
Name
Description
File Size
Date
Size
Name
Description
File Size
Date
Size

AAT-QCBCUG
AirCore Tower Climbing Harness with a Bosun chair in a universal size in green

AAT-QCUG
AirCore Tower Climbing Harness in a universal size in green

ACT-BC
AIRC STL BOSUN CHAIR

ACT-QC23XB
Miller AirCore Tower climbing harness in 2/3XL in blue

ACT-QC23XG
Miller AirCore Tower climbing harness with a 2/3XL size in green

ACT-QCBC23XB
Miller AirCore Tower climbing harness with a bosun chair in a 2/3XL in blue

ACT-QCBC23XG
Miller AirCore Tower climbing harness with a bosun chair in 2/3XL in green

ACT-QCBCSMB
Miller AirCore Tower climbing harness with a bosun chair in a small/medium in blue

ACT-QCBCSMG
Miller AirCore Tower climbing harness with a bosun chair in small/medium in green

ACT-QCBCUB
Miller AirCore Tower climbing harness with a bosun chair in a universal size in blue

AAT-QCBCUG
AirCore Tower Climbing Harness with a Bosun chair in a universal size in green

AAT-QCUG
AirCore Tower Climbing Harness in a universal size in green

ACT-BC
AIRC STL BOSUN CHAIR

ACT-QC23XB
Miller AirCore Tower climbing harness in 2/3XL in blue

ACT-QC23XG
Miller AirCore Tower climbing harness with a 2/3XL size in green

ACT-QCBC23XB
Miller AirCore Tower climbing harness with a bosun chair in a 2/3XL in blue

ACT-QCBC23XG
Miller AirCore Tower climbing harness with a bosun chair in 2/3XL in green

ACT-QCBCSMB
Miller AirCore Tower climbing harness with a bosun chair in a small/medium in blue

ACT-QCBCSMG
Miller AirCore Tower climbing harness with a bosun chair in small/medium in green

ACT-QCBCUB
Miller AirCore Tower climbing harness with a bosun chair in a universal size in blue