Harnesses, Belts & Accessories
Miller™ Contractor Non-Stretch Harnesses
Miller™ Contractor Non-Stretch Harnesses
Overview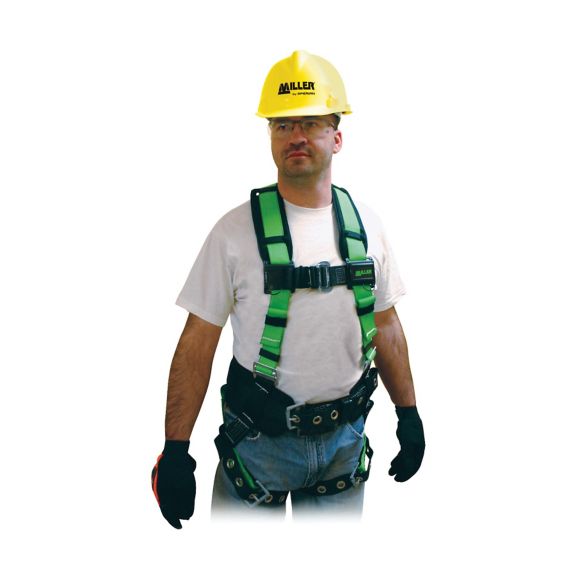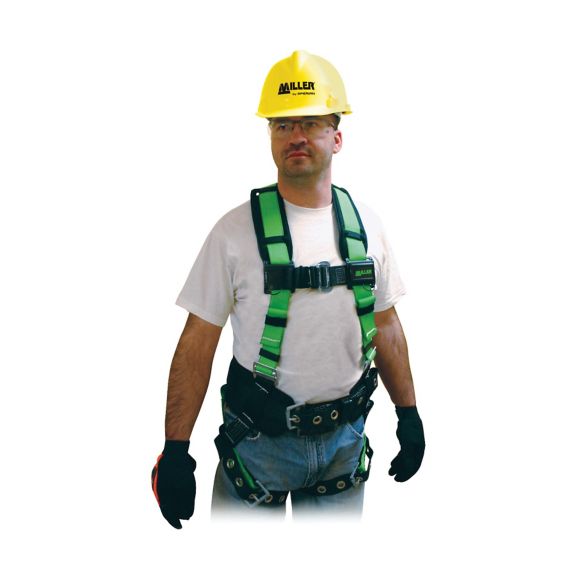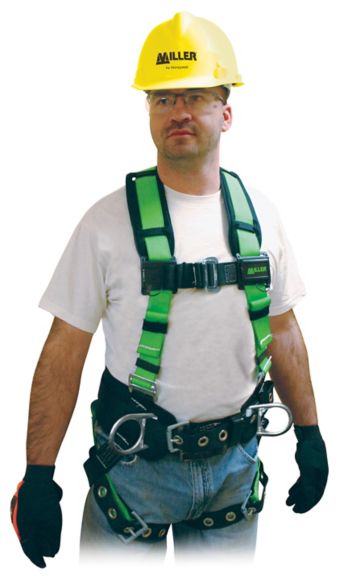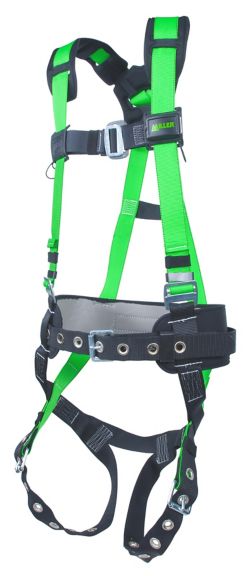 WITH NON-STRETCH WEBBING
The lightweight Contractor Harnesses are meant to provide greater comfort for construction workers: helping them carry more weight and face minimum discomfort/stress on the jobsite.
Enhanced Comfort
Unique combination back D-ring pad/shoulder pads minimize discomfort/stress around the neck and shoulders when using a tool belt.
Additional Support
A removable waist belt allows a worker to accommodate tool pouches.
Features & Benefits:
Lightweight design
Non-stretch webbing
Single: back D-ring for fall protection
Tongue buckle leg straps for easy adjustment
Friction buckle shoulder adjustments: mating buckle chest adjustment
Self-contained label pack positioned for easy access
Two (2) pull-free lanyard rings
Rated to 400-lbs. (181.4 kg) capacity
Others
RFID
Shoulder Strap Buckle Type
Chest Strap Buckle Type
Leg Strap Buckle Type
Webbing Material
Sub-Pelvic Strap
Shoulder Padding
Padding Location
D-Ring Locations
D-Ring Material
Webbing Color
Harness Style
Webbing Type
Product Type
Harness Size
Others
Shoulder Strap Buckle Type
Shoulder Strap Buckle Type : Friction
Chest Strap Buckle Type : Mating Buckle
Leg Strap Buckle Type : Tongue Buckle
Webbing Material : Polyester
Padding Location : Shoulder
D-Ring Locations : Back|Side
Harness Style : Non-Stretch
Webbing Type : Non-Stretchable
Product Type : Harness Degrees Celsius
Harness Size : S/M|U|XXL|XXXL
Data Sheet
Name
Description
File Size
Date
Size
Contractor Harness 650CN Series Data Sheet
application/pdf 64.5 KB
7/15/2021
64.5 KB
Manuals and Guides
Name
Description
File Size
Date
Size
Harness User Manual Rev G
application/pdf 2.8 MB
9/23/2022
2.8 MB
Others
Name
Description
File Size
Date
Size
Contractor Harness Info Sheet
application/pdf 150.64 KB
7/15/2021
150.64 KB
Name
Description
File Size
Date
Size
Contractor Harness 650CN Series Data Sheet
64.5 KB
7/15/2021
64.5 KB
Harness User Manual Rev G
2.8 MB
9/23/2022
2.8 MB
Contractor Harness Info Sheet
150.64 KB
7/15/2021
150.64 KB
Name
Description
File Size
Date
Size
Contractor Harness 650CN Series Data Sheet
64.5 KB
7/15/2021
Harness User Manual Rev G
2.8 MB
9/23/2022
Contractor Harness Info Sheet
150.64 KB
7/15/2021

650CN-BDP/UGN
Friction buckle shoulder adjustments, MB chest adjustments, TB legs adjustments, back/shoulder pad combo, back lumbar pad, side D-rings, and removable belt- universal

650CN-BP/UGN
Friction buckle shoulder adjustments, MB chest adjustments, TB legs adjustments, back/shoulder pad combo, back lumbar pad, and removable belt- universal

650CN-BDP/UGN
Friction buckle shoulder adjustments, MB chest adjustments, TB legs adjustments, back/shoulder pad combo, back lumbar pad, side D-rings, and removable belt- universal

650CN-BP/UGN
Friction buckle shoulder adjustments, MB chest adjustments, TB legs adjustments, back/shoulder pad combo, back lumbar pad, and removable belt- universal