Harnesses, Belts & Accessories
Miller DuraFlex™ Stretchable Harnesses
Miller DuraFlex™ Stretchable Harnesses
Overview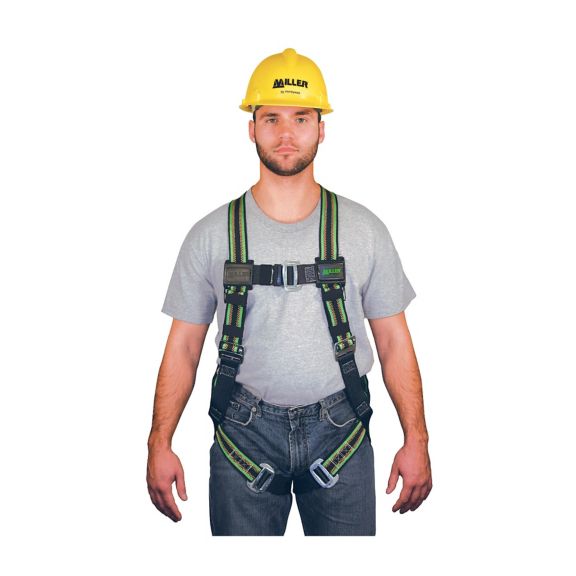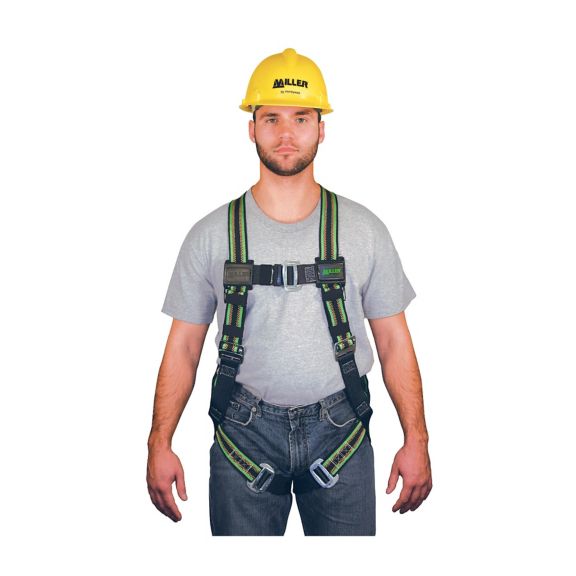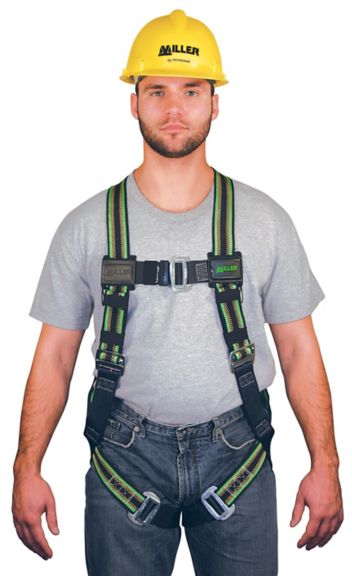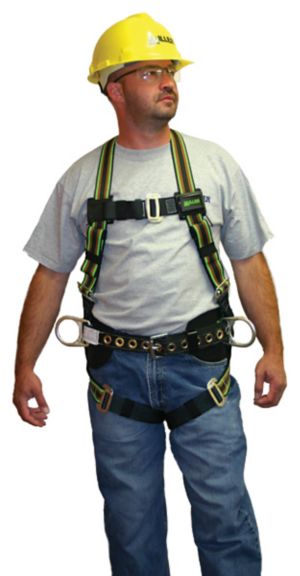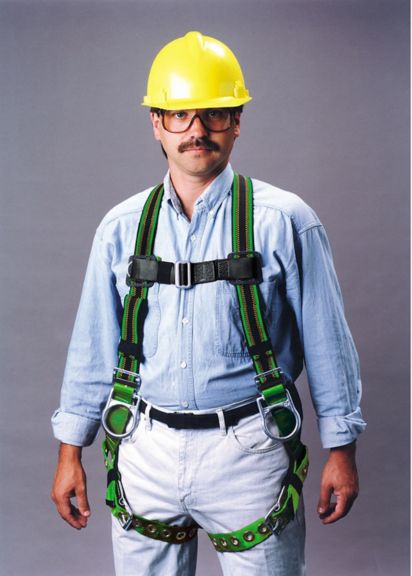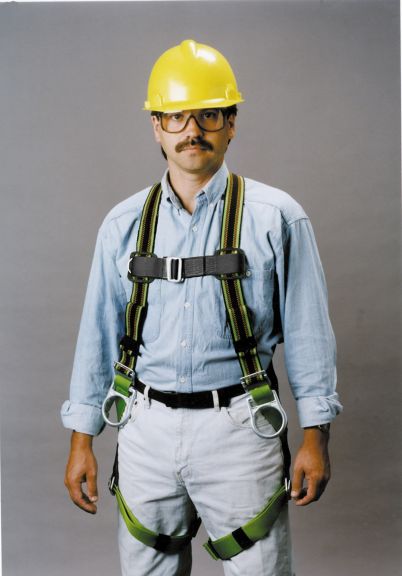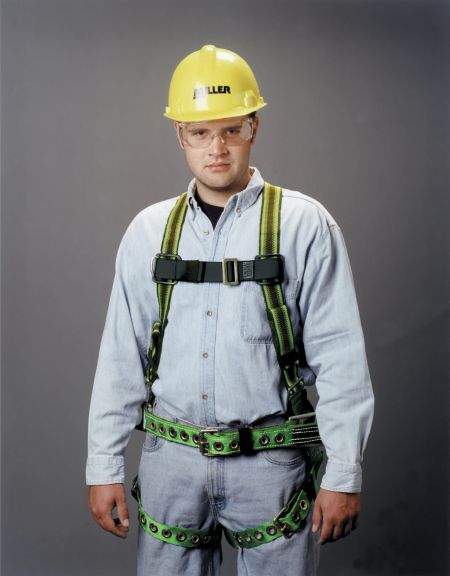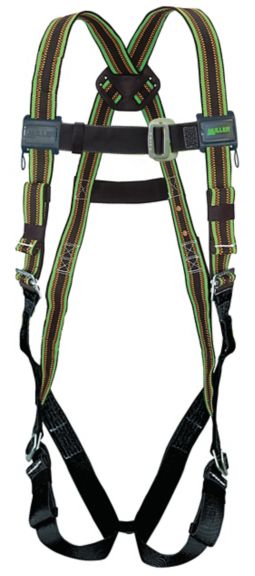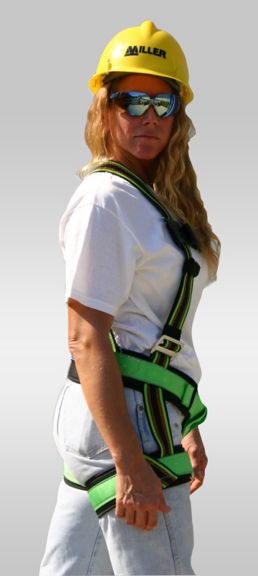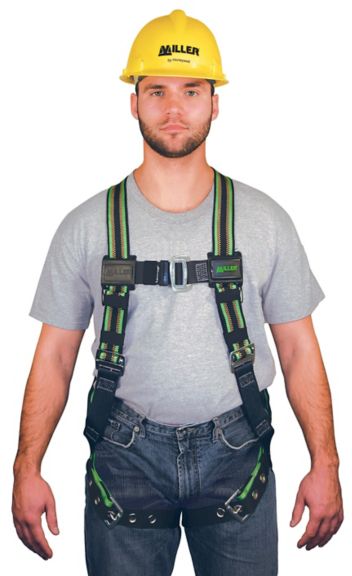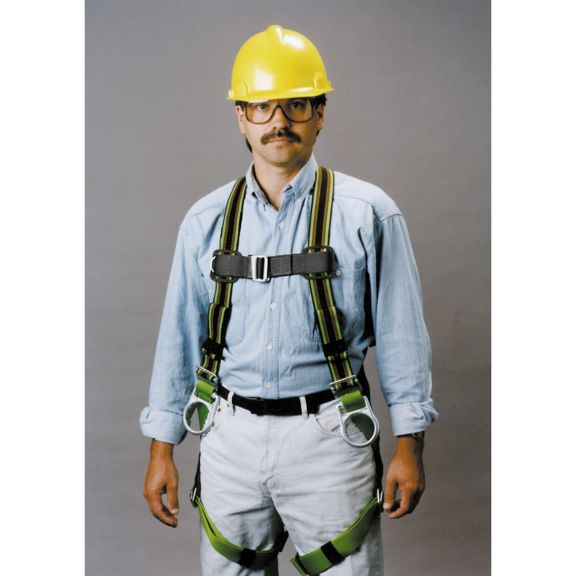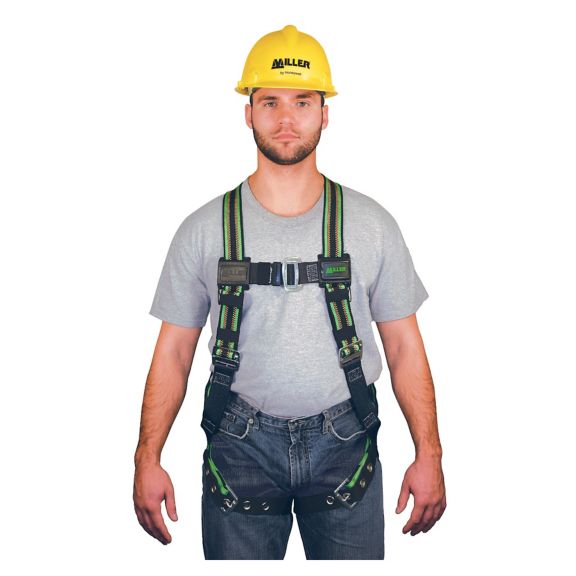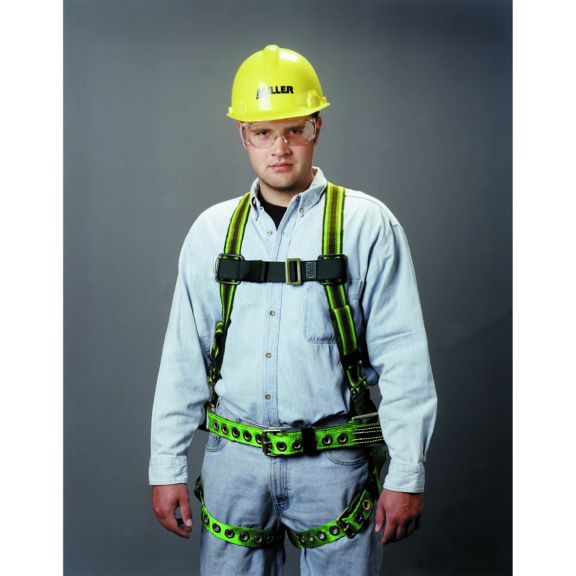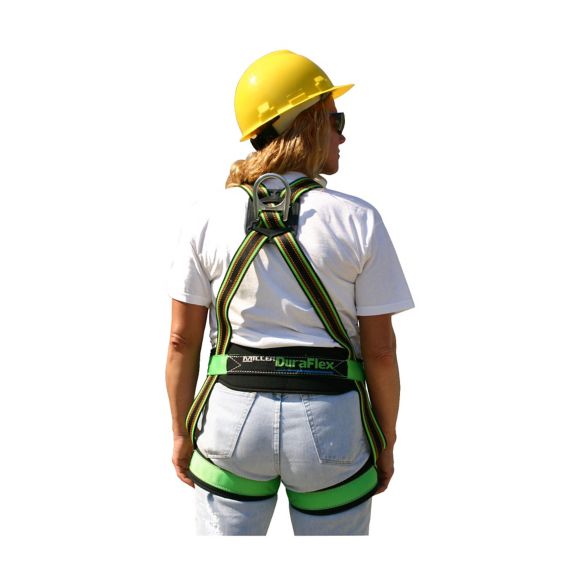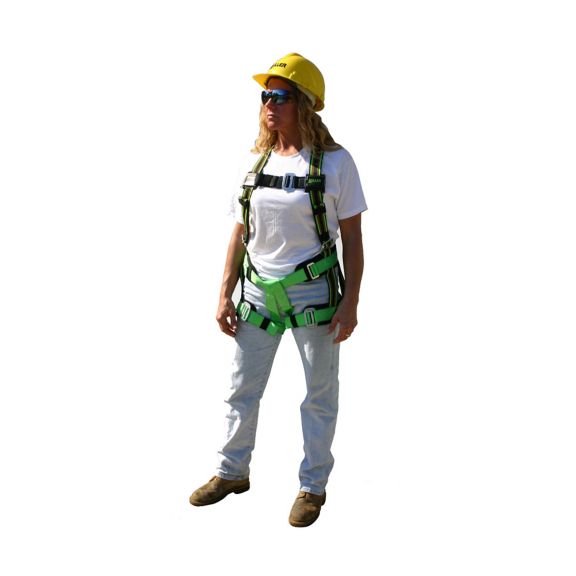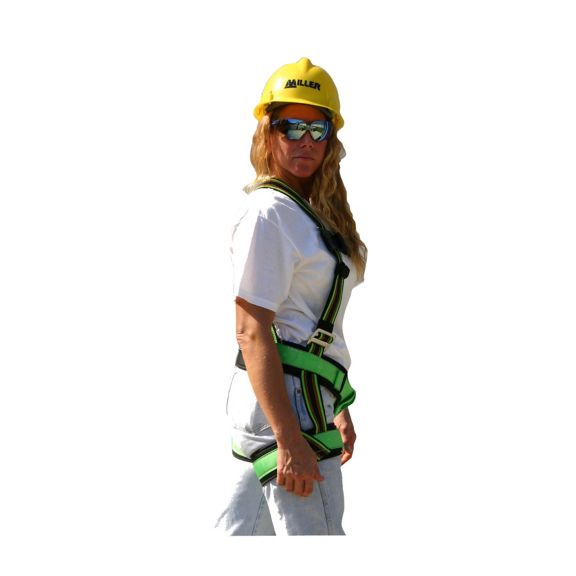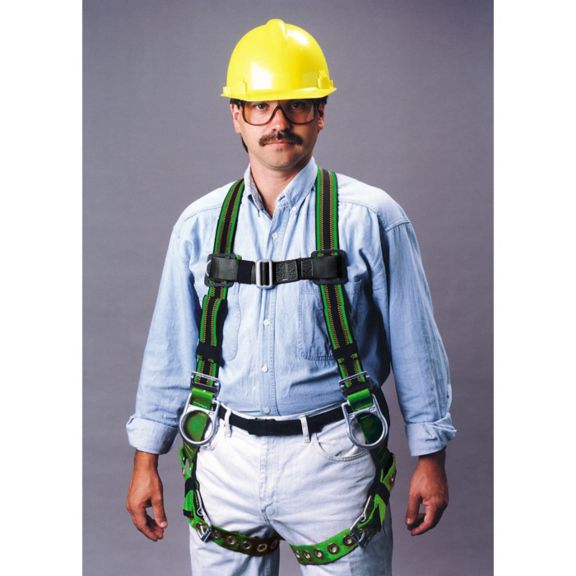 WEBBING WITH STRETCHABLE ELASTOMER FIBERS
Patented Miller DuraFlex™ Harnesses feature specially formulated elastomer webbing that stretches and conforms to the shape of the worker preventing any bunching: binding or kinking.
Improve Safety
With added comfort: DuraFlex™ Harnesses offer wider end-user acceptance - A comfortable harness is worn properly: enhancing compliance and safety on the job site.
Productivity
Because DuraFlex Harnesses™ are stretchable: the worker has greater mobility with less fatigue. Rated to 400-lbs. (181.4 kg) capacity.
Features & Benefits:Stretchable Webbing
Provides maximum comfort and maneuverability
Resists environmental effects to maintain its high-performance level
6:000 lb. tensile strength surpasses the standard
Convenience
Lanyard ring allows user to attach the lanyard when not in use: minimizing hazards associated with the lanyard hanging freely
Extra lanyard ring available on non-front D-ring harnesses for attaching two-legged lanyards
Strength and Flexibility
Sub-pelvic strap distributes weight for added support after a fall
Forged steel back D-ring for maximum strength and dependability
Soft: flexible D-ring pad for added comfort
Fully-Adjustable
Buckle adjustments in the shoulder: chest and leg straps ensure proper fit
Varying combinations of friction: mating and tongue/grommet buckles are available
User-Friendly
Solid color leg straps help the wearer orient the harness for ease of donning
Fall indicator/warning flag deploys in the event of a fall to indicate that the harness should be removed from service
Construction Harness
Permanently attached back pad with positioning side D-rings
Removable body belt
Ms. Miller® Harness
The Ms. Miller Harness is the only full-body harness on the market specifically designed for the female worker
The special design keeps shoulder straps at the side and away from the chest: offers better hip support: and increases comfort
Tower Climbing Harness
Attached body belt with positioning side D-rings and accessory rings
Back pad: and an enhanced saddle seat with D-rings and padding for extended positioning
Others
RFID
Shoulder Strap Buckle Type

Mating Buckle

Mating Buckle

Chest Strap Buckle Type

Mating Buckle

Mating Buckle

Leg Strap Buckle Type
Webbing Material

Polyester

Urethane Elastomer

Sub-Pelvic Strap
Padding Location
D-Ring Locations
Webbing Color
Harness Style
Webbing Type
Product Type
Harness Size
Others
Shoulder Strap Buckle Type

Mating Buckle

Mating Buckle

Chest Strap Buckle Type

Mating Buckle

Mating Buckle

Webbing Material

Polyester

Urethane Elastomer
Shoulder Strap Buckle Type : Mating Buckle|Mating Buckle
Chest Strap Buckle Type : Mating Buckle|Mating Buckle
Leg Strap Buckle Type : Friction|Friction
Webbing Material : Polyester|Urethane Elastomer
Sub-Pelvic Strap : Yes|Yes
Padding Location : Back|Back
D-Ring Locations : Back|Chest|Side
Webbing Color : Green|Green
Harness Style : Stretchable|Stretchable
Webbing Type : DuraFlex|DuraFlex
Product Type : Harness Degrees Celsius
Harness Size : Universal|Universal
Manuals and Guides
Name
Description
File Size
Date
Size
Harness User Manual Rev G
application/pdf 2.8 MB
9/23/2022
2.8 MB
Others
Name
Description
File Size
Date
Size
SP152_RevB E552 Harness
application/pdf 72.94 KB
7/15/2021
72.94 KB
DuraFlex Bro. 9-20:DuraFlex Bro. 9/20
application/pdf 1.9 MB
7/15/2021
1.9 MB
SP154RevC_ E850 Family of Harnesses
application/pdf 70.17 KB
7/15/2021
70.17 KB
Miller TechLine Temporary Horizontal Lifeline System
application/pdf 79.45 KB
7/15/2021
79.45 KB
SP103 E650 Family of Harnesses
application/pdf 76.95 KB
7/15/2021
76.95 KB
SP103 E650 Family of Harnesses
application/pdf 77.65 KB
7/15/2021
77.65 KB
DuraFlex Bro. 9-20:DuraFlex Bro. 9/20
application/pdf 1.02 MB
7/15/2021
1.02 MB
Name
Description
File Size
Date
Size
Name
Description
File Size
Date
Size

170004/S/MGN
E650FD-4 W/OLD FD C.S./9090 PD

170004/UGN
E650FD-4 W/OLD FD C.S./9090 PD

170004/XXLGN
E650FD-4 W/OLD FD C.S./9090 PD

170005/UGN
E650FD-58 W/OLD FD CS /9090 PD

E650-4/S/MBL-USS
Friction buckle shoulder straps and tongue buckle legs straps with USS tags - blue - Small/Medium

E650-4/S/MGN
Friction buckle shoulder straps and tongue buckle legs straps - Small/Medium

E650-4/S/MGN-USS
Friction buckle shoulder straps and tongue buckle legs straps with USS tags - Small/Medium

E650-4/UBL-USS
Friction buckle shoulder straps and tongue buckle legs straps with USS tags - blue - universal

E650-4/UGN
Friction buckle shoulder straps and tongue buckle legs straps - universal

E650-4/UGN-USS
Friction buckle shoulder straps and tongue buckle legs straps with USS tags - universal

170004/S/MGN
E650FD-4 W/OLD FD C.S./9090 PD

170004/UGN
E650FD-4 W/OLD FD C.S./9090 PD

170004/XXLGN
E650FD-4 W/OLD FD C.S./9090 PD

170005/UGN
E650FD-58 W/OLD FD CS /9090 PD

E650-4/S/MBL-USS
Friction buckle shoulder straps and tongue buckle legs straps with USS tags - blue - Small/Medium

E650-4/S/MGN
Friction buckle shoulder straps and tongue buckle legs straps - Small/Medium

E650-4/S/MGN-USS
Friction buckle shoulder straps and tongue buckle legs straps with USS tags - Small/Medium

E650-4/UBL-USS
Friction buckle shoulder straps and tongue buckle legs straps with USS tags - blue - universal

E650-4/UGN
Friction buckle shoulder straps and tongue buckle legs straps - universal

E650-4/UGN-USS
Friction buckle shoulder straps and tongue buckle legs straps with USS tags - universal