Harnesses, Belts & Accessories
Miller Revolution Construction Harness
Miller Revolution Construction Harness
Overview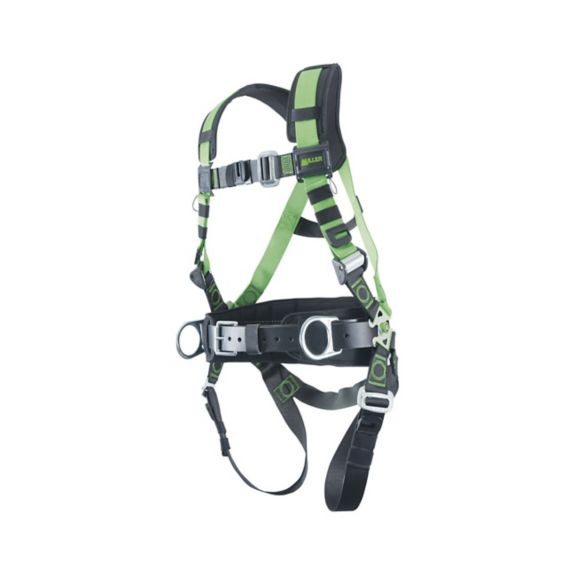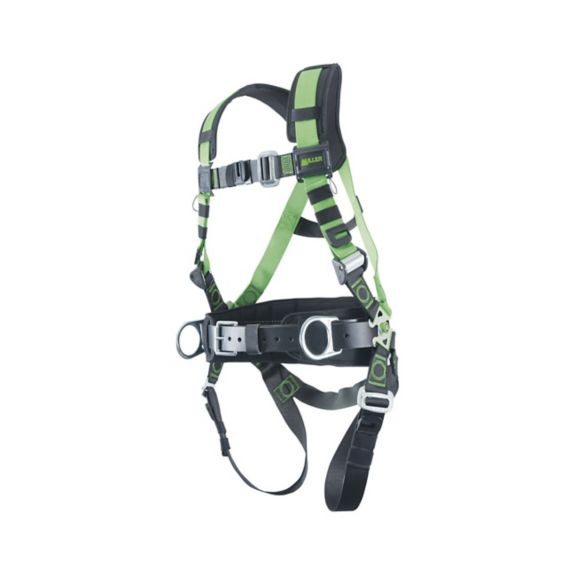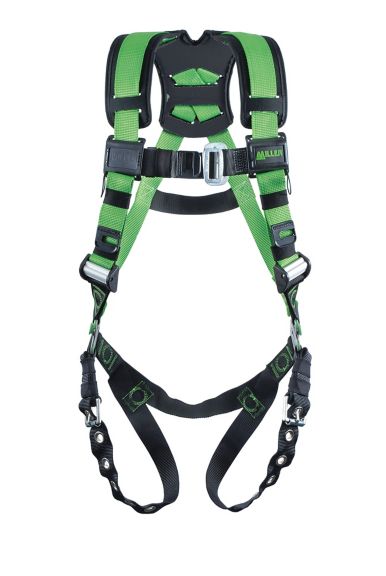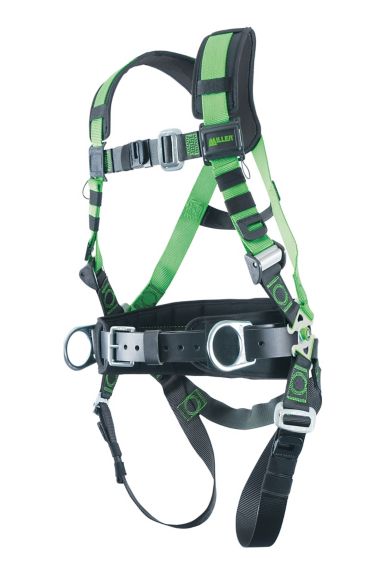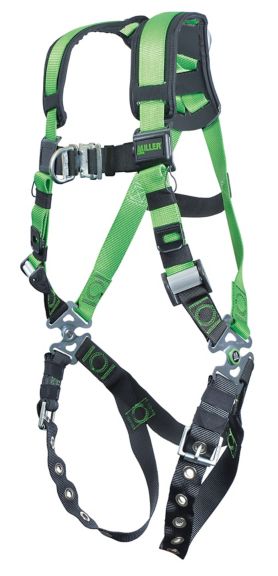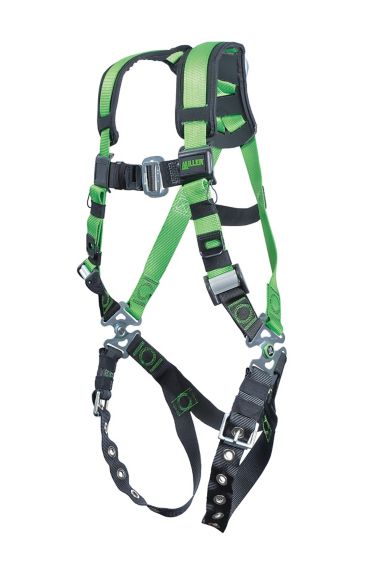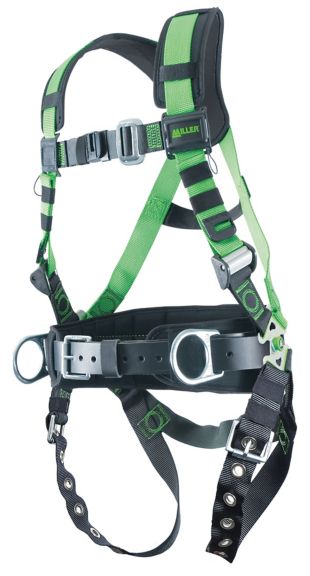 FOR SITE WORK CONSTRUCTION
Designed to meet the durability: all-day comfort and safety requirements while working at heights on a construction site: the new Miller Revolution™ Construction Harness offer the same key features that the original Miller Revolution Harnesses are known for.
Heavy-Duty Webbing
The harness uses a heavy-duty webbing that is almost twice as strong as the standards require: and is certain to provide the longest service life possible.
Integrated Back/Shoulder Pad
Built with the new back/shoulder padding it enables optimum air flow: while providing all-day comfort: even in the shoulders when carrying a full load of tools.
Features & Benefits:Standard Features
All Miller premium harnesses are rated to 400 lbs. (181.4 kg) capacity
Web Finials – Clip-on design safely organizes webbing after proper adjustment
Self-Contained Label Pack – Integrated pack encapsulates labels minimizing damage and loss
PivotLink™ Connection – Provides attachment point for belts/tools/accessories
Cam Buckle – Easy: one-hand adjustment/release allows simultaneous adjustment of shoulder straps
Integrated Accessory System – Modular attachment design provides connection points for belts/tools/accessories
Others
RFID
Shoulder Strap Buckle Type
Chest Strap Buckle Type

Mating Buckle

Mating Buckle

Leg Strap Buckle Type

Mating Buckle

Tongue Buckle

Webbing Material
Shoulder Padding
Padding Material

Polyurethane

Polyurethane

Padding Location
D-Ring Locations
D-Ring Material
Webbing Color
Harness Style

Construction

Construction

Webbing Type
Product Type
Harness Size
Others
Shoulder Strap Buckle Type

Chest Strap Buckle Type

Mating Buckle

Mating Buckle

Leg Strap Buckle Type

Mating Buckle

Tongue Buckle

Padding Material

Polyurethane

Polyurethane

Harness Style

Construction

Construction
Shoulder Strap Buckle Type : Cam Buckle|Cam Buckle
Chest Strap Buckle Type : Mating Buckle|Mating Buckle
Leg Strap Buckle Type : Mating Buckle|Tongue Buckle
Webbing Material : Polyester|Polyester
Shoulder Padding : Yes|Yes
Padding Material : Polyurethane|Polyurethane
Padding Location : Lumbar|Shoulder
D-Ring Locations : Back|Side
D-Ring Material : Steel|Steel
Webbing Color : Green|Green
Harness Style : Construction|Construction
Webbing Type : Type 10|Type 10
Product Type : Harness Degrees Celsius
Harness Size : Universal|Universal
Manuals and Guides
Name
Description
File Size
Date
Size
Harness User Manual Rev G
application/pdf 2.8 MB
9/23/2022
2.8 MB
Brochure
Name
Description
File Size
Date
Size
Revolution Harness Accessories Brochure
application/pdf 156.68 KB
7/15/2021
156.68 KB
Revolution Harness Brochure
application/pdf 2.98 MB
7/15/2021
2.98 MB
Others
Name
Description
File Size
Date
Size
Revolution Harness ID Label Instructions
application/pdf 61.51 KB
7/15/2021
61.51 KB
Revolution Harness Belt Connector Installation Instructions
application/pdf 1.4 MB
7/15/2021
1.4 MB
Revolution Harness ID Label Instructions
application/pdf 276.28 KB
7/15/2021
276.28 KB
Name
Description
File Size
Date
Size
Name
Description
File Size
Date
Size

R10CN-MB-BDP/S/MGN
Construction harness, mating-buckle legs, removable Belt, Side D-Rings & Pad - Small/Medium

R10CN-MB-BDP/UGN
Construction harness, mating-buckle legs, removable Belt, Side D-Rings & Pad - universal

R10CN-MB/S/MGN
Construction harness, mating-buckle legs - Small/Medium

R10CN-MB/UGN
Construction harness, mating-buckle legs - universal

R10CN-TB-BDP/S/MGN
Construction harness, tongue-buckle legs, removable Belt, Side D-Rings & Pad - Small/Medium

R10CN-TB-BDP/UGN
Construction harness, tongue-buckle legs, removable Belt, Side D-Rings & Pad - universal

R10CN-TB/3XLGN
REVOLUTION-CONST. HARNESS

R10CN-TB/S/MGN
Construction harness, tongue-buckle legs - Small/Medium

R10CN-TB/UGN
Construction harness, tongue-buckle legs - Universal

R10CNFD-TB/3XLGN
REVOLUTION-CONST. HARNESS

R10CN-MB-BDP/S/MGN
Construction harness, mating-buckle legs, removable Belt, Side D-Rings & Pad - Small/Medium

R10CN-MB-BDP/UGN
Construction harness, mating-buckle legs, removable Belt, Side D-Rings & Pad - universal

R10CN-MB/S/MGN
Construction harness, mating-buckle legs - Small/Medium

R10CN-MB/UGN
Construction harness, mating-buckle legs - universal

R10CN-TB-BDP/S/MGN
Construction harness, tongue-buckle legs, removable Belt, Side D-Rings & Pad - Small/Medium

R10CN-TB-BDP/UGN
Construction harness, tongue-buckle legs, removable Belt, Side D-Rings & Pad - universal

R10CN-TB/3XLGN
REVOLUTION-CONST. HARNESS

R10CN-TB/S/MGN
Construction harness, tongue-buckle legs - Small/Medium

R10CN-TB/UGN
Construction harness, tongue-buckle legs - Universal

R10CNFD-TB/3XLGN
REVOLUTION-CONST. HARNESS