Lanyards
Miller Titan™ II Stretch Pack-Type Shock-Absorbing Lanyards
Miller Titan™ II Stretch Pack-Type Shock-Absorbing Lanyards
Overview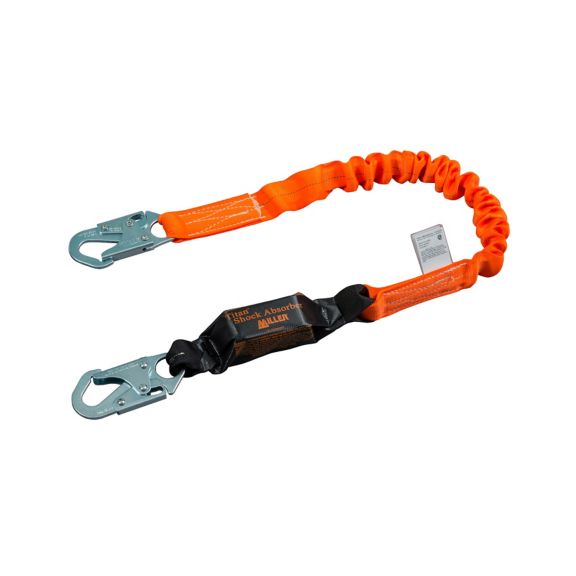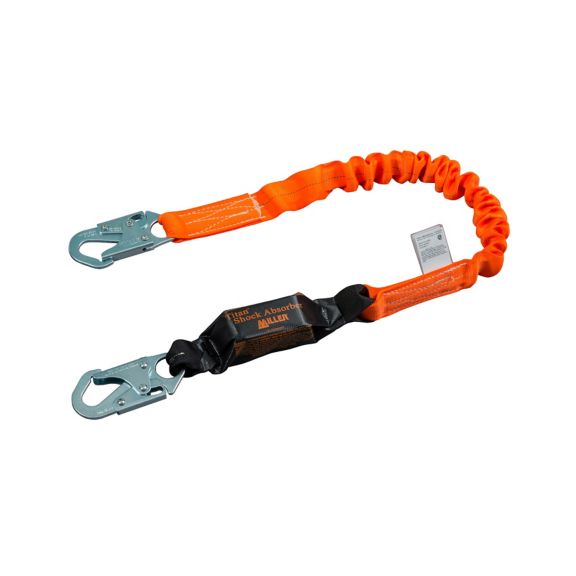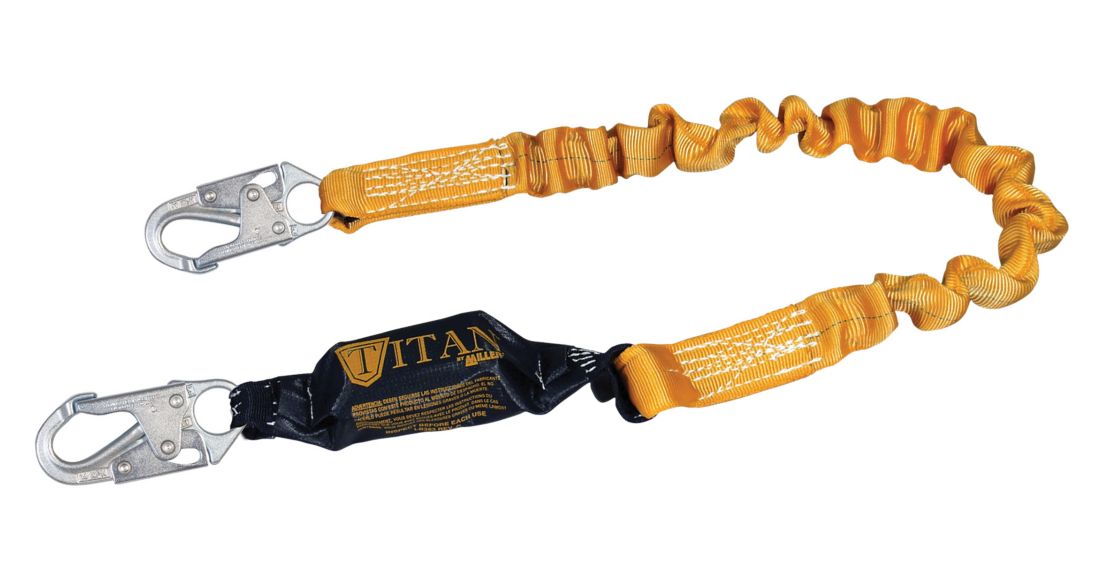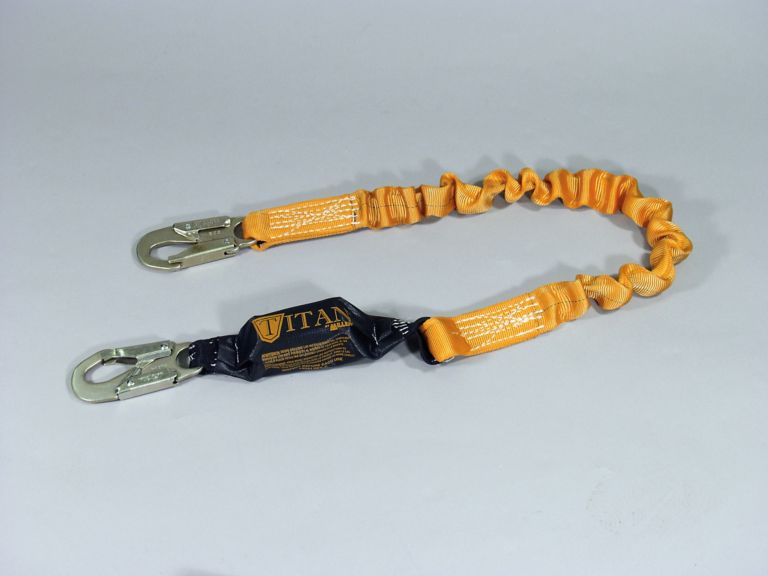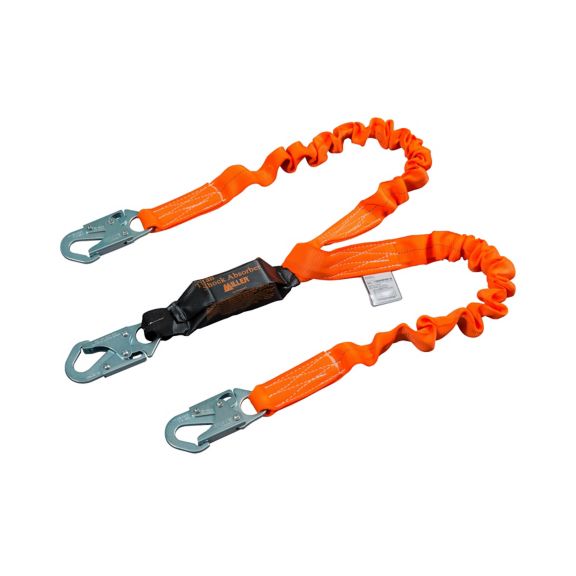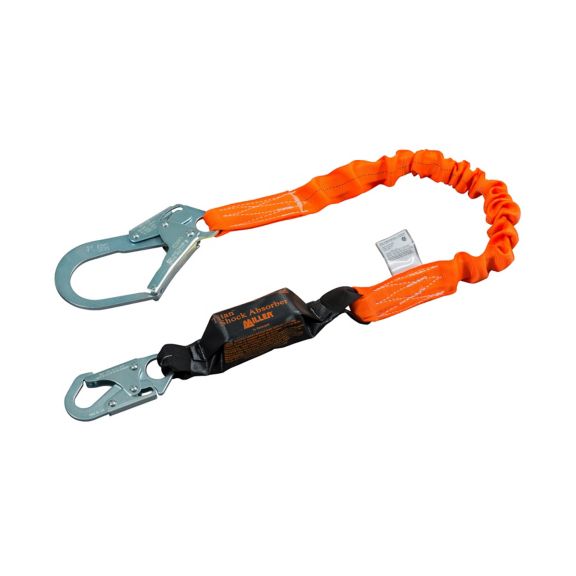 Miller Titan™ II Stretch Pack-Type Shock-Absorbing Lanyards contract from 6-ft. (1.8 m) to 4-ft. (1.2 m) to reduce tripping hazard.
Convenient Design
In the event of a fall: the pack smoothly expands to reduce fall forces while a back-up safety strap deploys for added fall protection.
Quality Components
Miller brand products meet all applicable OSHA: ANSI and CSA requirements.
Features & Benefits:
Miller Titan™ II line of lanyards is economical and features Hi-Viz color for increased worksite safety
Two-legged models available for continuous tie-off
All connectors are rated at 3:600-lb. gate-strength.
Meets all applicable OSHA: ANSI and CSA requirements
Others
Lanyard Type
Shock Absorber Type
Connector Lock Type
Harness Connector
Lanyard Material
Anchor Connector

Locking Rebar Hook

Locking Snap Hook

Number of Legs
Lanyard Length
Others
Anchor Connector

Locking Rebar Hook

Locking Snap Hook
Lanyard Type : Shock Absorbing
Shock Absorber Type : Hybrid
Connector Lock Type : Spring Loaded
Harness Connector : Locking Snap Hook
Lanyard Material : Webbing
Anchor Connector : Locking Rebar Hook|Locking Snap Hook
Lanyard Length : 6 foot|6 metre|6
Data Sheet
Name
Description
File Size
Date
Size
sps-his-sp538-rev-a-csa-titan-stretch-pack-type-shock-absorbing-lanyards-data-sheet.pdf
application/pdf 360.22 KB
7/15/2021
360.22 KB
Brochure
Name
Description
File Size
Date
Size
Titan II Harnesses & Lanyards Brochure
application/pdf 3.26 MB
7/15/2021
3.26 MB
Others
Name
Description
File Size
Date
Size
Titan II Harnesses & Lanyards FAQ'S
application/pdf 236.77 KB
7/15/2021
236.77 KB
Name
Description
File Size
Date
Size
Titan II Harnesses & Lanyards Brochure
3.26 MB
7/15/2021
3.26 MB
sps-his-sp538-rev-a-csa-titan-stretch-pack-type-shock-absorbing-lanyards-data-sheet.pdf
360.22 KB
7/15/2021
360.22 KB
Titan II Harnesses & Lanyards FAQ'S
236.77 KB
7/15/2021
236.77 KB
Name
Description
File Size
Date
Size
sps-his-sp538-rev-a-csa-titan-stretch-pack-type-shock-absorbing-lanyards-data-sheet.pdf
360.22 KB
7/15/2021
Titan II Harnesses & Lanyards Brochure
3.26 MB
7/15/2021
Titan II Harnesses & Lanyards FAQ'S
236.77 KB
7/15/2021

T6111SS/6FTAF
6' Stretch web lanyard w/shock absorber pack

T6112SS/6FTAF
6' Stretch web lanyard w/shock absorber pack & 2-1/4'' locking rebar hook

T6121SS/6FTAF
6' Stretch double-legged web lanyard w/shock absorber pack

T6111SS/6FTAF
6' Stretch web lanyard w/shock absorber pack

T6112SS/6FTAF
6' Stretch web lanyard w/shock absorber pack & 2-1/4'' locking rebar hook

T6121SS/6FTAF
6' Stretch double-legged web lanyard w/shock absorber pack