Helmets
Morning Pride® BEN 2 Low Rider PLUS Traditional
LOW RIDING – STRONGEST SHELL
Overview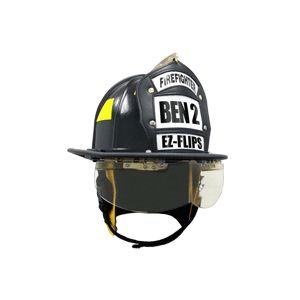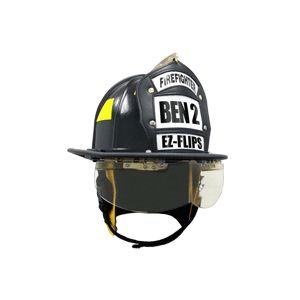 PART OF THE MORNING PRIDE SERIES
For over 20 years, the iconic Morning Pride Ben 2 helmet with EZ-Flips™ has had a particularly dedicated following. Here's why…
Features and Benefits:
EZ-FLIPS™
The 2013 edition of NFPA 1971 raised the requirements for helmet-mounted faceshields below the brim. Our team worked arduously to develop a new generation of EZ-Flips™ that would meet the rigorous new criteria. The new EZ-Flips™ were born...outperforming those tough requirements, making the Ben 2 the only helmet with flip-down face protection certified to NFPA 1971, current edition.
STRONGEST SHELL:
Did you know that the Ben 2 helmet offers the strongest shell on the market? The Ben 2 is made of FYR-Glass - a proprietary custom-blended material found only in Morning Pride helmets. Our testing shows that FYR-Glass helmets are 39% more resistant to impact penetration than conventional fiberglass helmets and offer superior heat performance.
LOW PROFILE:
With a low center of gravity, the Ben 2 also rides low, resulting in better balance and significantly reduced neck strain.
SUSPENSION SYSTEM:
Plus, the Ben 2 provides a 6-position suspension with one-piece headband and ratchet assembly that can be adjusted without disassembly.
Certification:
Optional Training Cover:
Aluminized Pbi cover – recommended for live fire training – not for proximity fire fighting
Optional Eye and Face Protection:
4˝ x .150˝ new generation faceshields
Paulson or ESS NFPA 1971 goggles
EZ-Flips™ (NFPA 1971, 2013 Edition and ANSI Z87.1+)
Optional Accessories:
Goggle Garage
Leather Headband and Ratchet Cover
Optional Ear Covers:
Black PBI 2-layer FR cotton
Canadian style
Optional Trim:
8 trapezoids 3M™ Scotchlite™ lime or orange
8 trapezoids 3M™ Scotchlite™ 2-tone silver/lime or silver/orange
Optional Eagle Front Holder:
Stamped brass traditional eagle front holder
Optional Fronts:
FDNY Assigned Officer front
FDNY Firefighter front
FDNY Covering Officer front
LA County front
Houston front
Memphis front
Fort Worth front
Sacramento front
Columbus or Chicago front
Houston Passport System front
LA County Passport System front
Truck Lettered front
Field Comm Unit (recessed or raised) fronts
Acting Batt Chief (recessed or raised) front
Arched Assigned Officer front
Recognition Award front
Basic front
Gold Leaf front
Multicolor Integral front
Optional Front Accessories:
Metal circular rank insignias
Anti-snag front stabilization bracket
Manuals and Guides
Name
Description
File Size
Date
Size
Converting to Velcro–Style Pbi-Kevlar Earflaps Instructions
application/pdf 108.11 KB
7/15/2021
108.11 KB
BEN Helmet 2 4-Strap Suspension Kit Instructions
application/pdf 731.1 KB
7/15/2021
731.1 KB
BEN 2 Ratchet Suspension 1-Piece Brow Crown Instructions
application/pdf 580.32 KB
7/15/2021
580.32 KB
Converting to Velcro Style Earflaps Instructions
application/pdf 108.05 KB
7/15/2021
108.05 KB
BEN 2 Ratchet Suspension 2 - Piece Brow Crown Instructions
application/pdf 591.14 KB
7/15/2021
591.14 KB
Helmets Morning Pride 1971 User Guide
application/pdf 1.09 MB
7/15/2021
1.09 MB
Others
Name
Description
File Size
Date
Size
application/pdf 5.95 MB
7/15/2021
5.95 MB
First Responder Helmets
application/pdf 6.81 MB
7/15/2021
6.81 MB
Name
Description
File Size
Date
Size
Name
Description
File Size
Date
Size